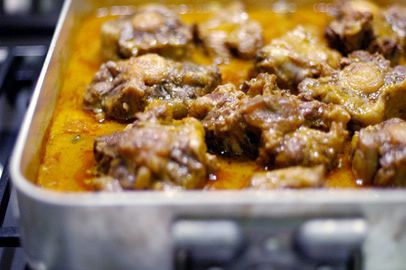 Comfort foods turn me on. Most nights, I'd much rather have a chicken pot pie, a hearty lasagne, a big plate of fried rice, or a steamed egg custard with minced pork than a multi-plated, multi-course culinary extravaganza. Comfort foods are delicious. They also activate our sense memory, transporting us back in time—to our own childhoods and sometimes to imagined but inspiring ones. I can't eat chicken a la king, for example, without thinking of the amazing chicken a la king crepes I used to order as a kid in the 1970s and early 1980s at the Magic Pan restaurant in New York.
I think I like oxtail stew so much partly because my father has always loved it. Over the past few years, I've enjoyed learning to cook it. Oxtail is a cheap cut, meant to be braised. Two years ago, when I was on a pressure cooker craze, I almost always pressure cooked my oxtail. Today though, I prefer slow cooking it for several hours. Either way, it's best when cooked a day or two in advance, cooled in the fridge and then reheated before serving.
When I cook up a big batch of stew, I sometimes serve it on the bone, with mashed potatoes, veggies or some fresh baguette. Other times, I'll debone it and turn the meat into a ragout. I've used it in lasagnes and used it as a ravioli stuffing. Anyway you eat it, I find that oxtail warms both the tummy and the soul.
Oxtail stew
Serves 4
8-12 pieces of oxtail
500ml beef or chicken stock
2 carrots, chopped up
2 onions, chopped up
1 stalk celery
5 cloves of garlic, crushed
1/3 bottle of a good red wine
1/3 cup tomato paste
2 tablespoons flour
pat of butter and 1 tablespoon olive oil
1. Salt and pepper your oxtail. 2. Heat up the butter and oil in a large (oven-proof) casserole pot or cocotte. Sear the oxtail over high heat. When the oxtail is browned, put it aside. 3. Lower the heat a little and toss in the onions, carrots, garlic and celery. Cook for 5 minutes, stirring occasionally. Add the flour and stir, while cooking for another minute. Then add the tomato paste and again let the mixture cook, while stirring, for another minute. Add the wine and cook until the alcohol fumes subside. Add the stock and stir. Add water, salt, or sugar to taste. 4. Place the oxtail back in the pot, nestling it with the vegetables. Bring to a simmer and then cover the pot. You can now either lower the flame and cook over the lowest flame for 2 to 3 hours, or cook in a preheated oven (180ºC) for 2.5 hours. 5. Once ready, let the stew cool to room temperature and then put it in the fridge. When you want to eat it, reheat it in the oven or over the stove. 6. One optional thing I like to do is strain the liquids from the stew, then purée the vegetables, and then add the puree back to the liquids to thicken it.
Aun has always loved food and travel, passions passed down to him from his parents. This foundation, plus a background in media, pushed him to start Chubby Hubby in 2005. He loves that this site allows him to write about the things he adores--food, style, travel, his wife and his three kids!