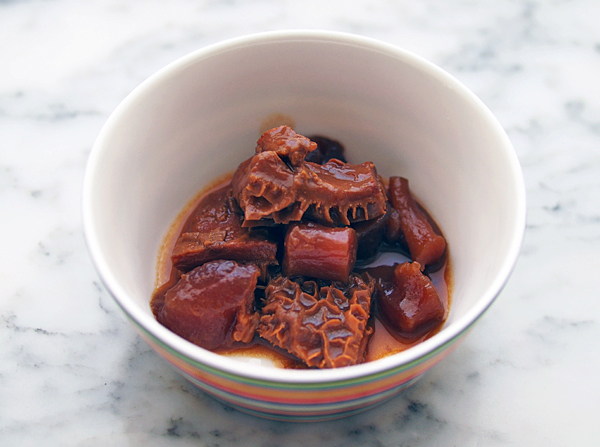 While I know a bowl of beef innards isn't everyone's cup of tea, I happen to love a good Japanese-style braised tripe stew. One of my all-time favourite versions is available at Sutamina-en, my favourite yakiniku place in Tokyo. In fact, on one trip, my wife and I even took home a huge portion of said stew. We had eaten dinner there just before our flight back to Singapore and convinced the proprietress to pack up a big frozen block of the braised tripe for us to check in at Haneda.  
Of course, it's far easier to simply make the stew at home. Stupidly, I never asked Mrs Dai (the owner of Sutamina-en) for her recipe. So, I've had to cobble my own together. My in-laws and parents all seem to love my version, so I'm pretty happy with it.
My recipe is, I have to admit, somewhat inspired by a beef innards stew recipe in Mark Robinson's amazing Izakaya cookbook.
If you're an offal fan, you should try this out. Serve it to friends who have the same culinary predilections and I guarantee they'll be thrilled. If you've never tried the so-called "spare parts" of the cow, but enjoy Japanese food, food with strong flavours, and/or braised foods, you might also want to give this a go.
(Since these cuts are also usually very inexpensive, this is a fabulous dish to whip up for friends if you're cooking on a budget.)
I use this dish as a small starter or as a side dish. In addition to the basic recipe below, two nice ways to make it even better are to add (peeled) hard-boiled quail's eggs into the finished stew and to serve some hot garlic bread with it.
Miso braised beef tripe and tendon stew
Feeds 8 generously
600g ox tripe
300g beef tendon
300g off cuts of beef for stocks (at the Japanese supermarket I go to, they sell fatty off cuts labelled "beef stock" for almost nothing — perfect for this recipe)
1 onion, peeled and quartered
200ml mirin
200ml cooking sake
300ml port
300ml chicken stock
500ml water
3 tbsp of extra rich red saikyo miso (saikyo akadashi)
1 tbsp sugar
First, get a pot of water boiling. Blanch the tripe and tendon in the boiling water for 2 minutes. Throw out the water. Repeat this two more times. After the last time, dry down the tripe and tendon and cut them into small pieces, roughly 3cm in length. Set aside in a covered bowl in the fridge.
In a cast iron pot, heat some cooking oil over high heat and then toss in your onion and the off cuts of beef. Stir until the beef is browned. Then add the sake, mirin and port. Stir slowly for a minute while the alcohol bubbles. Then add in the chicken stock and water.
Stir in 2 tablespoons of the saikyo miso and the 1 tablespoon of sugar. Taste the liquid. If is not savoury enough, add the additional tablespoon of miso, or as much of it as you want.
Bring to a boil, then lower the heat to low and cover. Let this cook for 45 minutes to an hour.
Then skim off impurities that have risen to the surface of the braising liquid and carefully remove all the pieces of beef. Now add your tripe and tendon. Bring the liquid back to a simmer.
Using a piece of baking paper, cut a shape that fits perfectly inside your pot. Place this right over the surface of the liquid and the innards. Lower the heat, cover and cook for 3 hours.
After three hours, remove the lid and baking paper. Adjust the heat to a low simmer and let cook for 30-45 minutes, or until the innards are tender and the sauce is as thick as you want it.
If you find the sauce is too savoury as it reduces, you can add more water.
You can serve this right away or, better yet, chill and serve the next day. I always find that this will make the innards even more tender.
Aun has always loved food and travel, passions passed down to him from his parents. This foundation, plus a background in media, pushed him to start Chubby Hubby in 2005. He loves that this site allows him to write about the things he adores--food, style, travel, his wife and his three kids!