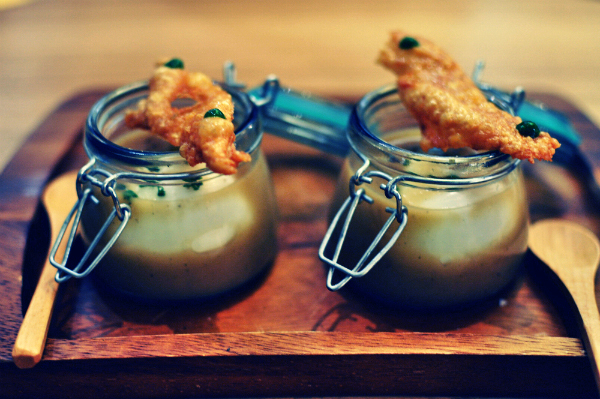 So this is to be my first official post for Chubby Hubby, and I admit that I kind of feel like a 5-year-old child with a new toy that says "For 6 years and above only". It is an undeniably daunting task to write about something that you feel really strongly about and want to share with others, without wetting yourself from the paranoia of "what if they don't like it??"
But although I'm no expert, I think I've had enough experiences to at least know a thing or two about food and travelling. Besides, if I 'accidentally' send you to some undesirable location, I think I'd have both Aun and Charmaine hunting me down to physically cause me damage… and as a person with short legs, I would really rather not have to run.
So, to kick-start things, about a week ago, an old friend of mine, A, invited me to the fairly new Windowsill in the woods (aka Windowsill Pies) to check out the new fortnightly menu that he had created. Aptly named 'Fortnight', the boys at Windowsill change their savoury menus every 2 weeks, while their pies, tarts and coffees remain as they are. As guest chef, A had created a small menu based on the theme 'Charred/Smoked'. Knowing that he had previously interned at Saveur and worked at JAAN, I was curious about what was to be served; and after some Facebook stalking, I had prepared myself to expect a mix of soft shell crabs, duck and Parma ham.
Since there was no way I was going to devour all the items by myself, I dragged my friend, T, along with me. With her petite frame hiding a sinisterly large appetite that was protesting from an early lunch, we were in good form. Finding the place wasn't hard either, considering its jarring appearance amidst all the old grey buildings along Horne Road. Décor wise, it felt like I had walked into a stylised playroom for adults, complete with a large teddy that I had every intention of taking home with me. T ordered her regular Americano and I my latte, before we proceeded to order everything on the menu. Unfortunately, the Parma ham wasn't available anymore, but was instead replaced with a braised pork belly.
The soup came, and in typical Japanese fashion – yes, T is Japanese, she exclaimed "KAWAIIIIII". The burnt onion soup with lacquered chicken skin and egg was definitely the most well presented dish that evening. The glass 'bowl' it was served in, brought me back to the days of being a kid in the kitchen surrounded by similar albeit larger glass jars filled with cookies and biscuits. The egg, cooked 'onsen-style', was runny and blended perfectly with the slightly salty onion soup. The chicken skin was… absolutely… heavenly. It was light and crisp and didn't leave oil on my fingers, but melted in my mouth. Clogging my arteries never felt so good.
Then arrived the crispy soft shell crab with apple slaw and pepper puree. I've always been rather hesitant of ordering any deep fried soft shell crab dish, because I absolutely despise, with a vengeance, that potentially bitter briny taste that spurts at you at the first bite if it's not cooked well. But I was oh-so-glad that I ordered this one. It was crunchy and sweet, and the apple slaw complimented nicely by removing any "I'm-having-way-too-much-fried-food-today" sensation I might have had. The braised duck with cashew and dark beer sauce, served on Harissa flavoured basmati rice came next; and in the words of the waiter, "I call it atas biryani." The flavour of the rice was mellow, when compared to the less atas local version, but that was fine since the highlight was really the duck. The meat was tender and literally fell off the bone. The sauce was sweet and nutty, but still managed to remind us of biryani, which especially appealed to T – who, by the way, pretty much fought me, cutlery and all, for majority share of this dish.
Last but not least was the pork belly braised in cider, served with hazelnut puree, charred fennel and puffed pork skin. Unfortunately, by that point, T and I felt extremely guilty and decided after a couple of bites of the fat that we might have to give it a miss. The meat on the other hand, broke apart so easily that T commented it felt like she was eating salmon. The hazelnut puree was ever so slightly tangy and gave the pork a nice little kick, while the fennel helped us convince ourselves we were enjoying a balanced diet. The puffed pork skin was split 50/50, and I'm so glad I didn't forfeit my half. As if clogging my arteries happily once wasn't enough, he did it again with this crispy, wonderfully light and somewhat airy cracker of pork skin. It wasn't in the slightest bit chewy; it was like eating air that had flavour. The only way I have achieved something so dry and crispy, was in the air fryer, but it always tasted… healthy. This tiny piece of puffed pork skin was definitely not healthy. No way. It was just pretending to be healthy so that I'd eat it.
Mr Guest Chef A came out to chitchat around closing time, and after I unsuccessfully attempted to find out how he prepared the skins, T and I decided it was time to leave, while trying our best to keep our tummies in. Our only regrets were (in ascending order of importance): that the lemon tart was sold out, that we didn't get more skins; and that we didn't steal the teddy. Looks like we'll just have to go back.
*Charred/Smoked menu available until 8 Aug only.
Windowsill in the woods
78 Horne Rd
Singapore 209078
Tel: +65 9004 7827
Tue – Thu: 11am – 9:30pm
Fri: 11am – 10:30pm
Sat: 10am – 10:30pm
Sun: 10am – 9:30pm
Closed Mon
www.windowsillpies.sg

Having lived in Sydney for 4 years, Amy is currently on a quest to find the best coffee joint in Singapore to supply her with her necessary caffeine dosage, as she feels an 8 hour flight on daily basis is taking things a bit too far. When she is not on her quest, she enjoys the more mundane things in life like singing in the shower as she contemplates life, as well as fashion, photography, food, music and the occasional travelling.