Just a few weeks ago, the 2013 edition of The Miele Guide to Asia's Finest Restaurants was launched. With that came the annual announcement of the year's list of the 20 most highly ranked restaurants in the region–as determined by a popular and a juried vote. The highest-ranking debut on the 2013 list was Waku Ghin in Singapore, which debuted on the list in second place. For many of his fans, that Chef Tetsuya Wakuda's restaurant would attain such a high rank so quickly, was perfectly understandable. Many people I've met have claimed that their meals at Waku Ghin have been their best in Asia.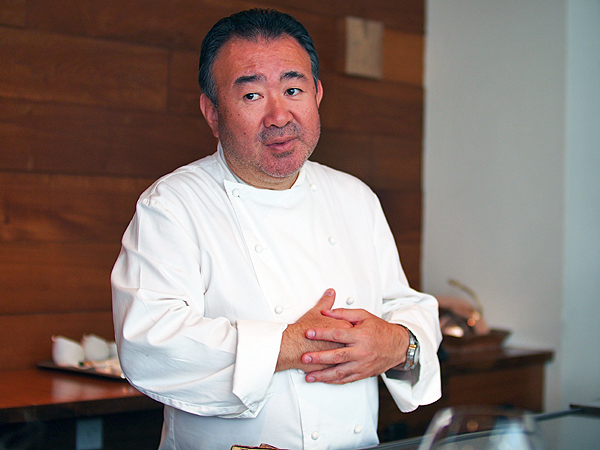 I've known Chef Wakuda for many years and was very happy to see the hard work and passion he's put into his Singapore eatery rewarded so strongly.
Truth be told, I have only eaten at Waku Ghin on a few occasions, and until two weeks ago, hadn't been there for over a year. But, with his incredible ranking in The Miele Guide, I was excited to visit Chef Wakuda's restaurant again–especially to see how it had changed and improved itself over the last year.
The menu I ate is pictured below. I will reserve my overall comments to the very end of the post.
Kobujime of Sayori with Nanohana and Japanese Strawberry. A beautiful, surprising medley of flavours that perfectly kicked off the meal.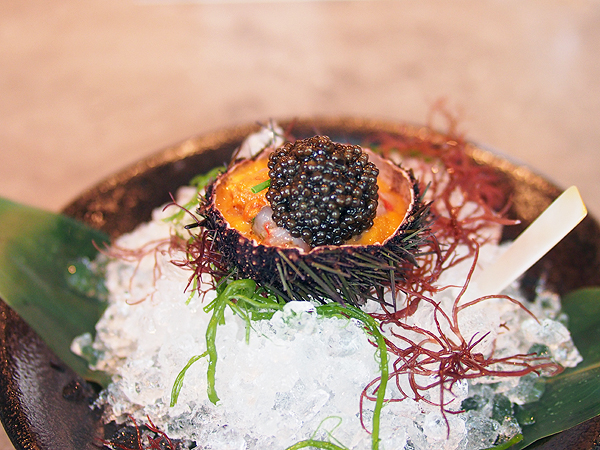 Marinated Botan Shrimp with Sea Urchin and Oscietra Caviar. This signature dish is simply sensational. Super-rich, I would be hard-pressed to conceive of a more decadent or delicious way of serving either Botan ebi or sea urchin.
Grilled Anago with Foie Gras, Confit of Zucchini and Sanshou. Wonderful soft, rich textures. I've noticed a recent trend of pairing anago and foie gras–been served this combination several times recently.
Steamed Alaskan King Crab with Lemon Scented Olive Oil. Amazingly simple but gorgeous dish. Super-fresh ingredients treated with respect. Delicious.
Roasted New Zealand Scampi with Vanilla Oil. The vanilla was an interesting touch and added an exciting flavour note to this dish. The scampi, of course, were exceptionally fresh and cooked perfectly.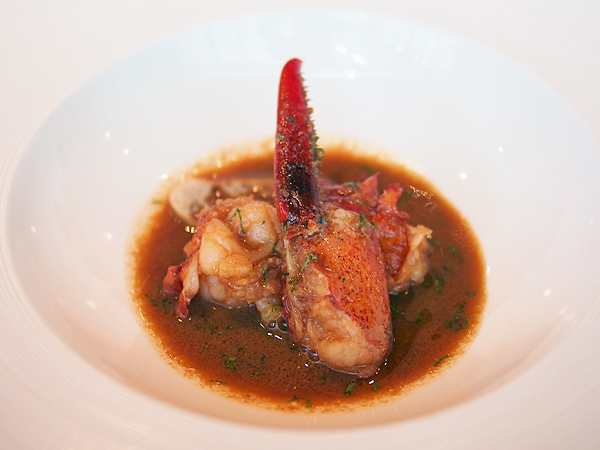 Braised Canadian Lobster with Fresh Tarragon. I could have eaten multiple bowls of this. Umami without being heavy. Beautifully cooked. A real stunning dish.
Sumiyaki of Cape Grim Tenderloin with Tetsuya's Wasabi Mustard. Excellent steak served very simply.
Japanese Ohmi Wagyu Roll from Shiga Prefecture with Wasabi and Citrus Soy. This was followed by Somen with Junsau, Tomato and Dashi. Another signature dish, this one famously inspired by Kahala in Osaka. The only problem with this dish is that you only get two rolls.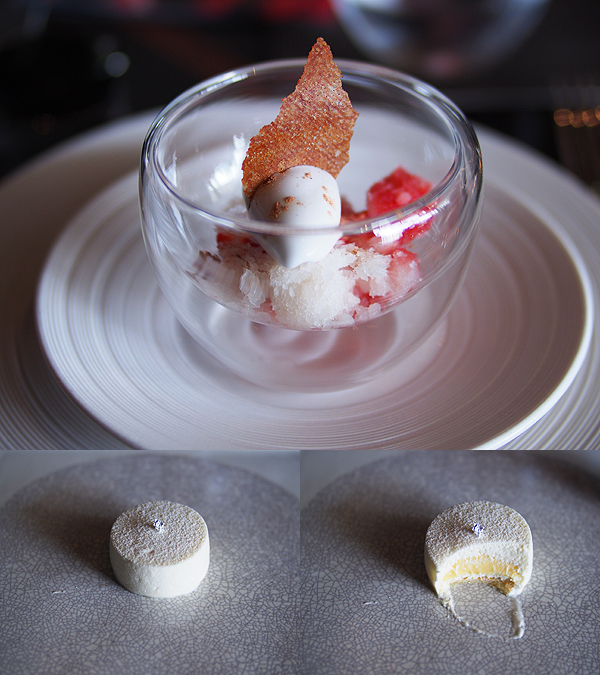 Dessert – Cold Soup of Strawberry with Lychee and Coconut; Ghin Cheese Cake. The first dessert was good but didn't blow my mind. I loved the cheese cake though. It was soft and creamy, and very (and I know this word is overused in the food writing) sexy.
The meal was, without a doubt, beautiful. And easily one of the best I've had in Singapore in a while. What I liked the most about it was that the ingredients were front and center, often shown to us before they were cooked, and then treated with real care and respect during the cooking process. Many of the dishes were actually quite simple–but with ingredients as incredible as Tetsuya was using–simple was, in fact, better. The meal, also, was less Japanese than the meals I had previously had at Waku Ghin. Also, of the many things we ate, only two courses were dishes I had eaten before (the signature Botan ebi course and the wagyu rolls); and both of those I would happily come back for, again and again.
I think, beyond the service (which was brilliant) and the obvious precision of the chefs and the wonderful ingredients they worked with, it was that the restaurant had evolved–had changed its menus–that impressed me the most. One of my pet peeves with the fine dining scene here is that occasionally, when chefs have reached the top of their game (so to speak), they stop innovating. There is nothing more disappointing than being served the same menu by a chef you truly respect twice within a six month period. To me, that's inexcusable and really quite lazy. Especially given the prices we now pay to dine in the region's top restaurants.
A great chef should continue to tweak his or her food; should constantly be innovating new dishes and should refresh his or her menus throughout the year. At minimum, menus should change annually. Ideally, seasonally.
My meal at Waku Ghin demonstrated to me that Chef Tetsuya Wakuda is (back) on top of his game. And truly deserves to have his restaurant ranked as one of the very best in our continent.
Waku Ghin
10 Bayfront Avenue
Singapore 018956
Tel: +65 6688 8868/8507
www.marinabaysands.com
Aun has always loved food and travel, passions passed down to him from his parents. This foundation, plus a background in media, pushed him to start Chubby Hubby in 2005. He loves that this site allows him to write about the things he adores--food, style, travel, his wife and his three kids!