A funny thing happens to you as you age. Your tastes begin to change. Preferences you once clung to and championed suddenly become less appealing. For example, for years, I was a die-hard tonkotsu ramen fan. For me, there was no better soup base for ramen than a rich, greasy, milky, ultra-umami pork bone broth. No other kind of ramen could compare. But, over the last year or so, I've changed my mind. Today, my preferred soup base for ramen is a chicken soup.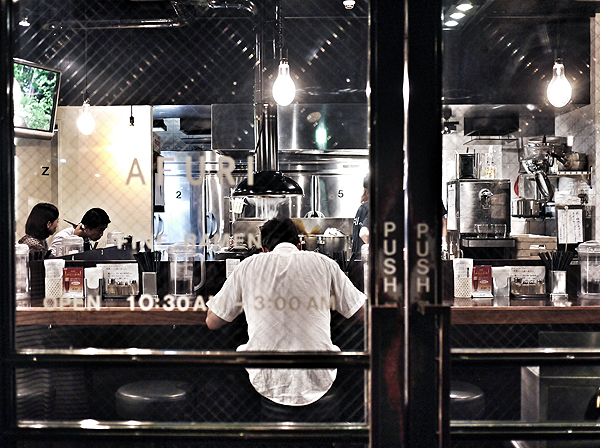 I can't exactly explain why my tastes have changed. Maybe it's because I now, for some strange reason, instinctly want something a little lighter and easier to digest. All I know is that when I do have a tonkotsu ramen these days, I tend to find it too rich, and usually feel a bit uncomfortable if I attempt to finish the whole bowl of soup. Chicken soup-based ramens, on the other hand, tend to be lighter. And the best made ones offer up just as much flavour as any other kind of ramen. My own personal favourite in Singapore right now is the aka ramen at Marutama.
Given my current ramen preferences, when I was last in Tokyo, I made it a point to seek out a good, well-reputed chicken soup-based ramen joint. My choice was Afuri Ramen, which has branches in Ebisu and Harajuku. My wife and I decided to hit the Harajuku branch, simply because it was more convenient for us that day.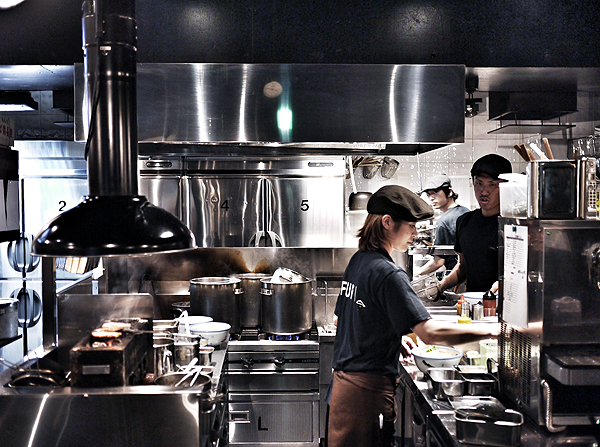 Afuri is most famous for its yuzu ramen, i.e. it flavours its stock (made from chicken, bonito, seaweed and dried fish) with this lovely fragrant citrus fruit, resulting in a rather special, really delicious and rather addictive broth. I've read that Afuri also uses water specially collected from the wells of Mount Afuri in Kanagawa (hence the name) for their soup. The noodles themselves were nice–both S and I opted for their thin noodles which were nice and springy (they also offer a thicker "handcut" noodle). I also enjoyed their char siu, which was barbecued over charcoal à la minute. It was, in a nutshell, an excellent, light and delicious ramen I would order again and again.
The bar itself is nice… modern and clean. Afuri is exactly the kind of ramen place I'd like to be able to go to on a weekly basis (that's a big hint for any Singaporean entrepreneurs in search of a ramen brand to bring here). I also read it had been rated as the 2nd best ramen place in its neighborhoods. I can definitely understand why it got such an accolade and will be happily returning on future trips back to Tokyo.
Afuri Harajuku
Address: 3-63-1 Sendagaya, Shibuya-ku, Tokyo
Afuri Ebisu
Address: 117 Bldg. 1F, 1-1-7 Ebisu, Shibuya-ku, Tokyo (東京都渋谷区恵比寿1-1-7 117ビル1F)

Aun and Su-Lyn flew to Japan on tickets partially sponsored by Japan Airlines. 
Aun has always loved food and travel, passions passed down to him from his parents. This foundation, plus a background in media, pushed him to start Chubby Hubby in 2005. He loves that this site allows him to write about the things he adores--food, style, travel, his wife and his three kids!