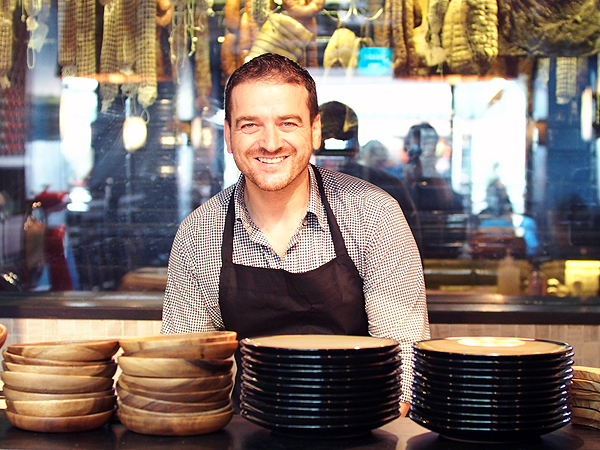 Before I begin this little profile, I will admit that Beppe DeVito, owner and chef of &Sons, the chic, big bacaro that opened in China Square in mid-December 2013, is a very close friend. His wife and mine are also business partners, which pretty much makes us family. None of this, however, colours my opinion that &Sons might just be Beppe's smartest concept to date.
A bacaro is a Venetian gastropub, the kind of place in which most diners eat standing up while washing down lovely little plates of food ("ciccheti", not never "tapas") with copious amounts of alcohol. The drink of choice, in Venice at least, changes depending on the time of the day. Regular readers know I've spent a lot of time in Venice (sadly, I haven't been in a while — the last trip in fact was for Beppe's wedding), and part of every trip has been exploring various bacari, sampling different delicacies paired with Aperol spritzes or glasses of wine.
Beppe's Singapore bacaro captures the mood of a Venetian gastropub in a slick, trendy space with an inventive and very personal menu. The food is the kind of stuff Beppe loves to eat and cook for friends and family. His Sea Urchin Carbonara, for example, was something he's been serving at home long before he ever decided to put on a chef's apron professionally (for those who don't know, it was only a few years ago that this experienced restaurateur and front-of-house superstar, after going through a series of chefs that just didn't work out, decided that he would become his own executive chef).
The very affordable menu is divided into Harvests (veggies), Home-Baked Bread, Homemade Artisanal Pastas (at opening, 6 options); Charcoal Grill (1 veggie, 1 seafood, and 3 meat dishes); Dal Mare (5 seafood dishes); and Dalla Terra (5 hearty courses). There is also a selection of 6 homemade salami and prosciutto available, plus 13 Italian cheeses. For sweet tooths, Beppe offers just 5 desserts to choose from.
In mid-December, my wife, Beppe's wife, their other business partner and I had a fun, very filling lunch at &Sons. Of course, I had to test the Aperol spritz and the Bellini, both which were made expertly. In fact, I might go so far as to say the Bellini at &Sons is the best I have had in Singapore to date. I might add too that I am an insufferable Bellini snob, so trust me that these are as close as you are gonna get to a Cipriani's Bellini.
The four of us really pigged out. We had two plates of cold cuts, the tagliatelle with guanciale and black pepper; Beppe's signature sea urchin carbornara; tagliolini with crab and nduja; charcoal grilled asparagus with a garlic and anchovy sauce; Kurobuta pork neck with a porcini sauce; a Hokkaido scallop bake; baccala (salt cod) cakes served with a sea urchin sabayon; and snails with bone marrow. We also tried two of the ice creams. Everything was great. The food was fresh, perfectly-cooked and served quickly and efficiently. The menu works perfectly with cocktails and/or wine, of which there is a lot to choose from. Since this is a gastrobar, Beppe has 16 different wines available by the glass, which to a Libran lush like me who would rather sample different things than stick with just one bottle, is perfect.
&Sons, for anyone working near China Square, is a great place to head to after work for a drink and some snacks. I am very happy that Beppe has opened what should be a very successful new addition to our local F&B scene.
&Sons
#01-19 China Square Central
20 Cross Street, Singapore
Tel: +65 62213937
Aun has always loved food and travel, passions passed down to him from his parents. This foundation, plus a background in media, pushed him to start Chubby Hubby in 2005. He loves that this site allows him to write about the things he adores--food, style, travel, his wife and his three kids!