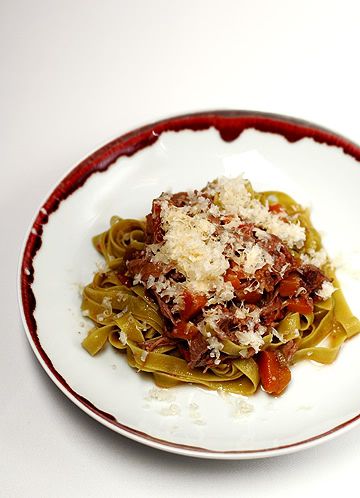 I mentioned in a previous post that I'm a pretty regular customer at Garibaldi, considered by many foodies in Singapore to be our best Italian restaurant. I've been going there consistently since it opened and, for a good year or so, I had lunch there with colleagues and clients at least once or twice a week. It was near my old office, was both quiet and chic at the same time and served an excellent, reasonably priced set lunch. I also went with friends and family at night, which while a costlier affair was also more decadent. We would often put ourselves into the hands of (then-owner and) manager Beppe De Vito and chef Roberto Galetti. And we would always be rewarded with an outstanding, multi-course feast paired with luscious Italian wines.
Of all of Chef Roberto's very well-executed dishes, I have three clear favorites. His spinach gnocchi served with a gorgonzola sauce, walnuts and aged Balsamic vinegar is smooth, sensual and rich. It's like Catherine Deneuve on a plate. My second favorite is his osso buco with saffron risotto. Chef Roberto's osso buco (braised veal shank) is the best I've had in a restaurant in Singapore. It's soft, succulent, hearty and very, very savory. His risotto is equally delicious.
But the dish that I like above all others is Chef Roberto's Bigola Di Spinaci Al Brasato D'Anatra, i.e. homemade spinach noodles with a braised duck sauce. I really love this dish. So does my darling wife S. She likes it so much, in fact, that she once ordered it as a starter and then, after she finished her main course, promptly ordered an additional serving in place of dessert. I have to admit that I'm often tempted to do the same thing. The duck ragout is made from duck legs and aromatic vegetables that have been slowly braised in stock and red wine. The sauce is powerful and comforting, something like the the culinary equivalent of a full-grown Golden Retriever cuddled up on your lap.
After a lot of pestering, Chef Roberto has finally given me the recipe for this fantastic, signature dish. I tried it out for the first time this past weekend. Because I was a tad lazy and short of time, I didn't bother making my own pasta. The sauce was excellent and surprisingly easy to make. My version turned out quite a bit lighter than what I usually get when ordering this at Garibaldi. I have the feeling that Chef Roberto adapted the recipe a bit, making it healthier, before giving it to me. The restaurant version tastes like there's much more tomato and/or tomato paste in it. It's much stickier and stronger in taste. The restaurant version also tastes like Chef Roberto uses a rich, meat stock instead of the vegetable stock that he recommends in the recipe. That said, a friend who has had this dish several times in the restaurant and whom I also fed this past weekend said she actually preferred the slightly lighter version. It meant, she suggested, that she could eat much more of it without feeling too guilty or getting too full. I highly recommend trying it both in the restaurant (for those of you in Singapore) and also at home.
BRASATO D`ANATRA
Chef Roberto Galetti's Braised Duck Sauce
500 gr celery, julienne
500gr carrots, julienne
500 gr onion, julienne
3 kg duck legs
1kg whole peeled tomatoes
1 btl red wine
500 ml vegetable stock
5 bay leaves
In a big pot, sauté the vegetables with olive oil. Meanwhile flour the duck legs and then pan-fry them until golden. Put the duck legs into the pot together with the vegetables. Then add the wine, the bay leaves, and the peeled tomato. Crush the tomatoes into the pot with your hands. Pour in the vegetable stock and bring everything to a boil. As soon as it boils, lower the heat, cover and simmer for 2 hours.
After 2 hours, separate the meat from the sauce. Remove excess fat and skin. Then debone the duck legs, mixing the meat back into the vegetables and sauce. Leave to rest.
Cook your noodles. Then reheat a portion of the sauce in a pan with butter, black pepper, and salt. Add some of the boiled/cooked noodles and toss. Sprinkle Parmesan cheese and parsley over the pasta and serve immediately.
Aun has always loved food and travel, passions passed down to him from his parents. This foundation, plus a background in media, pushed him to start Chubby Hubby in 2005. He loves that this site allows him to write about the things he adores--food, style, travel, his wife and his three kids!