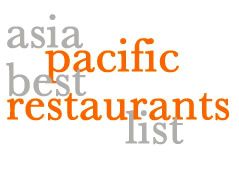 Six months ago, in response to the way that Restaurant Magazine fashioned its annual list of "The World's Fifty Best Restaurants", I launched a little survey of my own. Through its results, I hoped to celebrate the very best restaurants (as well as our favourites) in Asia-Pacific. I also hoped that the results would held publicize a lot of restaurants that deserve to be as well-known as their counterparts in the West.
I know that I'm incredibly late with the results, but a lot has happened in the last six months. And as they say, better late than never.
Some of the final results were predictable, but some of them were surprising (to me), especially the results for our favourite restaurants. I should say right from the start that, like all surveys, these results are hardly definitive. They are simply the sums and averages of the responses of a number of your peers. They are also biased towards certain countries due entirely to the number of respondents from specific places (like Singapore, for example). I'd like to do this survey again and again. I hope that with each annual edition the number of respondents grows larger and larger. And with a wider pool, the results should become more trustworthy and less biased.
I've divided the top-rated restaurants into 3 tiers. Instead of toques or stars (or chopsticks), I'm awarding woks. Only two restaurants this year have earned the highest rating of 3 woks. Nine restaurants earned 2 woks and sixteen restaurants earned 1 wok. A rating of 1 wok, I should say, is still pretty outstanding. There were many more restaurants that didn't get enough votes to qualify even for this rating.

Best in the region!
Tetsuya's, Sydney, Australia
Tetsuya Wakuda's eponymous restaurant blew all the other restaurants in this survey away, garnering up to 10 to 20 times as many votes as many others. This self-trained Japanese chef's innovative cuisine is, quite simply, genius.
Iggy's, Singapore
The only other restaurant with close to as many votes as Tetsuya's was Iggy's. No surprise that owner Ignatius Chan is one of Tetsuya's buddies. Iggy and his chef Dorin Schuster serve wonderfully brilliant contemporary cuisine in a charming and clubbish space in the Regent Hotel, Singapore.


Excellent!
Hua Ting, Singapore
Jean-Georges, Shanghai
La Petite Cuisine, Taipei
Lei Garden, Singapore
Les Amis, Singapore
Oso, Singapore
Saint Pierre, Singapore
Whampoa Club, Shanghai
Xi Yan, Hong Kong


Very good!
Au Jardin Les Amis, Singapore
Circa The Prince, Melbourne
Fook Lam Moon, Hong Kong
Il Lido, Singapore
Imperial Treasure, Singapore
Kee Club, Hong Kong
Marque, Sydney
Opia, Hong Kong
Palladio, Shanghai
Quay, Sydney
Robuchon a Galera, Macau
Shimpei, Tokyo
Third Floor, Kuala Lumpur
Vue du Monde, Melbourne
Yung Kee, Hong Kong
Zanotti, Bangkok
The restaurants that topped our list of favourites in Asia-Pacific were a little different from the ones that topped our list of "best restaurants". There were a few restaurants, as you would expect, that made both lists. But while our voters named two chic high-end restaurants as the region's best, when asked to name their favourite places to eat, casual cafes and eateries reigned supreme. I've divided the favourites into just two groups.
Our favourite three restaurants (with equal votes) are the Din Tai Fungs in Shanghai and Taipei; the Greyhound Cafes in Bangkok; and Icebergs Dining Room and Bar in Sydney.
The next group consists of 10 restaurants. They are Akashi in Singapore; Biscotti in Bangkok; Bistrot Moncur in Sydney; Da Paolo in Singapore; Ember in Singapore; Kee Club in Hong Kong; Kuriya in Singapore; Tetsuya's in Sydney; The Cliff in Singapore; and Yung Kee in Hong Kong.
Many thanks to everyone who took part in this year's survey. I hope that you agree with some, if not most, of the results. If you don't, then please take part in next year's survey.
Aun has always loved food and travel, passions passed down to him from his parents. This foundation, plus a background in media, pushed him to start Chubby Hubby in 2005. He loves that this site allows him to write about the things he adores--food, style, travel, his wife and his three kids!