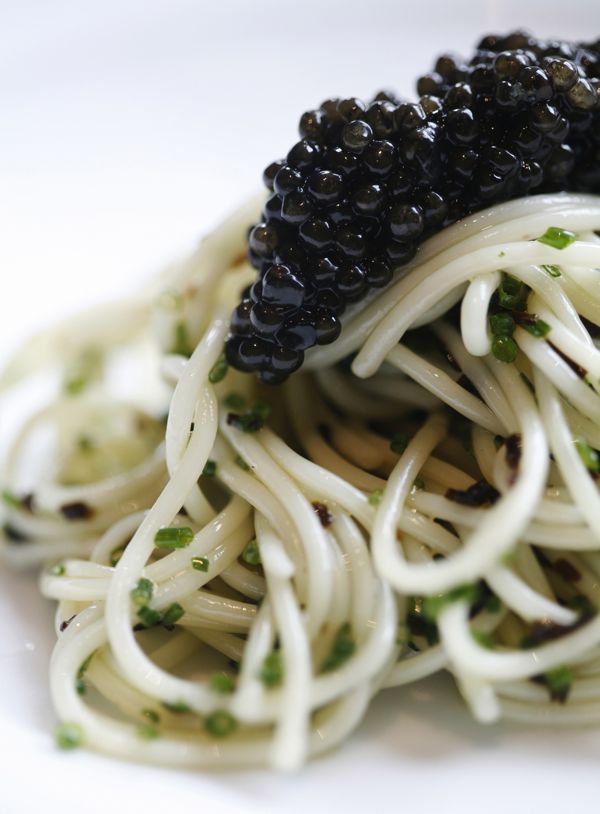 It's no secret that Gunther's, affiliated with Roberto Galetti's Garibaldi group, is one of the best restaurants in town. The Miele Guide 2011/2012 ranked it the 14th best in Asia, and The Peak magazine recently gave it a nod for Outstanding Service. Five years after the restaurant first opened its doors—and five years after it was featured on this very website—people still rave about chef Gunther Hubrechsen's flair, and the depth of his cuisine. My entire family swears by his cold angel-hair pasta with Oscietra caviar.
Something that doesn't seem to get as much attention, though, is the restaurant's kick-ass set lunch. Maybe it's the price–S$38 (just under US$30)  for three courses and coffee/tea, plus a dessert. Considering dinner at Gunther's can run into the four digits for as many people, it's practically a steal. It's also a testament to the restaurant's uncompromising focus on quality food across all price points. Over two visits in as many weeks, it restored my faith in the prix fixe menu.
Located just five minutes by foot from City Hall, Gunther's is the perfect place for a serious mealtime powwow, or a respite from the concrete jungle. The walk from my office, which is near the MRT station, was really relaxing, taking me past the commercial miasma of Raffles City, through the preserved charm of Raffles Hotel, and along Purvis Street's repurposed and refurbished shophouses. For me, this was an experience unto itself, a journey from contemporary to historic Singapore, from the cubicle farms of my building to an intimate parlor of modern French cuisine.
The journey at your table is no less awesome, either. Chef Hubrechsen's craft still displays the sensitivity and sensationalism that foodies fell in love with all those years ago. Like all great chefs, he knows how to make a dish sing; but he also knows when to back off and let the freshness of the produce do the talking.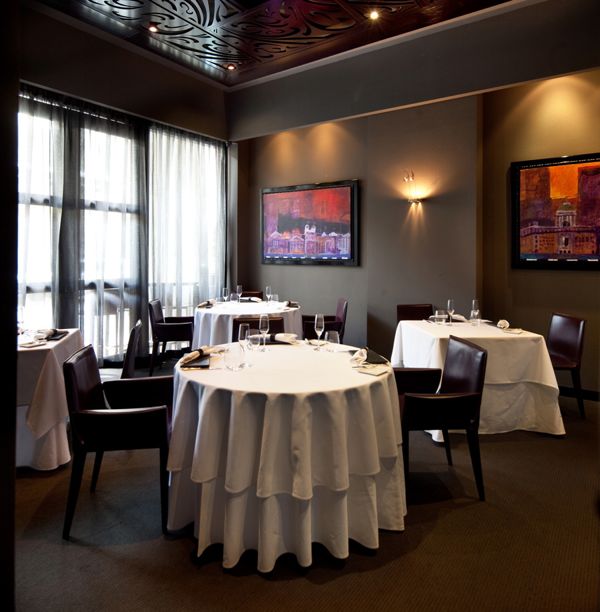 The appetizers I had on my two visits were perfect showcases of this balance. The beef carpaccio garnished with egg, Parmesan, potato crisp, and bits of endive was a thoughtful take on an European staple. The party of textures in your mouth–crumbly, crispy, crunchy, creamy–made the dish a delight to eat; but the accoutrements on the plate never drowned out the taste of the beef. In fact, the best thing I can say about the carpaccio was that it tasted, well, beefy, in all the right ways. It clearly wasn't your run-of-the-mill red meat.
"It's wagyu," said my server, as if it was a completely acceptable practice for a restaurant to serve the gold standard of beef in a set lunch.
The warm prawn cocktail I had on my return visit was equally, um, prawn-y. The bite-sized sliced prawn segments tossed with endive and crumbed boiled egg were plump and subtly sweet, and the greens, coated in the natural jus of the crustaceans, the perfect counterbalance. Bringing out the essence of an ingredient while putting your own stamp on a classic is no mean feat; doing it for a set lunch that costs less than some of the a la carte starters is the mark of a dedicated perfectionist.
To me, the mark of a good set lunch is how good the vegetarian main course is—too many restaurants treat it as an afterthought. I've admittedly become a lot more critical of this since I met my pescatarian girlfriend, K.
I'm happy to report, though, that the angel hair pasta dressed with grilled vegetables, Provencale-style, was a winner. Again, I noticed that chef Hubrechsen had surreptitiously slipped another premium ingredient onto our plates–fresh white asparagus from the Loire, which our server had told us was a seasonal, off-menu special. Coated in the natural juices and oils of the asparagus, zucchini, tomato, corn, and eggplant, the pasta was refreshingly light and sublime to the last tangy, springy bite. K, who ordered the same dish, agreed that this was how pasta–and vegetables–should be prepared.
Speaking of angel hair pasta, the good people at Gunther's were more than happy to substitute my main course the second time round with their celebrated chilled capellini with caviar. I did have to top up the price of the set lunch, though, which is fair. In fact, the restaurant gladly accommodates diners if they want to replace a dish with a seasonal special or a la carte item, though the supplement varies accordingly. That being said, the Provencale-style pasta and the set's other main course choices–a roasted threadfin and the ever-changing "Gunther's creation"–do a darn good job of compelling you to stick to the menu.
With the quality of the ingredients I was getting for lunch, the S$38 was starting to look a little criminal. I said as much to Alex, the restaurant manager, who made it a point on both my visits to stop by for a chat over our final courses of tart sorbet (lemon for the first visit, passionfruit for the second), fresh mint tea, and petit fours. "Yeah, it's a really good set lunch for the price," was his understatement-of-the-year reply.
It was a really good meal, period. Sure, it isn't as cheap as what you'd get elsewhere; but you're definitely getting a lot more bang for your buck, with all the creativity and excellence we've come to expect from chef Hubrechsen. If you're looking for a quality weekday lunch around Raffles City, you can't do much better than this. Needless to say, I'm looking forward to many more afternoons (and evenings) at Gunther's for years to come.
*A note about my carpaccio–my server informed me in no uncertain terms that I was served Japanese wagyu. However, when my dad ordered the same dish the following week, a different server informed him that he was in fact eating Australian wagyu. I'm not sure if one of the servers made a mistake, or if they were both correct and the type of wagyu served varies. I'm more than happy to give the restaurant the benefit of the doubt.
Gunther's Modern French Cuisine
36 Purvis Street, #01-03
Singapore 188613
Tel: +65 6338 8955
www.gunthers.com.sg
Monday–Saturday 12pm–230pm, 630pm–1030pm
Closed Sundays
Brandon Chew's first memory is of him eating chicken rice at the dining table of his parents' old flat. His second memory is of him politely asking for, and receiving, a second helping of fries at KFC, which taught him two things: manners gets you places, and fries are the most awesome food known to man. Brandon has just returned to Singapore from New York and is happily exploring the food scene here.