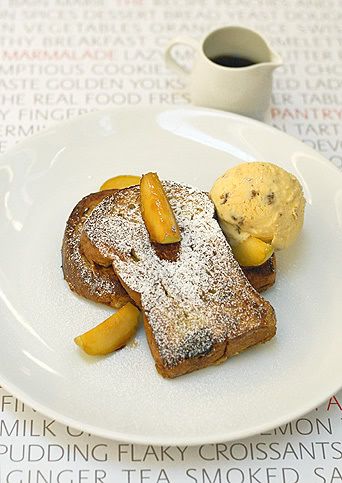 french toast with apples and fig & honey
ice cream from Marmalade Pantry
I'm a big breakfast person. Whenever I travel, one of the things I enjoy most is sussing out a city's coolest and best places for my morning meal. On my recent trip to Perth, I was thrilled to discover a cool cafe in Murray Mews called Tiger Tiger. They serve fantastic coffee, make gorgeous cappuccinos with deliciously velvety foam, and good, simple but hearty breakfast food. Here in Singapore, I have several favourite places to go when feeling a little peckish in the morning. As I've written before, I'm not a fan of hotel buffet brunches. In fact, I really can't stand them. I'd much rather spend my time and money in more relaxed venues that offer a variety of well-made and affordable options.

Willin's scrambled eggs on toast
One of my favourite brunch venues in town is Wild Rocket. Readers of this blog will already know that I'm a regular there and a big fan of chef-owner Willin Low. So when the kind folks at OCBC and I discussed the idea of profiling some of the best brunch places in town, I knew that I had to include Willin's fabulous little restaurant. I was even more excited when, after calling the chef, he immediately agreed to create a special menu for OCBC cardmembers.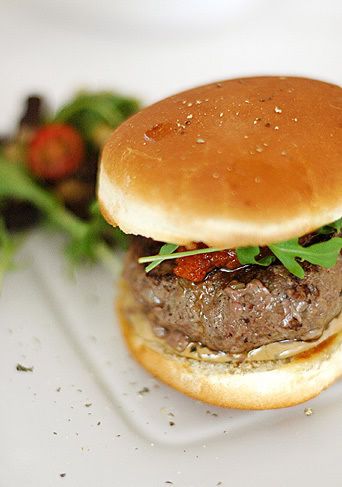 a delicious burger from Wild Rocket
Very embarrassingly, Willin wants to call it the Chubby Hubby Brunch menu. That said, I'm not at all embarrassed to say that the menu is terrific. The meal starts with a pineapple cosmopolitan martini, a nice boozy and refreshing way to start your meal. Then you get a plate of scrambled eggs on toast. I like mine runny, but you can order yours slightly more cooked if you prefer. For your main course, you get a choice of the always good Wild Rocket burger with sun-dried tomato salsa or Willoughby bangers & mash. The meal is then capped with a fresh pandan panna cotta with gula melaka. The menu runs S$33+++ which I think is a pretty good deal. And if you get thirsty and you are part of a party of at least 4 persons who order this menu, you are eligible to order a bottle of Prosecco that normally goes for S$75 for just $60.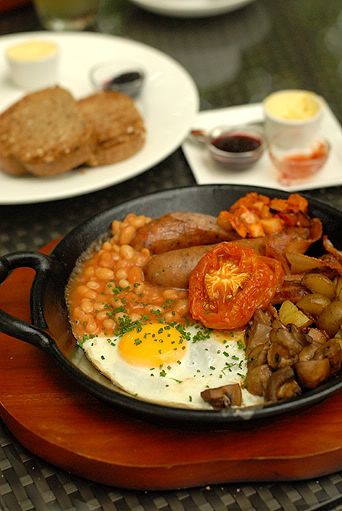 Graze's cast iron pan brunch
Another place I like to go for breakfast is Graze. I know that some people have had mixed experiences there, as have I. That said, I've recently had some really great morning meals there. I've written previously about their breakfast menu and that I'm a fan of Graze's cast iron pan and their baked omelettes. OCBC cardmembers can now get a 10% discount on all brunch items, plus free cupcakes (one per customer though, so don't get greedy).

Marmalade Pantry's eggs benedict
Another place that I like to go to on weekend mornings is Marmalade Pantry. Popular with the trendy and the chi-chi set, this cool cafe in the basement of Palais Renaissance serves some pretty tasty comfort food. My wife S and I have a lot of favourite dishes on Pantry's "all day Sunday brunch" menu. I'm a sucker for classic egg dishes, so I tend to order things like the always well-executed eggs benedict or corned beef hash with tomato coulis and fried egg. I always love Pantry's chicken pot pie, a relatively light but delicious version of this classic dish, and their burgers. Sometimes though, when I want something sweet, I'll order the French toast with caramelised apples, served with fig & honey ice cream. This dish is delicious and it's especially ideal when you want a sweet plate of carb after a big night out. OCBC Platinum and Titanium cardmembers can now enjoy some free drinks when brunching or dining in both the older Marmalade Pantry and the new branch in Hitachi Tower. At the original branch, cardmembers will receive a complimentary Lychee Bellini during Sunday brunch. At the Hitachi Tower branch, when dining, cardmembers will receive a complimentary glass of wine with the order of a main course.
I hope you find these brekkie options useful. I enjoy going to them on lazy weekend mornings. Just make sure you make reservations. All three are already pretty popular and usually can't find space for walk-in customers. I know because I've stupidly tried just turning up at all of them at least once (some more than once) and have been (politely) turned away on most occasions.
Wild Rocket
Hangout@Mt Emily
10A Upper Wilkie Road
Tel: 63399448
Promotion: OCBC cardmembers can order the Chubby Hubby Brunch at S$33+++. Includes a pineapple cosmopolitan martini; scrambled eggs on toast; a Wild Rocket Burger of Willoughby bangers & mash; and fresh pandan panna cotta with gula melaka. If 4 or more people order the Brunch, enjoy a bottle of prosecco for just S$60 (normally S$75).

GRAZE
No 4 Rochester Park, Singapore 139215
Tel: 6775 9000
Promotion: OCBC cardmembers enjoy 10% off all brunch items, plus a free cupcake.

Marmalade Pantry
Unit B1-08/11 Palais Reniassance
Tel: 6734 2700
Promotion: OCBC Platinum and Titanium cardmembers enjoy a free Lychee Bellini with their brunch.

Marmalade Pantry
Unit 01-04, Hitachi Tower
16 Collyer Quay
Tel: 6438 5015
Promotion: OCBC Platinum and Titanium cardmembers enjoy a free glass of wine with the order of any main course at dinner.

All offers are valid until 4 May 07
Promotion is subject to Service Charge, prevailing Government Taxes and GST. General Terms & Conditions for all Dining Privileges apply. These promotions are valid every day except eve of and on public holidays. For more details, visit www.ocbc.com.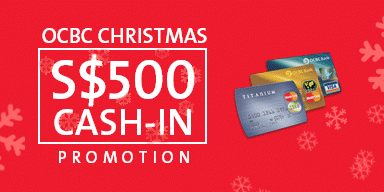 Aun has always loved food and travel, passions passed down to him from his parents. This foundation, plus a background in media, pushed him to start Chubby Hubby in 2005. He loves that this site allows him to write about the things he adores--food, style, travel, his wife and his three kids!