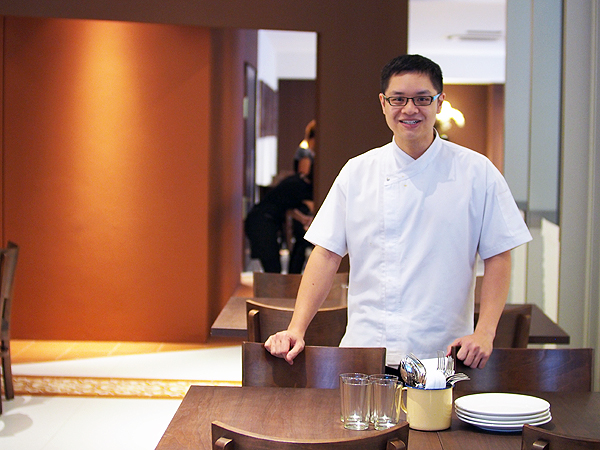 One of my favourite chefs in Singapore is Malcolm Lee. Not only is he immensely talented, passionate and hard-working, he's also humble and sincere. I've been a fan of his ever since he opened his first restaurant, Candlenut Kitchen, which was located on Neil Road in Singapore. Because of evil landlord issues (which seems to be becoming the norm on our little island-nation), Malcolm had to close Candlenut Kitchen down in 2012. Almost a year and a half later, this driven young chef has re-opened, this time in newer, shinier digs; he's also dropped the "kitchen" in the restaurant's name.
Candlenut is a Nyonya restaurant. It is an homage to the food of Malcolm's youth, food that was prepared by his grandmother. By now, many local foodies know his story. Malcolm graduated from Singapore Management University and then won the first-ever Miele Guide Culinary Scholarship to attend the At-Sunrice GlobalChef Academy. At that time, the young wannabe chef's food idol was Heston Blumenthal. He wanted to cook similarly uber-fancy, modern and molecular European fare. But thanks to At-Sunrice's unique curriculum that requires all students to study Asian and Western cuisines equally, Malcolm rediscovered a love for his own culinary heritage and decided to devote his career to the evolution of Nyonya food.
At the original Candlenut Kitchen, Malcolm played it safe, using modern technology and cooking processes to shortcut and simplify elaborate Nyonya preparation methods. And while he did serve a few playful and slightly novel dishes, most of the modernity was "behind the scenes", so to speak. With the new Candlenut, he's opened with a similar menu but promises to slowly move away from classic Nyonya dishes and start introducing more interesting, out of the box ideas. Helping him with this is Chef Lai Kit Yee, formerly from the Mandarin Oriental Hotel Hong Kong, where she was part of a contemporary innovation team. Kit was the other winner of the Miele Guide Culinary Scholarship in 2008. The two were classmates and friends all through culinary school.
When we dined at Candlenut in September, as said, the menu was still mostly classic Nyonya. The winner, among the savoury courses, was the short rib, served on the bone, braised in buah keluak sauce. This has always been one of Malcolm's most popular dishes and one of my all-time favourites. It's also one of his more well-known non-traditional creations.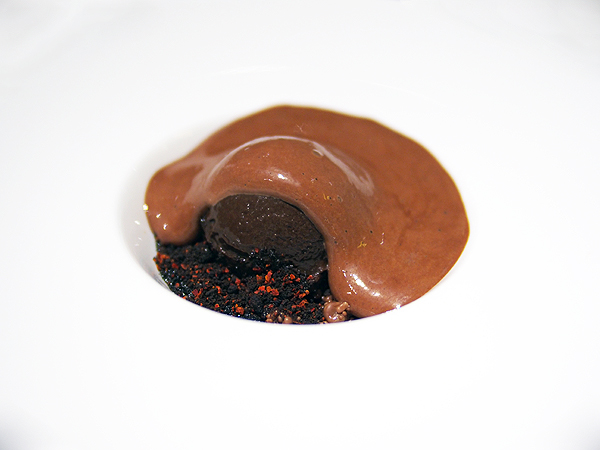 But the real winner of the night, and the dish that I dearly hope marks the starting point in Malcolm's and Kit's culinary journey here at Candlenut was this incredible modern dessert. Pictured above, here is the description as written on their menu: "Rich and earthy buah keluak ice cream, made with 80% Valrhona chocolate on a bed of salted caramel, chocolate crumble & chilli specks, topped with warm milk chocolate espuma." Clearly this is not the kind of dessert you would want to have on a daily basis, but it was astounding. The combination of flavours and textures was masterful. The plating was lovely and the way the dish expressed the modernity these two are reaching for, while also paying homage to heritage, came through wonderfully. After having it, I told Malcolm that I am very much looking forward to the day when I can come to Candlenut for an 8-course tasting menu, made up entirely of such incredibly complex, challenging and modern odes to our most unique and special cuisine.
I just hope I don't have to wait too long.
Candlenut
Dorsett Residences
331 New Bridge Road #01-03 
Singapore 088764
Tel +65 8121 4107
www.candlenut.com.sg
Aun has always loved food and travel, passions passed down to him from his parents. This foundation, plus a background in media, pushed him to start Chubby Hubby in 2005. He loves that this site allows him to write about the things he adores--food, style, travel, his wife and his three kids!