I finally got around to having dinner at Graze, the chic new restaurant in Rochester Park. My wife S and most of our friends had gone for a pre-opening tasting while I was out of town, so I'd heard quite a bit about the place before this visit. And despite some mixed reviews from friends, bloggers and readers (who have left comments on a previous post), I was quite excited and hoped that any kinks that the restauant's young and brave owners have had, had been ironed out over the past few weeks.
Some have but some haven't. In general, I'd give the restaurant two very enthusiastic thumbs up. Most of the food we tried was excellent. The space itself is beautifully designed. And the drinks (cocktails) are yummy. The only problem areas are the service and the desserts. The former can be easily fixed and co-owner Yenn Wong, who also owns the JIA Hotel in Hong Kong, tells me they are already working on the latter.
We started our meal with ginger wine oyster shooters with wasabi and cucumber oil. I liked these a lot. Small, refreshing and tasty, they're the perfect way to start one's meal. S paired hers with a super yummy geen apple mojito while I had a glass of a Tasmanian gewurztraminer. For a starter, I had an entree size portion of blue swimmer crab linguine, garlic, chilli with a chilled crab and lemon salsa (pictured below). It was light, refreshing and delicious. And huge. The entree size portion would have been big enough for not just one but two main courses. S had roasted sweetbreads with a peppered onion tart. It was very good. The sweetbreads were cooked perfectly and the sauce, while a tad powerful had a lovely, rich earthy taste.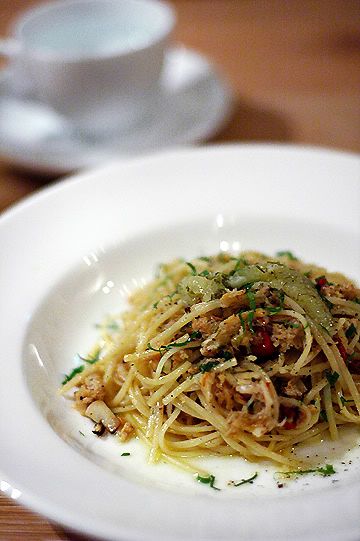 For mains, S and I chose dishes we knew would be good. I had the crispy hand-rolled pork hock with red and black plum salsa and redcurrant chilli caramel. S had the soy lacquered wagyu ox cheek with coconut rice, green papaya and pomelo salad, fried shallots with a tamarind dressing. Both were lovely; we couldn't decide which was better. The ox cheek was wonderfully tender on the inside and crispy on the outside; as was the pork hock. Both dishes are paired with accompaniments that have very Thai flavours that should appeal to most local palates.
For dessert, we shared a rhubarb and apple crumble that was ridiculously big and only so-so. It's not something I'd order again. But what I would have again and again are the lychee martinis and the vodka-spiked ice teas, both of which we tasted after our meal.
I'll definitely come back. The al fresco area is especially gorgeous and perfect for a pre-dinner drink. The interior restaurant space is cozy, casual yet stylishly chic. I have yet to try the barbecue menu and will do so on my next visit. The Opia-inspired dishes that I had were excellent. The service, as I mentioned, needs a lot (really, a lot) of work. But I hear gossip that a certain very talented restaurant manager is leaving one of the city's most popular spaces to take over the floor at Graze. If what I hear is true then he'll kick some dumb-ass waiter butt and things should be running smoothly in no time. I can't wait.
GRAZE
No 4 Rochester Park, Singapore 139215
Tel: (65) 6775 9000
Aun has always loved food and travel, passions passed down to him from his parents. This foundation, plus a background in media, pushed him to start Chubby Hubby in 2005. He loves that this site allows him to write about the things he adores--food, style, travel, his wife and his three kids!