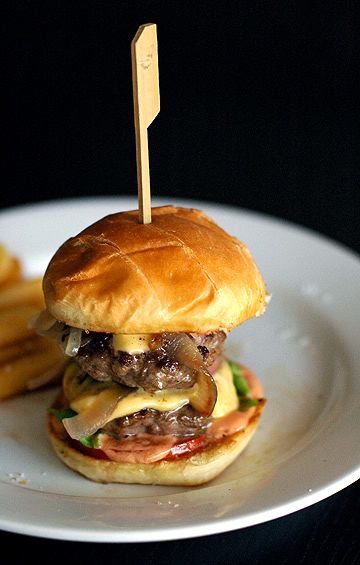 If I were told that I had one last meal before I died and then I was given the choice between a super chic 15 course degustation meal cooked by Thomas Keller, Tetsuya Wakuda, Ferran Adria and Joel Robuchon and a perfect cheeseburger, the choice would be easy. I'd pick the burger without a moment's hesitation. Because while fancy fare is fun to eat and the theater of a top restaurant is often memorable, nothing beats a good burger.
I love burgers. Part of my fanaticism is my mother's fault. When I was younger, she made some pretty amazing cheeseburgers—chopped sirloin patties with American cheese on toasted Thomas' English Muffins. Even today, when I think about some of my best times as a kid, many of them involve me sitting at the kitchen counter, burger in hand. And in the mouth.
It's hard to define what makes a good burger. Is it the bun? Or is it the meat? Should it be hand-chopped? Should there be anything blended into the meat or should it be beef with nothing more than salt and pepper? What about a bit of pork in the patty? Ketchup or "special sauce"? What kind of cheese is best? Just how many toppings should the burger have? Should it be a total salad like so many Aussie burgers have in them or should the toppings be limited to the traditional combination of lettuce, tomato and onion? What about a fried egg on it?
Honestly, what makes a great burger is a pretty individual thing. Three of my favorites can be found in Margaret River, Western Australia, St. Helena, California and New York City. The burger served at the Green Room Surf Café in Margaret River is gorgeously Australian. It consists of a large patty topped with 3 inches of salad—alfafa, beetroot (a typical Aussie touch), lettuce, etc—cheese and bacon, served on a bacon cheese bun. Taylor's Refresher, in St. Helena, a small town in Napa Valley, is a slice of the American past. I mean, what could be more retro than a roadside burger shack? I especially like the Patty Melt, a burger with swiss cheese, grilled onions, mayo & dijon on grilled rye. Corner Bistro is something of an institution in New York. And for West Village residents—which I was way back in the mid-nineties—it's where you go when all you want is a good cheap beer and a great, greasy burger. Despite its name, the Bistro is a good old-fashioned dive bar, open from around lunch time until 4AM every day of the week. It serves cheap drinks—including microbrews for just $2 a mug—and a simple menu of burger, cheeseburger, bacon cheeseburger and fries. Regulars have no problem standing in line for an hour for a table and one of their no-frills burgers, served on paper plates.
One of the few people I know who is even more obsessed with burgers than I am is my brother W. As an ex-Los Angeles resident—like just about every person I've ever met who has lived in L.A.—he's obsessed with In'N'Out Burger. He talks about their burgers all the time. And when he does, it's with this eerie reverential tone reserved only for Ducatis, miniature long-haired dachshunds, epoisse, Terence Malick movies and his girlfriend. I, however, have never had an In'N'Out burger, so I can only imagine what one tastes like based on W's descriptions. And from reading various descriptions on the web.
From what I've gathered, an In'N'Out burger is small. It's made with really fresh ingredients and served with a "secret sauce". And lastly, it's stacked in a specific order—from bottom up, bun, sauce, tomato, lettuce, patty, cheese, grilled onion, bun. Since I've never eaten one, there's no way I'd be able to replicate it—it's a bit like trying to sing a song without ever hearing it first. But because I was kind of curious what the fuss was all about, I did decide to take what I had read and come up with a burger in the spirit of In'N'Out's double double (two patties, 2 slices of cheese) but made my own way.
I made a bunch of small patties, each about a half inch thick (In'N'Out's are supposedly a quarter inch). I blended a sauce together using ketchup, mayo, Japanese mayo, Champagne vinegar, worcester sauce, sugar, salt and pepper. We served the burgers with the sauce, romaine lettuce, tomatoes, Kraft Deli Deluxe American cheese slices, grilled onions and small butter buns fried in salted butter. I though the burgers were delicious. And I loved the small size; it made them easier to eat.
Of course, when I served one to W, he said it tasted great but wasn't anything like an In'N'Out. Which, I think, is pretty okay with me.
The Green Room Surf Cafe
113B Bussell Hwy, Margaret River
Western Australia
(Note that the café only opens at 5pm)
Taylor's Refresher
933 Main Street
St. Helena, CA
USA
Corner Bistro
331 W 4th St
New York, NY 10014
USA
Aun has always loved food and travel, passions passed down to him from his parents. This foundation, plus a background in media, pushed him to start Chubby Hubby in 2005. He loves that this site allows him to write about the things he adores--food, style, travel, his wife and his three kids!