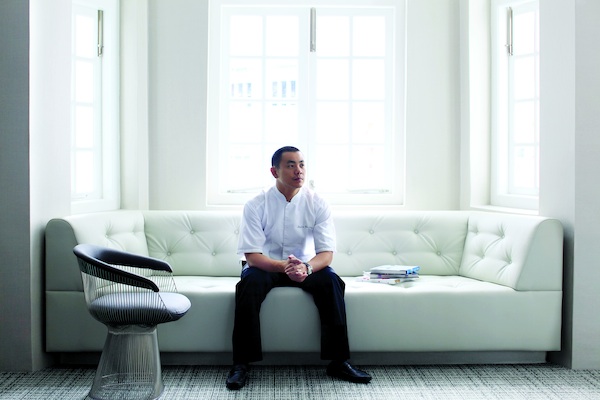 "There is no such thing as the best (chef)", writes Ferran Adrià, who knows a thing or two about good chefs, "but it is possible to point out something more important – the chef who is the most influential, the one who establishes the way forward." During my gluttonous tour of restaurants in Singapore and New York (where I lived for close to four years) I've encountered very few chefs who can challenge for such a lofty title; but, when I do find such culinary mavens, I've noticed that each one of them seems to have a unique philosophy, a kitchen ethos that both defines them and challenges the boundaries of dining. Recently, I had the unmitigated pleasure of speaking to one such chef ­– Singapore-based Andre Chiang of Restaurant Andre, who, to me, is one of the most inventive, innovative restaurant personalities in the world. 
Having spent close to twenty years working in some of the most celebrated kitchens in France – Pierre Gagnaire, La Maison Troisgros, L'Atelier de Joël Robuchon, to name a handful — Andre's first foray into the Singapore restaurant scene was his two-year stint at Jaan, during which he helped the restaurant win the World Gourmet Summit's Restaurant of the Year award and pushed it into 4th place in The Miele Guide's 2010/2011 rankings of Asia's finest restaurants. But it is chef Andre's eponymous restaurant that has propelled him, and his cuisine, into uncharted, stellar territory. Since it opened in 2010, Restaurant Andre has received just about every accolade imaginable, including being named by the New York Times as one of ten restaurants in the world worth a plane ride.
At the heart of chef Andre's cuisine is his Octaphilosophy, a set of eight characteristics that define the man and his approach to cooking. In place of an a la carte menu, the restaurant has only one option, a degustation that pays homage to each of these eight characteristics. A dish that exudes the attribute of "Salt," for example, is anointed with the brine of the sea, while an item imbued with the "Pure" attribute uses no such seasoning, instead allowing the natural flavors of the ingredients to take centre-stage.
I've eaten at both Jaan and Restaurant Andre, and, while I have no complaints about my experience at the former, it is the dinners at the latter that have made me such a huge fan. Think perfectly seared jewels of yellowtail; ostentatious marriages of foie gras and black truffle; and apocryphal root vegetables from the south of France, served on plates hand-fired by the chef himself. Having a meal at the restaurant, built into a modest three-storey shophouse on Bukit Pasoh, is like entering the domain of a meticulous dilettante at the very height of his powers.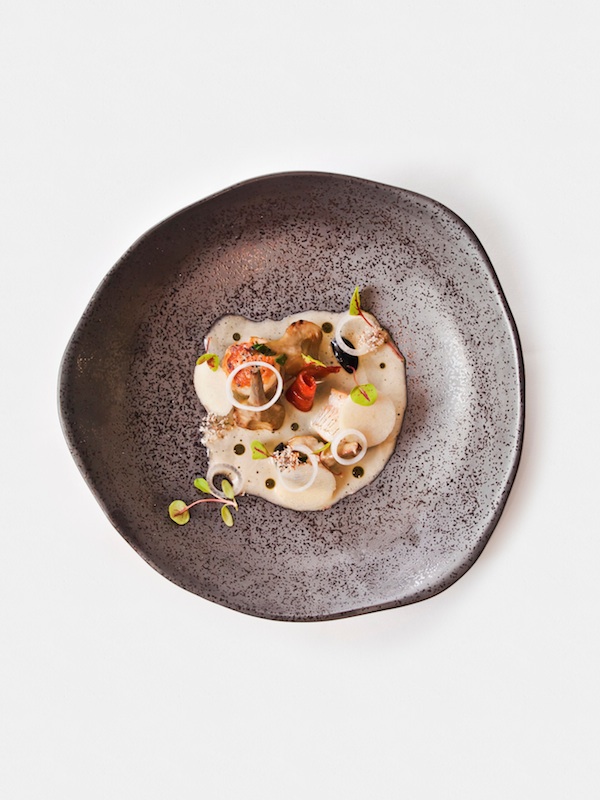 "With the Octaphilosophy, I've found the best way to express myself," explains chef Andre. "As chefs, we learn so many different techniques, and travel in search of new ingredients; but in the end, you need to find something that suits you, something that you're good at and that can deliver your message, tell your story."
The personal element, it seems, is the key to developing a truly distinctive style. René Redzepi of Noma in Copenhagen, considered by many to be the best restaurant in the world, has combined Nordic cuisine with an approach to life and a singular perspective towards food that has become identifiable as the Noma style. Fergus Henderson of St John restaurant in London made nose to tail eating, the philosophy that no single part of the animal should go to waste, fashionable again. Joël Robuchon's minimalist Japanese approach to French cuisine set his restaurants apart from the heavier fare of his peers.
To me, chef Andre's story, which I've been able to taste on numerous occasions, contains two very intimate narratives.
The first is a commitment to letting the ingredients dictate the technique and cuisine, instead of the other way round. Chef Andre is a firm believer of produce-driven cuisine. "We let our suppliers pick whatever is the freshest, the best on any particular day on season, and then we work with that to create dishes based on the eight characteristics of the Octaphilosophy."
It's a jazz-like improvisation that I've also seen in another outstanding chef, Jiro Ono of Sukiyabashi Jiro in Tokyo. In David Gelb's soft, sensual documentary, Jiro Dreams of Sushi, chef Jiro constructs his sushi-only dinner menu based on the recommendations of his suppliers at the Tsukiji fish market. In both cases, the chefs eschew the routine of a conventional menu, and instead use the freshness of their curated produce to startling effect. Not surprisingly, chef Andre sources many of his ingredients from Japan, which would explain the sashimi-like quality of his seafood.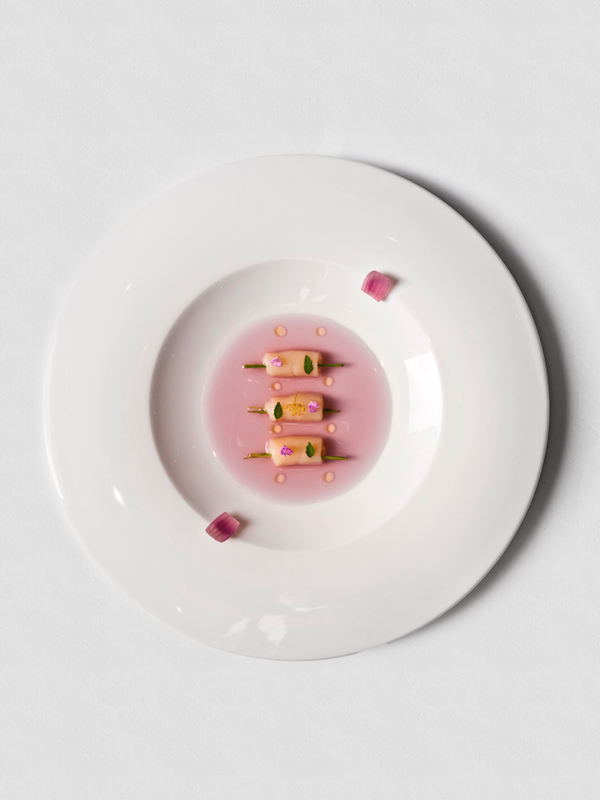 The second narrative is a tale of creative restlessness, a burning desire by chef Andre to, in Ferran Adrià's words, "establish the way forward" by pushing the boundaries of taste and cuisine.
This obsession with the unexpected and the quixotic is what makes dining at Restaurant Andre such an iconoclastic, yet deliriously tasty, experience. For my various dinners there, I was treated to such surprises as scallops and nasturtiums in cauliflower consommé; oysters served with sea grapes; and a risotto that wasn't quite what it seemed. Every dish was an imminent enigma, every bite a new vista on a lush landscape.
To engineer these sui generis creations, chef Andre looks to the disciplines favored by Delacroix and Da Vinci for inspiration. "I read about fashion, architecture, art, anything. I hardly read cookbooks – they limit your thought, your creativity, and put you in a box." Walls cannot be shattered by the tools of a single trade.
But in food, as with all creative media, what's important is not just the story itself, but also how you tell it; and this is an area that chef Andre believes is critical to his cuisine. "You need emotion to balance the nature and structure of a dish," he tells me as we sip sparkling water in the ground floor of his exquisitely crafted restaurant. "The story behind the dish; the interaction between guests and the service staff; even the memory that you have of your meal. Emotion makes all the difference. That's really important to me."
I can't help but agree with him. The allure of Restaurant Andre lies not only in the food itself, but in the experience of walking up the wooden stairs to your table, listening to your server as she explains the Octaphilosophy and the evening's various dishes, and much more. In a presentation chef Andre gave at TEDxTaipei, he expressed a desire to create a restaurant experience similar to that of watching a good movie. In this way, he isn't so much a chef as he is an itinerant storyteller, unraveling his ideas with edible ink on the plate.
And, like any storyteller, like fellow chefs Redzepi, Robuchon, Adrià, to name a few, chef Andre wants to spread his tale. "I hope the Octaphilosophy and my restaurant will inspire chefs to see that you don't need to work within a frame. You don't need to have a menu. You don't need to use text on a page to impress your guests," he enthuses. "The idea is to simplify the experience for our guests, so they really enjoy the journey. You come to the restaurant without the pressure of having to order from a menu, and you may discover something new, something that you would never order."
There really may be no such thing as the best chef; but, judging from his vision, his philosophy, and his story, in my opinion, chef Andre Chiang is on the way to becoming one of the most influential.
RESTAURANT ANDRE
41 Bukit Pasoh Road
Singapore 089855
Tel: +65 6534 8880
www.restaurantandre.com
Tuesdays—Fridays ­12pm—2pm, 7pm—11pm
Saturday­s—Sundays 7pm—11pm
Closed Mondays and Public Holidays
All images are courtesy of Restaurant Andre.
Brandon Chew's first memory is of him eating chicken rice at the dining table of his parents' old flat. His second memory is of him politely asking for, and receiving, a second helping of fries at KFC, which taught him two things: manners gets you places, and fries are the most awesome food known to man. Brandon has just returned to Singapore from New York and is happily exploring the food scene here.