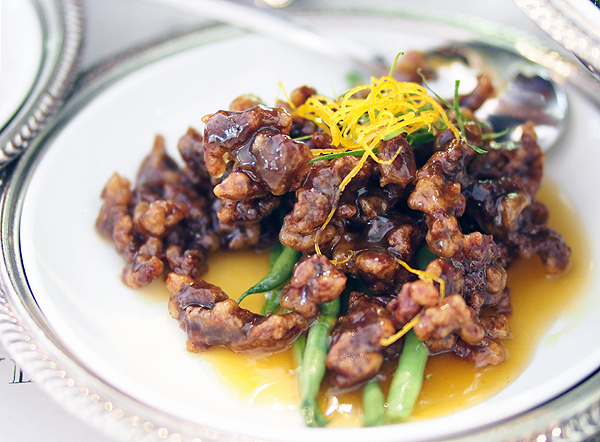 To be honest, I had kind of avoided Chopsuey Cafe when it first opened. Early reviews by both press and bloggers weren't entirely favorable. But, a few months ago, my sister-in-law J, who has impeccable taste, recommended that we go there for brunch. And I'm so glad she did. Since then, I've been back several times, each time becoming more and more enamored with this elegant yet oh-so-kitschy restaurant tucked away in a corner in Dempsey Hill. In the end, I've come to the conclusion that all of those critics who pooh-poohed this marvelous little Chinesey eatery, well, just simply didn't get it.
Chopsuey Cafe has several things going for it. One, it's a beautiful restaurant, which is only to be expected given it is part of the PS Cafe family. I so wish the guys behind this group would offer interior design services; I would love to live in a house kitted out by them. Two, it serves up great drinks. My favorite so far is the White Sangria, a lovely, light, fruity concoction with chrysanthemum flowers and lychees. It's actually become kind of my standard daylight cocktail when lunching or brunching there.
Third, I've always experienced excellent service. All of the staff I've encountered there have been professional, friendly, patient, and very helpful. I especially recommend Maverick, who is definitely one of the coolest and nicest waiters in town. Lastly, I personally love the food.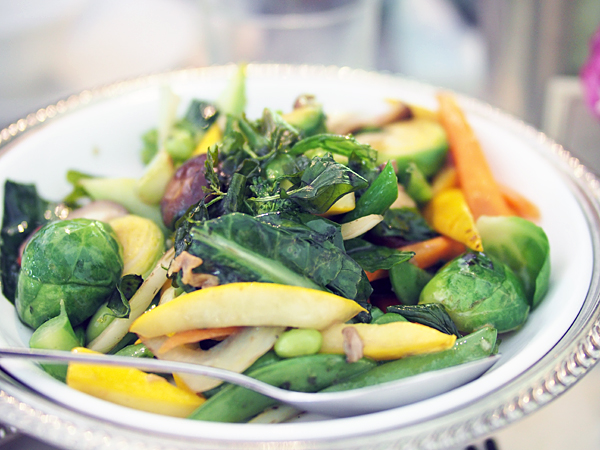 But let me also say that part of the reason I enjoy the food so much is because I am not one of those authenticity nazis. I have friends like that though, who rather aggravatingly and snobbishly insist that a dish has to stick to historical traditions in order to be considered worth eating — regardless of taste. And while those peeps may be friends, I try my best never to dine with them. Because if I did, I would probably start yelling at them. And maybe even try to slap some sense into them.
I love Chopsuey Cafe's food because I get what they are trying to do, and not only does the food taste great, I appreciate the humor and irony of it all. The menu here pays homage to American and British Chinese food, especially that greasy takeaway crap that, if you had ever gone to school in those countries, you probably lived off of for years. I know I did. When I was a student at Columbia, and lived off campus on the corner of 125th and Broadway, I patronised the same grubby little Malaysian owned Chinese takeaway at least a couple times a week. Not only was the food cheaper than dining on campus, it was, over time, something I actually began to crave.
Of course, the food at Chopsuey Cafe is a lot better than your average takeaway, which is what makes going there such a treat. The orange beef (rusty nails) is probably the best version of the dish I've had outside of Shun Lee in NYC (which was the best American Chinese restaurant in the city). I also love the chopsuey, made with very fresh vegetables (something that you would never find in the West); the five spice lamb ribs; prawn toasties (I hadn't had these in decades!); General Tso's chicken drumlets; and the mud crab fried rice. My wife S and my two and a half year old son T give the roasted spring chicken with cinnamon & spice salt; the homemade soya milk and egg tofu slices; and the jade fried rice their seals of approval. I've actually yet to have dessert at Chopsuey Cafe, mostly because I usually gorge myself on the apps and mains.
For some, Chopsuey Cafe may be a bit of an odd fish. But for me, it's a gorgeously chic and cool place to tuck into the best versions of dishes that bring me back to younger days. And that makes it a really special place in my books.
Chopsuey Cafe
Block 10 Dempsey Rd
#01-23
Singapore 247700
Tel: +65 9224 6611
www.chopsueycafe.com
Aun has always loved food and travel, passions passed down to him from his parents. This foundation, plus a background in media, pushed him to start Chubby Hubby in 2005. He loves that this site allows him to write about the things he adores--food, style, travel, his wife and his three kids!