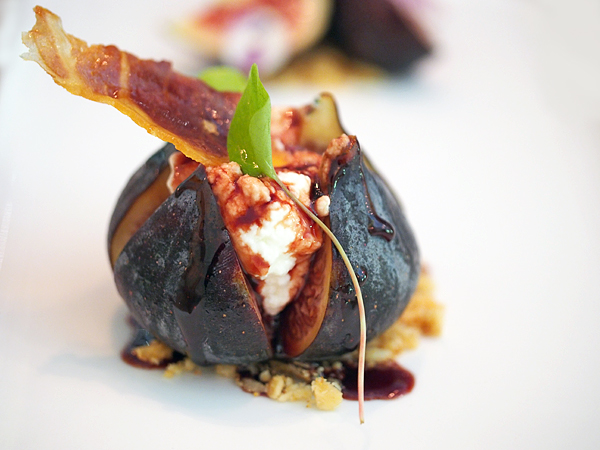 I'm always quite excited when I hear that a chef is trying to take on the very interesting challenge of producing "Modern Singaporean" cuisine. Combining our traditional flavors with modern cooking techniques, plating styles from different cultures, and ingredients from all over the world is something that I both enjoy playing with at home and eating when done deftly by a skilled chef. Chefs that do this well include Willin Low, Jeremy Nguee and Malcolm Lee. And, from what I've tasted during a recent trip to Pidgin Kitchen & Bar, Chef Adrian Ling.
Truth be told, I had never tried Chef Ling's previous venture, Pamplemousse, a French bistro located in the exact space that Pidgin resides in today. To me, and I do admit this is a tad snobbish, I didn't really feel like I needed to discover another mid-priced French eatery. Most bistro classics my wife and I could cook at home, so other than supporting friends, we never saw the need to pay for food we could otherwise, and at a much lower cost, do ourselves.
But with Chef Ling's decision to move into Mod Sin, I felt it was time to check out his food. And I am glad I did. He serves smart, tasty fusion dishes that combine very familiar flavours and ingredients in novel and highly approachable ways. A very smart formula that he uses is to take a comfort food from one culture and add one or more very popular local elements to create his new dish. Take, for example, his Bak Kwa Mac & Cheese. Mac & cheese is a beloved American classic. Bak kwa is a much loved local snack. Add them together and you have a dish that makes people that love both things swoon in food lust.
During our lunch, my wife, two friends and I shared several plates. The RT's Uni Toast — sea urchin sitting on melted Comte cheese on top of toasted brioche — was sensational. The Crab Otak Croquettes were flavorful, but they lacked the interior ooziness I associate with Japanese and Spanish croquettes. The Chicken Rice Arancini were good. My dining companions liked them more than I did. I would have preferred a little more punch but they said they got enough of the chicken rice flavour to satisfy.
The Lobster Wonton Capellini was good. A nice smart dish that had a good level of umaminess. My only problem with it was that the lobster didn't shine. Similarly, I felt that the Sambal Eggs, which my wife said friends had recommended, was underwhelming. To me, the dish lacked complexity and depth. Next time, I plan on trying the Oyster Egg, which is what I had wanted to try in the first place (but was overruled by my spouse). The Spicy Tuna Tartare was excellent. It had a nice level of seasoning; the dressing  had a lovely bit of heat and acid; and the fish was very fresh. The Salad was something my wife also insisted on ordering. It was nice but not something I would likely order again. We also had one of the daily specials: an excellent but very Western plate of figs stuffed with goat's cheese and drizzled with balsamic.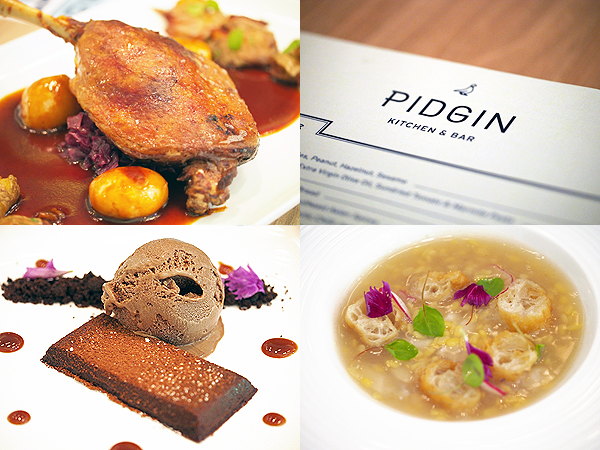 The best dish of the day was also the most modern… Razor Clams Tau Suan. The clams are served with split mung beans in a clam dashi with slices of dough fritter. Beautiful plating. Gorgeous flavour and fun textures. Not only was this the most complex, mature and best tasting dish, it was also strange enough of a combination to make the dish stand out completely from the rest of the items we tasted.
The second best dish of the day was the Famous Duck Confit, served with duck fat potatoes. The duck was pulled off magnificently and the accompanying tangy plum sauce a perfect foil to cut through the fat of the meat and lift it from great to awesome.
We also tried both the "Milo Dinosaur" Version 2.1 and the Kaya Bread & Butter Pudding. While I am a little sick of desserts that use volume numbers in them (it was fine when one chef did it; not cool when dozens of them use the same refrain), the Milo Dinosaur was really worth ordering. It's a 72% dark chocolate flowerless cake served with milo ice cream, milo streusel and some dulce de leche. The bread & butter pudding was also expertly made and something I would be more than happy to recommend.
In all, Chef Ling has done a great job in his first forays into Mod Sin. From what I can see, there are two directions he can go. He can either continue to serve up fun, accessible fusion fare that plays on the marriage of comfort foods from east and west or he could take the tougher road and build on the great potential he showed through a dish like the Razor Clams Tau Suan. The latter might make him less money today, but if he does that, I could easily see him talked about in the same way people speak of that small community of culinary artists-philosophers like Andre Chiang and Alvin Leung. Either way, he's definitely doing something worth checking out.
Pidgin Kitchen & Bar
Block 7, Dempsey Road
#01-04
Singapore 249671
Tel: +65 6475 0080 or email info@pidgin.sg
www.pidgin.sg
Aun has always loved food and travel, passions passed down to him from his parents. This foundation, plus a background in media, pushed him to start Chubby Hubby in 2005. He loves that this site allows him to write about the things he adores--food, style, travel, his wife and his three kids!