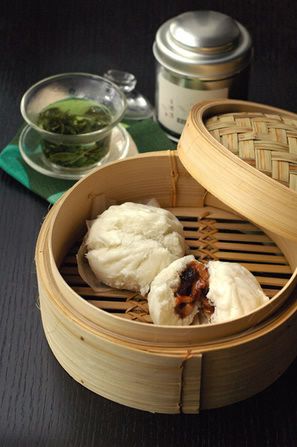 Unfortunately, I didn't make the delicious looking cha siu pau pictured above. Fortunately, I did have the pleasure of eating it and a whole table filled with other delicious dim sum this past Sunday morning.
Waking up too lazy to make our own breakfast, S and I decided to take a short walk around our neighbourhood and grab some food somewhere nearby. Our original destination was a prata stall at the corner of Short Street and Middle Road that I like because their prata are always very crispy. They weren't open however. So, we walked across the street to Sunshine Plaza, which is on Middle Road between Prinsep and Bencoolen Streets. There's a wonton mee shop there that I like but hadn't visited in many months. I also recalled reading in the Straits Times that there was a good duck noodle place now operating in the mall. We didn't find any duck noodle shop, but we did run across a little dim sum restaurant called Victor's Kitchen. This place is tiny; it can seat maybe a dozen people inside and another dozen more at foldable tables set up outside, in the mall's corridors. Inside, aside from the tables and stools, there's one long counter covered with dim sum steamers and a small open kitchen. When we first walked by, there was nobody inside, except for the chef, and one family happily eating away at one of the exterior tables.
Curious, we decided to try a couple dishes, thinking that if they weren't great we could head over to the wonton mee shop just a few doors away. We ordered a cheong-fan wrapped around dough sticks, some siu mai, and a steamed carrot cake. All were excellent. In fact, the steamed carrot cake was one of the best I have ever eaten. We quickly ordered some more food. I insisted on trying the lo mai kai and what the chef calls his Tasty HK Chicken. S asked for an order of custard buns. Again, they were all fantastic. The lo mai kai was delicious and I could have easily eaten another. But it was the custard buns that really blew me away. While S loves these, I have never really been a big fan. For those of you who don't know what I'm talking about, a custard bun is made with a soft fluffy dough and filled with both egg custard and some salted duck egg's yolk. All of the ones I have ever tried have kind of left me wondering why people like them. Until Victor's. His custard buns were revelatory. The dough was soft and light while the custard was sweet and runny—something I have never experienced before. Usually, the custard is overcooked and dry. But these were beautiful. Not wanting to stuff ourselves too much, we ordered some "oyster sauce cha siu pau" to take home (and also because I wanted to shoot them) and decided to stop there, rationalizing that we lived only 5 minutes away and could easily come back again.
I regret, however, not trying Victor's "king prawn har kau", which he told us was one of his specialties. Not being a huge har kau fan, I had decided against ordering it. But as the restaurant filled up (which it did in the 30 minutes we were there), I began to notice that every other customer was ordering them. One man even asked for 4 orders.
Victor Leung and his wife moved here from Hong Kong only last year. And they moved for one of the best reasons I can imagine—so that their kids can take advantage of Singapore's public education system, which is one of the best if not the best in the region. I really admire this incredibly friendly couple. They picked up, moved here and have started from scratch for the sake of their kids. Victor has 20 years experience as a dim sum chef, and has worked in several countries. His last job, before coming here, was in the dim sum kitchen at the New World Hotel in Kowloon. If you're a dim sum fan, you must, must, must check out this tiny, inexpensive and simply fantastic find. Even if you're not, I urge you to visit, for no other reason than to support Victor and his wife.
Victor's Kitchen
91 Bencoolen St, Sunshine Plaza, #01-21 (open 10am-9pm, Tues-Sun)
HP: 9838 2851 (He also does catering)
Aun has always loved food and travel, passions passed down to him from his parents. This foundation, plus a background in media, pushed him to start Chubby Hubby in 2005. He loves that this site allows him to write about the things he adores--food, style, travel, his wife and his three kids!