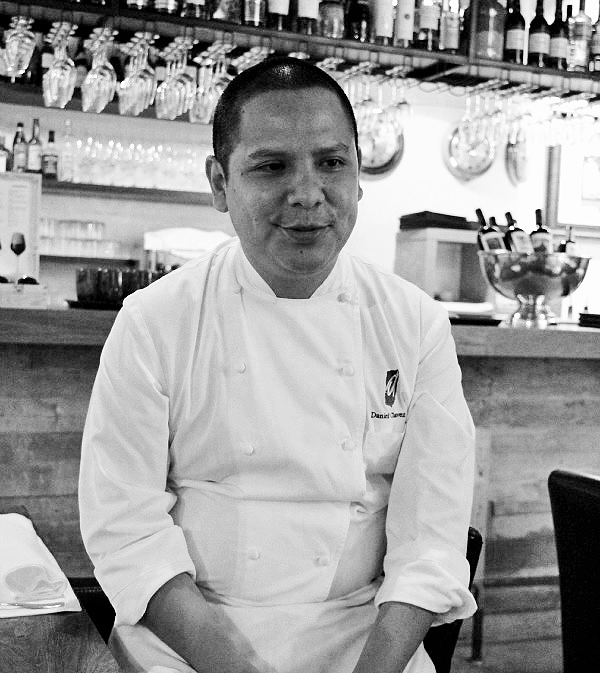 When the Chavez family decided to relocate to Florida, little did Daniel know that his career would be taking a turn towards the biggest adventure of his life: discovering his culinary side.
Daniel Chavez is Peru's culinary ambassador to Singapore.  That's how I see him, anyway.  Despite his training in Spanish cuisine, and his opportunistic beginnings inside a kitchen, he is a talented representative of Peruvian food in South-East Asia.  Daniel's personality, subtle, humble, is what makes him shine.  His experience is top-notch, yet he speaks of himself with such simplicity, and holds the lessons he's learned along the way with such regard, that he sees himself as an eternal student, and the fruit of his lessons are seen in his food.
Daniel's curriculum vitae is impressive.  From a brasserie in Florida to work experience in Lima and Cusco, he took a leap of faith and moved to Spain to do a hospitality course.  That one decision led him to Valencia, then Barcelona, where he met his mentor Santi Santamaria.  Daniel gained experience next to Santi, but mostly understood the value of a true boss.  Santi led by example, he made sure every member of his team counted, from dishwasher to maître'd.  After Barcelona, Daniel went with Santi to open Ossiano Restaurant in Dubai.  A few years later, he'd become executive chef of Santi Restaurant in Marina Bay Sands.  That's where Chef Chavez learned a practical lesson: Singaporeans love seafood.  Then, the concept for Ola, Cocina del Mar (Wave, Cuisine of the Sea) came along, a Spanish seafood restaurant in the modern heart of Singapore's financial district.
Have you always want to be a chef?
I was a late bloomer.  When my parents moved to Florida, I jumped on the bandwagon, unsure of where I was heading career-wise.  I had been studying business in Lima, but was neither here nor there with my vocation.  My father convinced me to change courses and give the Florida Culinary Institute a go.  I had done an introductory cooking class at a culinary school back in Peru, but just as a bit of fun.  I was hesitant at first, but after the first week, I was loving every minute.  I'd found my new self!  Three months later, I started working at a big brasserie, Henry's of Boca.
If it hadn't been for my dad's insistence, I would never have given it a go.  I owe my parents a great deal, especially for pushing me to discover the dormant chef inside me.
Who's the best cook at home?
Back in Peru, definitely my paternal grandmother.  She's queen of the kitchen.  Our family is quite large, sixty of us would get together on the weekend, and she would cook for all us; a feast, needless to say.   Her star dish is carapulcra (the traditional Peruvian stew made with dried potatoes, pork, peanuts, and chilli), that's what I miss the most.
What is your go-to dish?
Pasta! In all of its forms. And lately, cebiche.
What cuisines do you pay attention to the most?
Spanish, always, especially because of my training, but as I'm a Peruvian chef who hasn't trained in Peru, I always pay special attention to Peruvian food to perfect my trade which didn't take place in a Peruvian kitchen.  Additionally, I'm impressed by Chinese cuisine, by its depth and complexity, and would like to learn more about it.
Santi clearly made the biggest impression on you; what are your fondest memories of him?
That's easy.  Eating a staff meal at Can Fabes, everyone eating like one big family, Santi in the middle, chatting with everybody, despite the European way of diving people hierarchically. Santi sat next to the dishwashers, Santi made sure everyone ate the entire meal:  appetizer, salad, fish course, two meat dishes, desserts, bread soup.  I remember him having a political discussion with some people who had emigrated from Africa; he was genuinely interested in people, and in getting to know his staff.  My biggest lesson:  we're all the same, so be a true human being, treat everyone with respect and be humble.
Your style in three words?
Joyful, simple, tasty.  I try to be, anyway, in the kitchen and in life.
What's an ideal day at home for you? Or an ideal day off?
I like to go out to eat.  Singapore is perfect for that, both chefs and locals do it as a hobby.  I enjoy seeing what's happening behind other kitchens.   An ideal day off would be to cook for my family.  I miss my parents who are in Lima, and my brother who lives in China. I'd love to cook for them.  I feel I have a debt to my parents, I guess they'd be my celebrity guests, to show them what I'm doing, where I'm going with my food.
What food do you travel for?
Cebiche, no doubt about it.  I travel and would travel to any and every cebicheria.  I can't wait until my next trip to Peru to see what new things are coming about.  I'd also revisit an old favourite, La Paisana in the district of Magdalena.  It serves cebiche from the north of Peru.  The difference is in the spice – aji limo is always the key chilli, it gives it a different aroma and flavour.  At La Paisana, it's always superb. 
What's a guilty pleasure or yours?
In Singapore? Mee sua and pork offal soup, I love that stuff.
Do you have an essential cookbook?
There are hundreds, but Thomas Keller's The French Laundry is excellent.  Well explained, great technique.
Please, share with us a kitchen nightmare story!
I was straining chicken stock and the boiling soup fell on my foot! That was during my first month as a chef, twelve years ago.  I didn't even have real chef's shoes then, and my foot got badly, badly burnt.  I was wearing these massive boots that I thought would protect my feet.  Lesson learned the hard way. I had to spend the rest of dinner service with my foot inside a bowl full of ice.  The scars are deep, you can still see them.
What do you feel is a Singaporean treasure?
The hawker centres.  They're amazing, I keep discovering things, spices, new flavors, crazy dishes.
Any favourite drinks to accompany spicy curries and noodle soup?
Tiger beer!
What would you like to see more in the Singaporean food scene which is already so buzzing and vibrant?
A Peruvian restaurant, for sure.  Singapore is the only gastronomical capital that doesn't have a Peruvian restaurant. As for Ola, I intend to bring in more Peruvian dishes.  The competition in Singapore is heavy, so it's important to keep adding new things to the menu, making seasonal changes.  Ola has been open for ten months.  Fortunately the numbers keep growing – due to word of mouth, the clientele numbers are picking up, more Latin American customers are starting to frequent the restaurant.  I'm also doing cooking classes and have been approached to do pop-up restaurants.  Hopefully that'll encourage more locals to be enticed by Peruvian food.
Ola – Cocina del Mar
12 Marina Boulevard, Marina Bay Financial Centre Tower 3, #01-06
Singapore 018982
Tel: +65 6604 7050
www.osvaldo.sg/ola/

Janice is a girl from Lima, Peru who loves a good cebiche and a glass of dry Riesling. She travels the world (often for food or to check out new restaurants) and lives in Australia. Janice tries to learn about different countries through cuisine, and takes advantage of Sydney's multiculturalism by exploring gastronomy in all of its forms. Grower's markets, wine tastings, restaurant openings, cooking classes, shopping for specialty spices; she's keen to do it all.