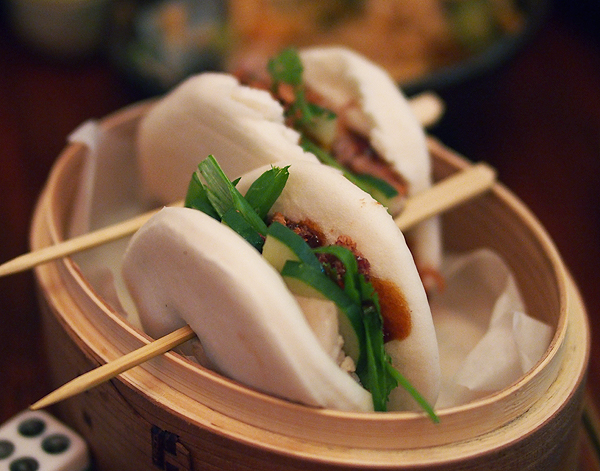 I'm a fan of Chef Ryan Clift. And I'm happy to admit it. I admire the very technically refined and often challenging food he cooks at Tippling Club, his flagship fine diner. And I love the food at Open Door Policy, his casual bistro in hipsterville (i.e. Tiong Bahru). And now, with the opening of DING DONG, Ryan's ode to Southeast Asia, there's yet another reason to respect this very hard-working chef and restaurateur.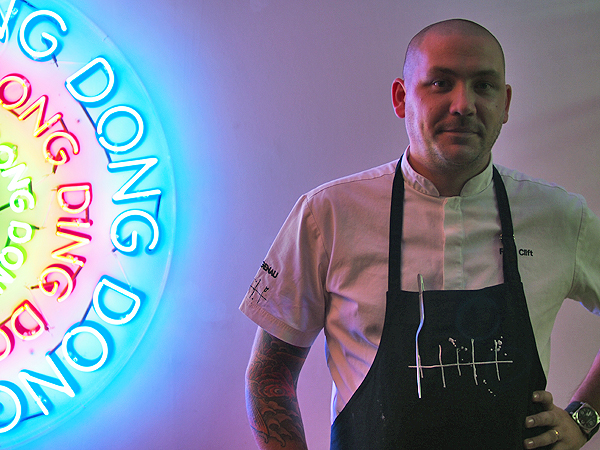 DING DONG is nicely situated on Ann Siang Road, which, along with Club Street into which it turns, has been recently reinvigorated with a slew of notable and praise-worthy openings. This casual Southeast Asian small plates restaurant and bar is not only a great addition to the neighborhood, but the dining scene in Singapore as a whole. And while some hardcore purists (and hawker fanatics) might not appreciate the concept of a Western chef reinterpreting Southeast Asian flavors, I am all for it; especially when the chef is as talented and inventive as Chef Clift.
The menu that Clift has developed is really tantalising. It's also really quite expansive. There are 8 soups or salads and 18 small plates to choose from. The toughest thing about dining here — other than getting a reservation — is deciding which of the many delicious items to choose from.
When S and I, along with two friends, dined at DING DONG last week, we sampled several delicious dishes. We tried the Kingfish sashimi with pickled daikon, wasabi and yuzu dressing; the scallop ceviche with fresh coconut and Chinese cabbage; the Vietnamese chicken coleslaw; the crispy crab and pork wontons; the dark soy pork belly with garlic; the fried sushi rice with pickled cucumber and fried Sakura ebi; the Vietnamese scotch eggs; the five-spice lamb ribs with sweet green chili sauce; the carbon-battered lemon sole with red curry marinade and coriander mayo; the garlic-pepper squid with nuoc cham sauce; the pork gyoza with black vinegar and ginger; and the smoked pork bao with hoisin, cucumber and crispy shallots (um… can you tell we were hungry?). Everything was executed extremely well. From the items we tried, my favorites were the scotch eggs, the lamb ribs, the sushi rice, and the carbon-battered sole.
My other favorite dish, and the one I would return to have again and again, was actually one of DING DONG's desserts, the curiously named Malacca chendol 2013. This was both a tremendously fun dessert as well as an incredibly delicious concoction. It consisted of cubes of gula melaka jelly, with crushed ice, peanuts, condensed milk and corn ice cream, and popcorn, topped with a not overly sweet syrup. The only thing holding this dessert back from utter perfection, in my wife's opinion, is a couple drops of salted caramel, which I agree would take this from being delicious to truly stellar.
Make sure, when visiting DING DONG, to have a cocktail (I suggest the Golden Mile) and some wine. Both lists are expertly crafted. I especially like that both at DING DONG and Open Door Policy, Chef Clift and his team have made it a point to offer very affordable wine lists; the most expensive wine on the list at DING DONG is SGD$135.
DING DONG, to me, is a genius restaurant. And one that could travel supremely well. I can easily see DING DONGs doing roaring businesses in London, Sydney and New York, among other places. But for now, there's only the one here in Singapore. That said, I have no doubt that within months, Ryan will be fielding calls from from all over the world, from people dying to franchise this really special Southeast Asian tapas bar.
DING DONG
23 Ann Siang Road
Singapore 069703
Tel: +65 6557 0189
www.dingdong.com.sg
Aun has always loved food and travel, passions passed down to him from his parents. This foundation, plus a background in media, pushed him to start Chubby Hubby in 2005. He loves that this site allows him to write about the things he adores--food, style, travel, his wife and his three kids!