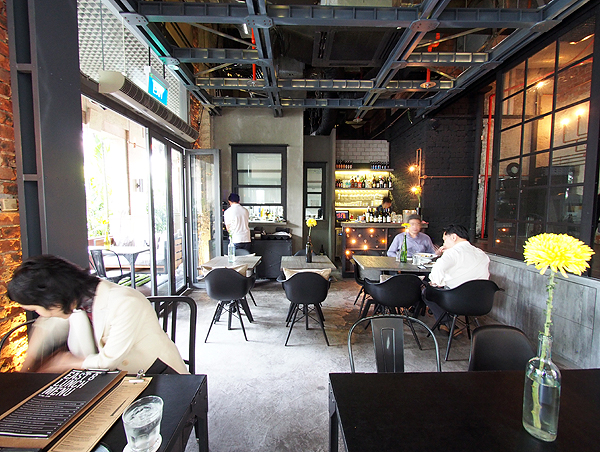 Until about a month ago, I had never heard of East 8, this despite the fact that it's a quick ten minute walk from my office. A good friend had written to me saying that a friend of hers had opened up this tiny New York-inspired fusion tapas bar and suggested I give it a go. So, a few days later, I checked it out. The long and short of it is that East 8 is not bad. Nice interiors. Very nice people. And the food is pretty good, but like all "tapas" bars in Singapore, it's priced a little higher than what I consider the food to be worth. Basically, a good option if you're in the 'hood and money isn't really a concern.
The menus (and I purposely say "menus") at East 8 are rather extensive. There is a classic menu with a pretty wide range of options categorised under Raw Bar, Salad, Meat, Sides and Dessert. Then, there's the special menu, that offers an ever-changing selection of eight items. My dining companion and I decided to try the crispy Sapporo beer battered oysters with spicy chipotle salsa dip; the baked bacon wrapped Hokkaido scallops, topped with sunny side up quail's eggs and yuzu vodka cream; and the slow braised caramelised pork belly and melted Gruyere cheese mini sliders, all from the specials menu. We also ordered the "soy yuzu beef infused torched, sliced Argentine tenderloin" from the classic menu.
The scallops were quite good as were the oysters. The beef was excellent. Unfortunately, the pork belly slices served to us in our sliders were rife with hard cartilage, which was really just sloppy chefmanship.
So, overall, we had a nice if not uber-memorable meal. Would I go back? Maybe. But I think the owners and the chef have a lot of growing to do.
If I were them, I would cut back on the number of dishes being served. I think it makes more sense to excel at a few things around which you can build your reputation than to try and overwhelm customers with choice. I'd also move a little away from the whole "tapas" thing, of which I am frankly sick to death of here in Singapore. The tapas trend here has really been a way for many restaurateurs to convince customers to order more things and pay more — consider that today's "small plates" cost as much as a normal appetizer or main course does in many other capital cities around the world. And frankly, for a restaurant that calls itself "fusion", nothing really stood out to me as special or particularly innovative. There was nothing that made me think, "Oh wow, this chef is really exciting." In fact, I left not really caring who the chef was (not a good sign). Combining Asian and Western ingredients, and even cooking methods, has become so commonplace today, that unless your food program is really exceptional, you come across looking like just another newcomer in an already crowded space.
But those are just the areas in which East-8 can improve. It already has many good things going for itself. Whether or not it survives and becomes one of Singapore's top tables is really now in the hands of the owners and its culinary team. I wish them the best of luck in this journey.
East-8
10 Coleman Street #01-21/22 (Facing Hill Street)
Grand Park Hotel City Hall, Singapore 179809
Mon-Fri: 12:00 pm – 11:00 pm
Sat: 6:00 pm – 12:00 am
email: eat@east-8.com
P. +65 63388289
www..east-8.com
Aun has always loved food and travel, passions passed down to him from his parents. This foundation, plus a background in media, pushed him to start Chubby Hubby in 2005. He loves that this site allows him to write about the things he adores--food, style, travel, his wife and his three kids!