In my previous post, I wrote about three amazing meals (at Sepia, Automata, and Ester) my wife and I enjoyed in our recent, super-short jaunt down to Sydney. The purpose of our trip was first and foremost to eat at the Noma Australia pop-up. Secondly, to see good friends, especially two amazing women named Julie and Joanna. Thirdly, to eat as much as we could over two days and three nights.
As also mentioned in my previous post, one of the two days we were in town was Good Friday. This meant that a lot of the city's top restaurants were closed. Fortunately, after a little bit of Google-time, I discovered that Icebergs Dining Room at Bondi Beach was open for lunch on Good Friday! Amazingly, neither the wifey nor I had ever been to this ultra-iconic restaurant, bar and pool club. Seriously, the pool at Icebergs may just be the most recognisable landmark in Sydney after the opera house. Someone mentioned to me that they'd heard that that pool was actually the city's single most photographed tourist landmark… and you know, I wouldn't be surprised if that's true.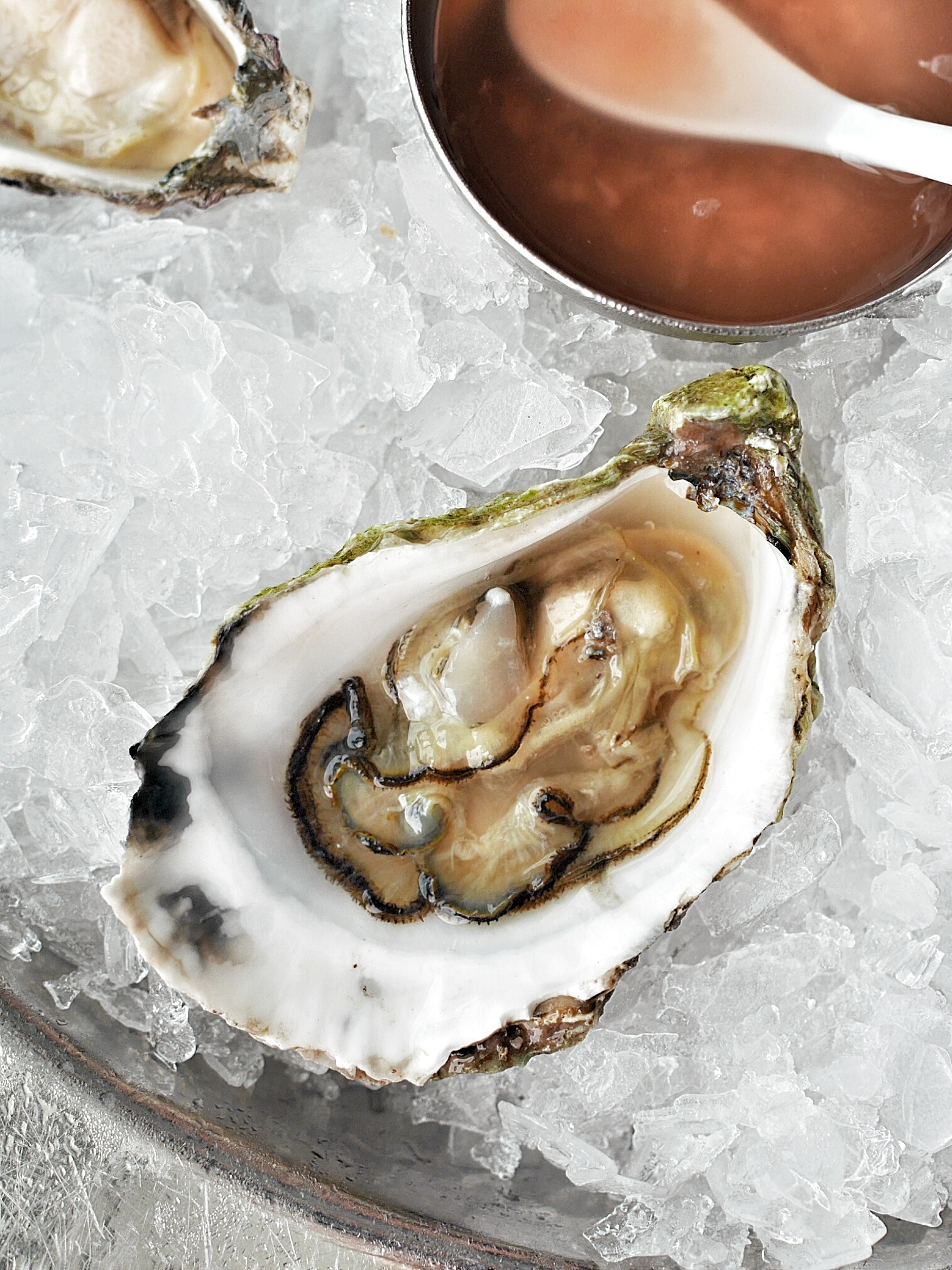 When we mentioned to foodie friends that we were going to lunch at Icebergs, we kept hearing amazing things about the venue — especially the view and that pool. At the same time, though, many told us not to expect too much from the food. I have to say that we had a great meal, with superbly executed, delicious Italian fare that showcased regional produce. I honestly couldn't have asked for anything better. Upon arrival, we had the warmest possible welcome by General Manager Rachel Duffy. She obviously sets the tone for her team — charming, professional, attentive, genial and witty when called upon. We kicked off our meal with cocktails and then dove into some oysters (because, well, that's what you do when dining ocean side with views like this!). We then had two of the specials that day: a delicious, umami Spanner Crab omelet and a refreshing and indulgent scallop sashimi with stracciatella. We then shared a plate of squid ink spaghetti with Western Australian Blue Swimmer Crab, which was perfectly cooked and seasoned. Hats off in my opinion to Chef Monty Koludrovic, formerly from Becasse, who has ensured that the food at Icebergs is as superb as its views.
Our Good Friday dinner was a special affair for us. We were dining, firstly with Sydney gastro-royalty, our friends Julie Gibbs, responsible for many of Australia's most ground-breaking, beautiful and important cookbooks, and legendary chef Christine Manfield. Secondly, we were going to dine at Billy Kwong, Chef Kylie Kwong's iconic Aussie-Chinese restaurant. While I've eaten Kylie's food before (albeit when her restaurant was in Surry Hills), my wife had never had the pleasure. That said, we've known Kylie for years and we cook from her books all the time. So, for my wife, this was an almost religious experience.
The meal did not disappoint at all. Kylie's food is at once comforting and revelatory. She's fashioned an exceptional menu that mixes classic dishes with innovative twists and a strong use of Australian native ingredients. The result is a very special menu that intellectually inspires you and make you asks questions, and when you taste the dishes, makes you want to come back on a weekly basis (if not more often). My wife, when we finished our meal, turned to me and said, "God, I wish we had a restaurant like this at home. This would be my go-to place for comfort food!"
I also absolutely loved the new restaurant. I loved that it's now in Potts Point (Potts Point is definitely my favourite neighbourhood in Sydney, probably because it reminds me of certain parts of New York where I grew up). I loved the size and scale of it. It's a large restaurant with two dining rooms and a long counter. The counter is always kept available for walk-ins, while the tables are available for reservations — that in itself is a huge change. I am sure I'm not the only one who remembers waiting in a long line on the street in Surry Hills. In many ways, the new Billy Kwong, as more than one friend put it, "is a grown up restaurant", which is appropriate given just how much Kylie has achieved. She's no fresh-faced upstart anymore (although she still has the energy of an 18 year old); she's iconic and inspiring, and has — over recent time — become one of the most important voices in championing Australian native ingredients. To me, today, a visit to Billy Kwong is simply a must on any eating itinerary.
While Potts Point was ultra-chic and urban, we also visited some beachier and more boho parts of town. Good Friday morning (before Icebergs), we ran over to Bronte, to visit a friend and check out Iggy's Bread and Three Blue Ducks. The former is a bakery whose founder has moved from Cambridge, Massachusetts, USA to Sydney, Australia (the US store is still operating). Many of Sydney's top restaurants and cafes purchase their bread from Iggy's. The morning we visited, Iggy let us try some exceptional sourdough croissants that he had made. These were truly special and we regret that we were unable to carry some back for our 5 year old croissant-loving son.
Three Blue Ducks is a casual cafe concept that started in Bronte but now also has a newer and much larger outlet in Byron Bay. Its founders were trained at such upscale establishments like Tetsuya's but conceived of Three Blue Ducks in order to set up a neighbourhood surfer cafe that served great, creative but unpretentious fare. Thanks in part to a great product and in other parts to great looks (the founders link like Abercrombie models), Three Blue Ducks has been a success.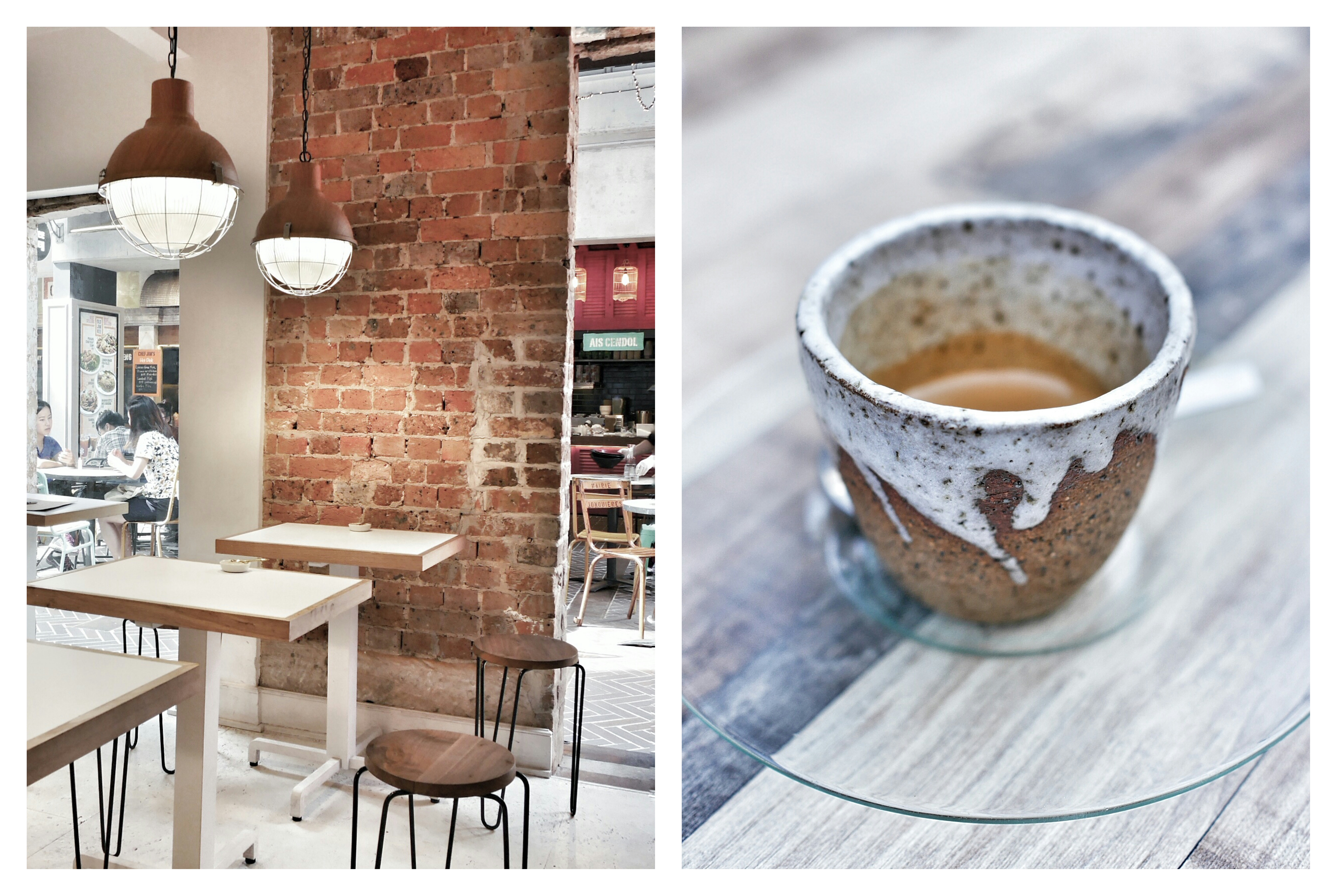 Closer to home — well, not really home, but to our hotel — we enjoyed exploring Spice Alley, a little enclave of Asian and Asian-inspired cafes and restaurants off Kensington Street. Our favourite place there was Glider, a coffee specialist and Thai-fusion cafe. The wifey and I adored the handmade coffee cups as well as the quality of the coffee. We stopped in a number of times for coffee here during our short trip and enjoyed meeting and speaking with Glider's owner Mark Verhoeven as well as his friendly service team. We also had breakfast at Glider on the morning we left town. I enjoyed my plate of duck noodles topped with a fried egg while my wife had a Thai omelette with chilli, garlic, shallots and minced chicken with Sriracha hot sauce.
Glider also has another (and first) branch in Potts Point.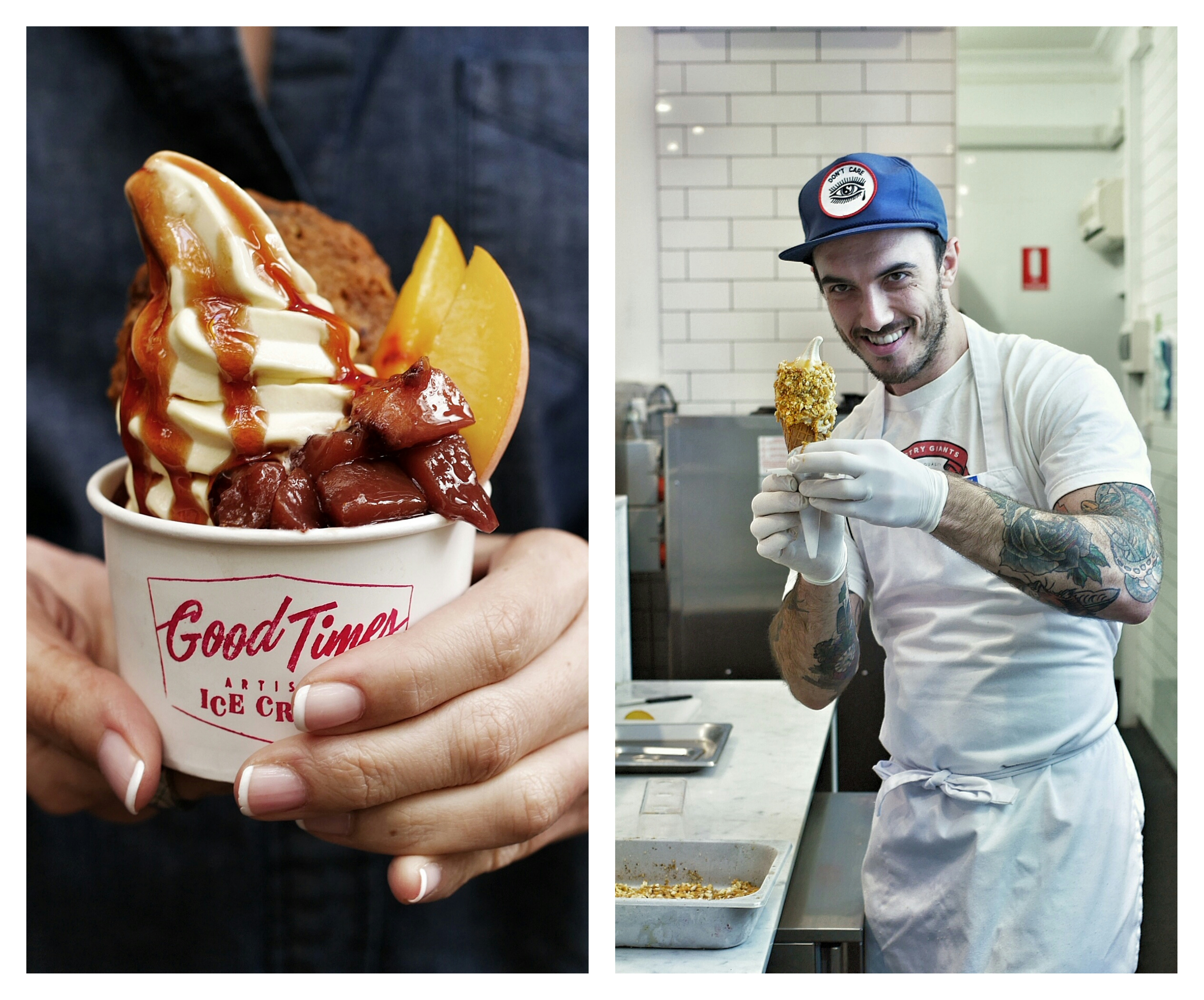 Speaking of Potts Point, probably the most fun place the wifey and I ate in during our trip was Good Times Artisan Ice Cream. Su-Lyn had first heard of Good Times because Christine Manfield was the parlour's consultant during its development. That said, Good Times' founder and chef is no slouch. Chef Nathan Sasi is considered to be one of Sydney's hottest young culinary talents. Formerly head chef at Nomad, Chef Sasi will soon be opening a new Spanish and Moorish restaurant called Mercado. In the meantime, he's been focused on Good Times, which serves up super creative soft serve sundaes and ice cream sandwiches with premium ingredients and house-made toppings.
We decided to swing by Good Times Good Friday afternoon. Pre-dinner, we were going to meet our Billy Kwong dining companions for a drink at our friend Julie's place, just a few minutes walk from the restaurant. Since Good Times was also in the 'hood, we thought it would be quite smart to swing by there first. My always-happy-to-have-good-ice-cream wifey ordered two sundaes, one after the other. Both were excellent. The first was The Michelin Man — Valrhona and smoked vanilla soft serve swirl, torched marshmallows, peanut praline and chocolate fudge sauce. This was quickly followed by the Ode to David Chang (pictured above left) a peaches and cream ice cream with fresh peaches, red wine sauce, poached peaches and Momofuku Milkbar's compost cookie. Frankly, I was amazed she still had room for dinner but she voraciously wolfed down everything that Kylie cooked for us.
During dinner, Su-Lyn gushed to Chris Manfield how much she enjoyed Nathan's sundaes. A decision was quickly made, followed by a phone call from chef to chef, asking him to save some sundaes for us. And before we knew it, we were back at Good Times post-dinner at Billy Kwong for dessert. Su-Lyn's final Sydney sundae was called On Like Donkey Kong (pictured above right is Chef Sasi making it for Su-Lyn), roasted banana and peanut butter ice cream, honeycomb and peanut crunch, caramel fudge sauce and flame grilled banana. While she was enjoying this third sundae, a customer walked in, stopped, took one like at my wife and exclaimed, "Wait, weren't you in here earlier?" The amazed patron had been having a coffee next door when we had stopped in mid-afternoon.
All in all, we had an amazing few days in Sydney. I think we ate a week's worth of food in just two plus days. I've definitely gained weight and am now trying my hardest to work some of it off. But it was fun. Sydney's dining scene is exceptional and I can't wait to visit again. I'll just make sure to book a longer stay the next time around. And maybe bring some pants with expandable waistlines.
Aun has always loved food and travel, passions passed down to him from his parents. This foundation, plus a background in media, pushed him to start Chubby Hubby in 2005. He loves that this site allows him to write about the things he adores--food, style, travel, his wife and his three kids!