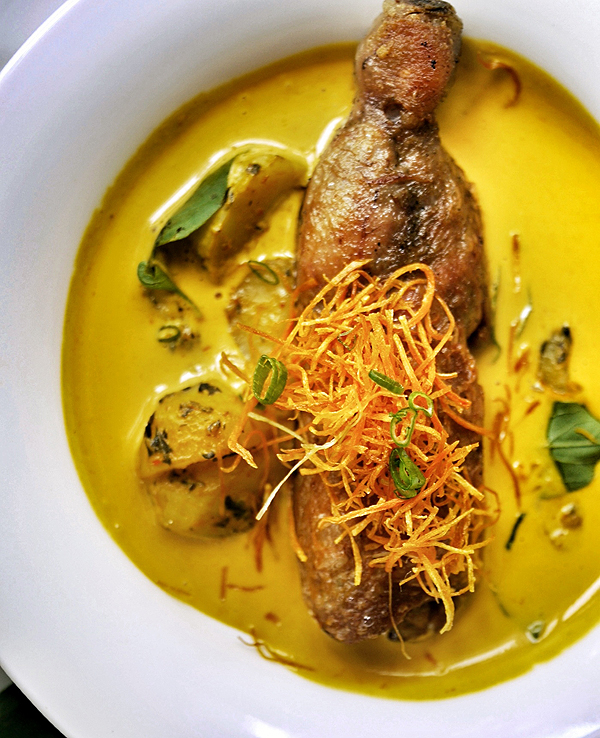 The culinary world can be a confusing place at times. It's not uncommon for some restaurants, who serve so-so food, to become highly fashionable and hugely popular. While, concurrently, some other restaurants, who serve amazing and often highly original cuisine, remain very much off-the-radar, serving only a small handful of patrons, whose presence hardly accounts for even a quarter of the seating capacity of such establishments. Similarly, there are chefs that, by sheer force of personality and/or personal connections and most definitely not because of their very average food, become (minor) celebrities. While others who, by the nature of the outstanding food they produce, deserve to be celebrated but are consistently overlooked because they aren't loud, or colourful, or gorgeous enough. The Moluccas Room, a Modern Indonesian restaurant at the Marina Bay Sands (MBS) Singapore, and its chef, Alicia Tivey, very sadly fall into these latter categories. Tivey, to me, is one of the most exciting chefs working in Singapore today. But from what I can tell whenever I visit her restaurant, the word most definitely is not "out" on her or her gorgeous and very creative cuisine.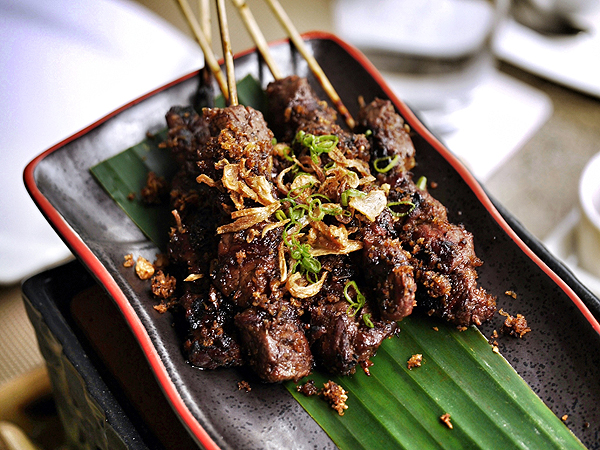 Perhaps location has something to do with it. The Moluccas Room is tucked into what I rather sarcastically call the "ass-end" of the MBS mall — meaning that it is on the extreme opposite end of the mall from the so-called celebrity chef restaurants (Mozza, Cut, Waku Ghin, etc). For those of you familiar with the mall, it is opposite (again rather unfortunately) the rather large 7-11 and upstairs from Punjab Grill.
The restaurant itself is very well-furnished. It's light and warm and somewhat luxe, all at the same time. There's never staff stationed at the entrance (which they honestly should correct), so when visiting, pop your head into the restaurant and try to flag down a waiter or waitress to help you get a table.
The menu is extensive. Kick off your meal with one of Chef Tivey's seven signature satays. My own favourite is the Sate Padang Lidah Sapi, ox tongue cooked in a Padang style served warm with a thick beef broth. S prefers the Sate Angus Bumbu Kelapa, an Eastern Java style sate with a grated coconut marinade (pictured above). As you can tell by the descriptions, this is hardly hawker fare. These are wonderfully modern, filling and complex dishes that hint at Chef Tivey's skill and creativity.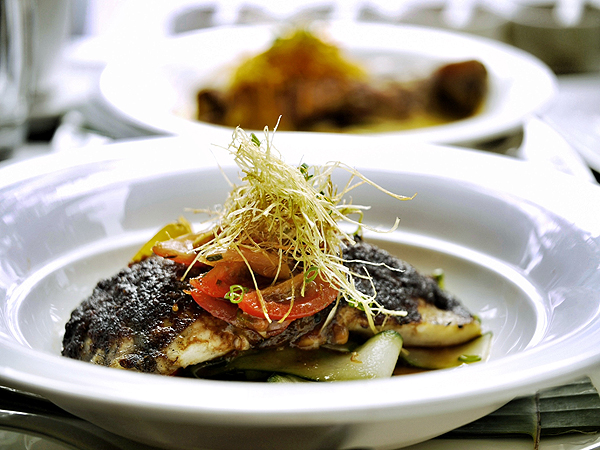 For a bit of background, while she is half-Indonesian, Chef Tivey is actually French-trained. One of her most famous mentors, Tetsuya Wakuda, also happens to have a restaurant in MBS. Like Wakuda, she has created an amazing cuisine by exploring the rich culinary heritage of her roots and interpreting that food, in her case Indonesian, with the techniques she's learnt from almost three decades of working in European kitchens. And if that wasn't enough, before opening, Tivey called on Indonesia's most highly regarded living food consultant, William Wongso, to help ensure that her base recipes were as authentic as possible. This means that while her dishes are modern, they are built on very strong foundations.
S and I have happily dined here many times. We enjoy going for the Rijsttafel Weekend Brunch menu occasionally — a steal at S$38 (~US$30) for a free-flow of delicious dishes. They also offer a fun assortment of "Traditional" rice-based set lunches which I really enjoy, especially the Nasi Goreng Moluccas, which is served with Serundeng (traditional fried coconut flakes), shrimp belado, shredded chilli, Angus beef sate, fried egg and prawn crackers. But we usually order à la carte here (and get a super discount thanks to our Palate cards). Our favourite dishes so far, besides the satays, are the Confit Sakura Ayam Turturaga (pictured at the top of this post), a light citrusy confit chicken curry from the Northern Sulawesi region; the Ikan Bakar Jimbara (pictured above), a sweet and spicy freshly grilled Barramundi fish fillet; the Konro Nakar, grilled herb-marinated beef ribs with a rich smoky and fragrant finish; the Tahu Telur, fried tofu and egg with shredded fresh cabbage, carrots, bean sprouts, ground peanut and caramelised vinegar gravy; and the Lawar Kacang, sliced fine french beans tossed with grated coconut and mixed fresh spices. We always order the confit chicken because I love the light mild curry and the Lawar Kacang, which S is addicted to.
Some friends have balked at the prices here. But that's before they realize that Tivey's Moluccas Room is like no other Indonesian restaurant they've been to. The food is complex, fantastically fresh, and really well thought-out. I could honestly eat here weekly. It's that good.
S said something to me during our last meal here. She said, "You know, if this place was in Melbourne or Sydney, it would be fully booked every night." She's right. And it's a real shame that locally, diners either haven't embraced the idea of Modern (slightly fusion) Indonesian cuisine or just haven't discovered The Moluccas Room yet. Either way, I really hope that Chef Tivey starts getting the attention she so dearly deserves soon.
The Moluccas Room
The Shoppes at Marina Bay Sands
2 Bayfront Avenue L1-81
Singapore 018972
Tel: +65 6688 7367
www.themoluccasroom.com
Aun has always loved food and travel, passions passed down to him from his parents. This foundation, plus a background in media, pushed him to start Chubby Hubby in 2005. He loves that this site allows him to write about the things he adores--food, style, travel, his wife and his three kids!