These days, whenever I'm driving up or down Thomson Road, if my two and a half year old son T is in the car with me, I'll inevitably hear him peep, "Pizza?" when we get within sight of United Square. I've already written previously that my lil' boy is a complete pizza addict. And his favorite pizzas in Singapore are the ones served at Extra Virgin Pizza, whose large sign facing the road is akin to a bat signal to our tiny terror. The second he spies that sign, with its iconic hand-making-a-V-logo, his little eyes light up and he begins to implore mama and papa that he simply must have pizza for lunch or dinner that day.
So, ever since Extra Virgin opened in United Square a few months back, we've become regulars. We probably eat there at least once every 2 weeks, although on some weeks, T has been known to visit multiple times (with mama one time, the grandparents another, etc). The location is very convenient for us since we live just a five minute drive away. Which makes meeting T's pizza demands a not altogether hard thing to do.
We all have our own favorites at Extra Virgin. Toby is partial to the Four Cheese but will also occasionally enjoy the Meatball pizza (shockingly too, our lil' two year old can eat 5 out of 6 slices of an entire pie in one sitting). My wife S loves the Pistachio Pesto, while I like the White Pepperoni and the Seafood pizza (both of my faves use béchamel as opposed to tomato sauce). The pizzas here are some of the best in town. The base is thin and the crust not too thick and just a tad chewy. Toppings are all exceptional and demonstrate a commitment made by the owners to use only high quality ingredients. Also excellent are the Oven-fired Clams, the Veal & Ricotta Meatballs, and the Cauliflower Romesco. For dessert, my favorites are the Warm Brownie Sundae (served with vanilla ice cream of course) and the Tiramisu. The coffee here is from Papa Palheta (the team that owns Chye Seng Huat Hardware) and there's a pretty good beer and wine selection. Prices are not exactly cheap, but given the quality of the food, we're comfortable with them.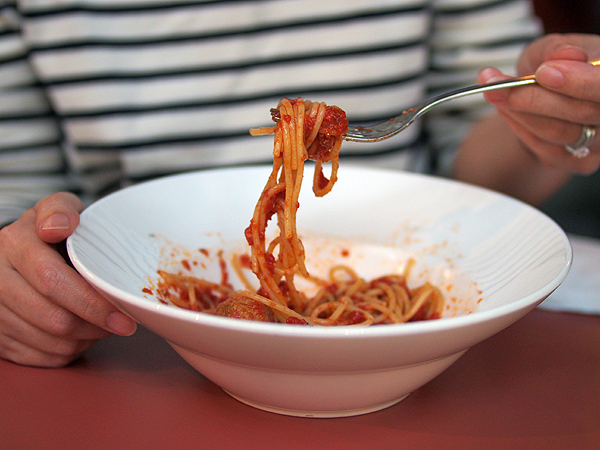 Another reason why we frequent Extra Virgin so often is the staff. The team here are super-nice. And they are especially tolerant when it comes to crazy kids that like to run around and make a ruckus (like T). Ken, the manager, is a really special guy who, especially when you become a regular, will go out of his way to make you feel welcome.
We're thrilled to bits that Lo & Behold opened Extra Virgin in United Square. Now, if only they'd open one of their burger joints or bars in this neck of the woods. Then not only would T have his favorite hangout in the 'hood, so would papa.
Extra Virgin Pizza
#01-14, United Square Shopping Mall
101 Thomson Road, Singapore
Tel: +65 62475757
Sun – Thu: 11:00 – 22:00
Fri – Sat: 11:00 – 23:00
Aun has always loved food and travel, passions passed down to him from his parents. This foundation, plus a background in media, pushed him to start Chubby Hubby in 2005. He loves that this site allows him to write about the things he adores--food, style, travel, his wife and his three kids!