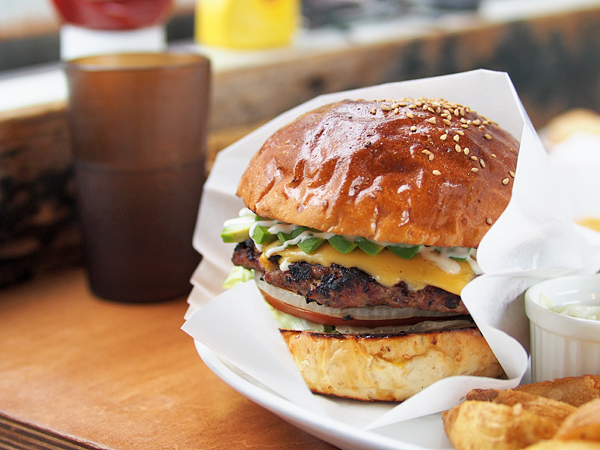 Any regular reader knows that one of the things I love most in the world is finding a great burger. And on a recent trip to Tokyo, I have finally found a place that, firstly, serves up a burger so good that I really don't think I need to look for alternative venues any more, and, secondly, is super-conveniently located. Fellows The Burger Stand is located in Omotesando, just around the corner from (behind) the Tod's boutique on Omotesando Street itself.
Finding Fellows is, if you have a good map, super easy to find. If you are walking east on Omotesando Street, turn right at the corner where Tod's is, walk down two streets and turn left. It's halfway up the block on the left. The little white and green townhouse, which is pictured in this post, is near impossible to miss.
Fellows serves burgers that are made by hand daily. The meat — premium Aussie beef — is never frozen and has been aged to give it a real depth of flavor. Each patty is charcoal grilled to order. The menu is small but large enough to provide any true burger lover ample choices. When my wife S and I went, we went with an avocado cheese burger for her and a fried egg and cheese burger for me. Plus a side of onion rings and some homemade iced tea.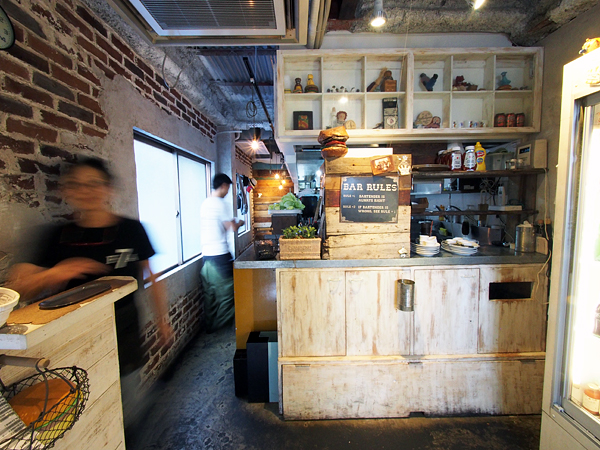 The onion rings were served first. And they were outstanding. I haven't had such good onion rings in years. Each ring was seasoned perfectly; the batter was thin but crispy; and the onions were meltingly soft. Most importantly, they weren't at all greasy. Honestly, our meal could not have started out any better. The burgers came next. In typical Japanese fashion, each was nestled in greaseproof paper — a tradition I love because it allows you to eat a very juicy, sauce-laden burger without getting your hands too dirty.
Each burger was charred perfectly. By themselves, the patties were very tasty (yes, I do pinch off a piece of meat to taste apart from all other accompaniments). Together with the toppings, they were things of beauty. I loved that the buns were soft and fluffy, and served lightly toasted. The vegetables served in the burgers were all super-fresh (something you really only see in Japan and Australia) with just a bit of sauce to accentuate the natural tastes of the combined ingredients (of course, you're free to add ketchup and/or mustard). Each burger comes with fat fries, which while good, were nowhere near as amazing as the onion rings.
I really cannot express how happy I am to have found Fellows. On a previous trip, S and I had gone to try and even more famous burger place — that some peers have said served the best burgers in the world. Sadly, while the burgers we had eaten at that place were good, they weren't good enough to ever make me want to return. The burgers at Fellows, however, will have me returning on many future visits to Tokyo. They were just that damned good.
Fellows, The Burger Stand
3-8-11 Kita-Aoyama, Minato-ku
Tokyo, Japan
Tel: 03-6419-7988
Open Tue-Sat 11:30am-4pm & 6-10pm, Sun 11:30am-7pm, closed Mondays
Nearest subway station: Omotesando.
There is a map on the Fellows website.
Aun has always loved food and travel, passions passed down to him from his parents. This foundation, plus a background in media, pushed him to start Chubby Hubby in 2005. He loves that this site allows him to write about the things he adores--food, style, travel, his wife and his three kids!