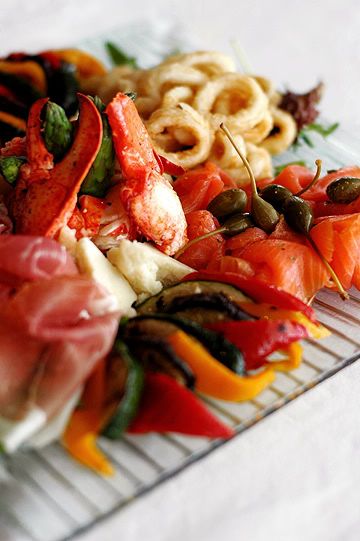 One of the things that I've always debated with friends and colleagues is, "How soon after a restaurant opens should one wait before reviewing it?" A related question to this is ,"How many times should someone dine in a place before writing a review?" Another is, "Is there a different standard that amateur reviewers, i.e. reviewers like bloggers who aren't getting paid, and professional critics, who get paid to eat in and write about restaurants, should adhere to?"
In many major cities, the most respected restaurant critics eat in a restaurant a number of times before reviewing it. And they do so over a couple weeks if not a couple of months. Many also dine anonymously, to ensure that they get treated like any other customer. Ask anyone who works in the food and beverage industry when a restaurant is ready to be reviewed and he or she will usually advise you to wait a good 8-10 weeks before going. It takes that long for any new restaurant to identify, iron out and fix any problem areas it may have. Unexpected issues can arise and plague places opened and managed by even the very best professionals. It's only fair, if you're visiting as a critic, to give restaurateurs a fair chance for a good review. And that means giving any new restaurant a couple chances over its first few months to prove itself.
Il Lido, the highly publicized Italian restaurant opened by the charming and affable Beppe De Vito, is the perfect example of such a restaurant. I first went to Il Lido during its opening week. Because I was a regular at Garibaldi, also opened by De Vito, I was very excited to see what he had created in the Sentosa Golf Club and, more importantly, to taste the food. The restaurant itself was stunning. De Vito had spent a bundle making the space beautiful. The food, however, was awful. The plating was ordinary. The food was overseasoned and poorly executed. We left the restaurant disappointed and dismayed. Having experienced countless perfect meals at Garibaldi, I knew DeVito could do better.
A couple weeks ago, my wife S and I went back to Il Lido. Almost 3 months had passed since our first and disastrous visit. We went with two friends, foodies but also well-known local restaurateurs. When we arrived, we were surprised but heartened to see two other noted local restaurateurs and a respected wine distributor also having lunch (at separate tables) that day. Our meal, I'm happy to say, was a revelation, especially compared to our first visit. The food was fantastic. It was so good in fact that I dragged my whole family back to Il Lido for lunch this past weekend. This time, we had a lovely, long and leisurely meal. The weather, almost as if De Vito had planned it, was also wonderful. It was a sunny, gorgeous day. The restaurant was bathed with natural light. The view across the water was picture-perfect.
We started our lunch with a shared plate of delicious antipasti (pictured at the top of this post). We had aged Parma ham, aged Parmesan, grilled vegetables, smoked salmon, smoked duck, butter-poached lobster, calamari fritti, and some very fresh rocket.
Our next course is something that I had eaten on my previous visit and made sure to order again, not just for myself but for the whole table. It was squid ink tortelli stuffed with Atlantic cod with crabmeat in a saffron and tarragon sauce. This was magnificent. Crabmeat and saffron are two things that always go wonderfully together and this dish was no exception.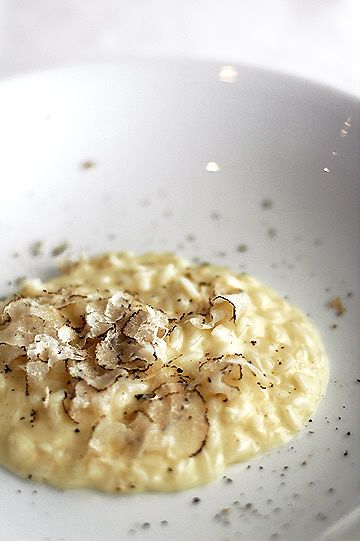 Chef Michele Pavanello gave my family and me a real treat for our third course. He served us a simple but sinful and sensual portion of risotto with summer truffles. The aroma was lovely, as was the taste. The risotto was served quite al dente. While I liked it this way both my father and mother said that they would have preferred it served a tad softer.
Our last savory was grain-fed grilled lamb cutlets with an Amarone wine sauce and broiled green asparagus. S really liked this dish. The lamb was soft, tender and very, very juicy. I would have liked the sauce to have had a slightly stronger flavor but I had to agree with her that the lamb itself was cooked expertly. Given that the sauce for this course was based on Amarone, S's favorite type of red wine, we thought that it was only fitting that we drink an Amarone with it. We enjoyed the lamb with a half bottle of Masi Amarone 1991.
The rest of my family was too full for dessert. Greedy guy that I am, I still had enough room for a scoop of strawberry ice cream paired with some summer berries and an espresso.
I'm very glad that I gave Il Lido both a second and a third chance. I'm also happy that I spaced my visits out over a few months. Beppe De Vito took the time in between my first and second visits to take what was a restaurant with promise but a lot of rough patches and turned it into a polished stunner, the kind of place where you'd take out-of-town friends and loved ones to show off or celebrate special occasions. I'm definitely going to return to Il Lido. And I'm definitely going to remember to be patient and understanding when trying a new restaurant during its first few weeks. Because making the wrong assumptions too early might mean ruling out what might become one of the city's best dining places in the long run.
Il Lido
Sentosa Golf Club
27 Bt Manis Rd #02-00
Singapore 099892
Tel: 6866 1977
Aun has always loved food and travel, passions passed down to him from his parents. This foundation, plus a background in media, pushed him to start Chubby Hubby in 2005. He loves that this site allows him to write about the things he adores--food, style, travel, his wife and his three kids!