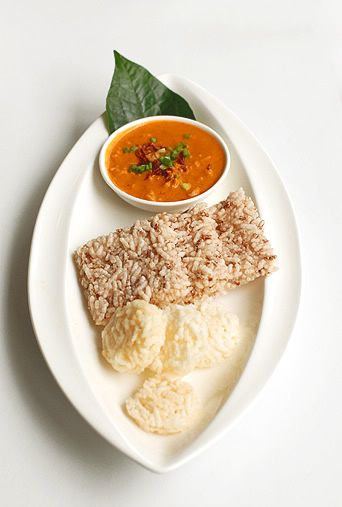 Khao Tang Na Tang
Regular readers will remember that a few weeks ago, S and I spent a fantastic week attending the Four Seasons Hotel Bangkok's 7th Annual World Gourmet Festival. Despite eating almost every single lunch and dinner that week in the hotel, S and I did manage to sneak out a couple times (although, if you've ever seen the Four Seasons Bangkok, you'd probably ask why would we ever want to leave the premises). One of the places we were able to visit is a restaurant called Flava, located in the swanky Dream Hotel. We had met a fantastic local food critc, Anantroj Thangsupanich, at Chef William Ledeuil's dinner. His recommendation for an excellent Teochew braised goose stall was spot on, so when he told us we simply had to try Flava, we were more than happy to check it out.
The Dream Hotel is one of Bangkok's newest boutique hotels. It was opened by 30-something Indian-American entrepreneur Vikram Chatwal (who one of my friends has described to me as the "male, Sikh Paris Hilton"). Chatwal had previously and famously opened another Dream Hotel and The Time hotel in New York City. Music fans might recognize the Dream as the location for Thai songstress Tata Young's music video for "El Nin-Yo" (which in my opinion is a Godawful song).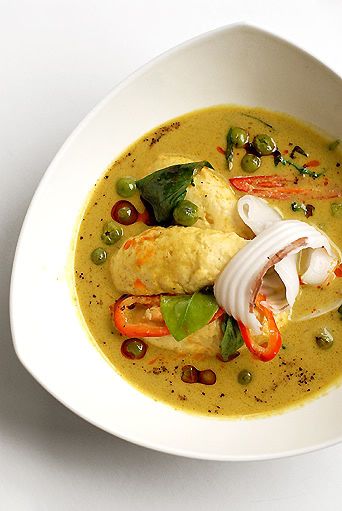 Geang Kiew Wan Gai
Flava, located on the second floor of the hotel, was terrific. The food was both authentic and modern at the same time. This admirable feat was pulled off by Executive Chef David Hamilton and Executive Sous Chef Kunchit Srimuang. While keeping the flavours of their dishes as traditional and "real" as possible, the two long-time colleagues have also been able to present their dishes beautifully and elegantly. It's no surprise that Flava has become a hit among locals and local food critics alike. Anantroj praised chefs Hamilton and Srimuang while also telling me that most of Bangkok's most famous Thai restaurants are, sadly, only favored by expats. One of the most famous, in particular, he decried as "horrible" and said that no Thai would ever consider it a worthwhile place to dine in.
We sampled 6 dishes at Flava, all of them excellent. We started our meal with an order of Khao Tang Na Tang, one of my personal favourite Thai treats (pictured at the top of the post). This dish is essentially a dip, which can be made with pork or chicken or shrimp, served with home-made rice cakes. I have to say that I have rarely tasted a version as fresh and delicious as Flava's, which Chef Srimuang made with shrimp. It was hard to resist ordering a second portion.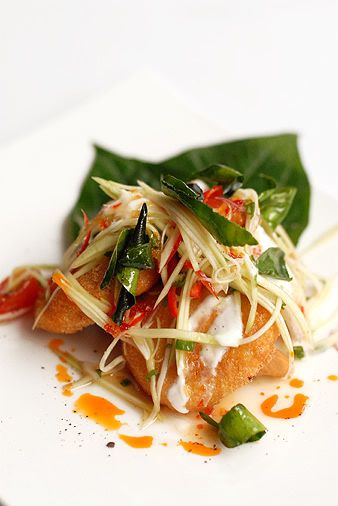 Yam thod man pla

After the sumptuous Khao Tang Na Tang, we had an order of Yam thod man pla (Thai fish cake & palm heart salad with yellow curry dressing). This was really nice and again tasted very fresh. We followed this with an order of Geang Kiew Wan Gai (green curry with chicken quenelles, apple eggplants and young coconut) and Pla Gao Raad prik (deep-fried grouper filets with chili paste and coconut). S and I both especially enjoyed the green curry. The ingredients were all supremely fresh. By shaping the chicken into quenelles, the chefs ensured that the meat would be consistently tender and very tasty–a nice contrast from the usual overcooked slices of chicken breast. The addition of a generous helping of young coconut flesh also lifted the dish beautifully.

coconut milk custard with pumpkin
Desserts at Flava are made daily. There is no menu, only what the chefs feel like making. The day we went, we tried a lovely coconut milk custard with stewed (chilled) pumpkin (pictured above) and a black sticky rice pudding (cake) with mango sorbet. Both dishes are riffs on traditional Thai dishes and are interestingly the most modern, or "fusion", dishes coming out of chefs Hamilton's and Srimuang's kitchen. I really loved the custard with pumpkin. The light, sweet clean flavours were a great finish to a great meal. The dessert was also a wonderful palate-cleanser, wiping away any lingering hints of spice in my mouth.
Because I liked it so much, I asked Chef Srimuang for his Khao Tang Na Tang recipe, which I have transcribed below. Amazingly, it's very simple. I guess how good this is depends entirely on how fresh your ingredients are. And, of course, the quality of your red curry paste (which you may or may not want to make yourself).
Khao Tang Na Tang with shrimp
50g red curry paste
100g fresh shrimp, cleaned and shelled
20g fresh sliced garlic
5ml fish sauce
5ml palm sugar
250ml coconut milk
Mince your shrimp. Set aside. Heat the vegetable oil in a saucepan and then add the red curry paste, stirring and cooking for 1-2 minutes. Lower your heat, then add the shrimp and sliced garlic. Add the fish sauce, palm sugar and coconut milk. Simmer for another minute, stirring slowly and season with salt to taste.
(If you want, you can also add some minced pork–50g or so–to the recipe. Add it when you add the shrimp.)
Serve with rice cakes, which you can buy or make yourself.
Rice cakes
(based on a recipe from David Thompson's Thai Food)
3 cups jasmine rice
1/2 cup soaked white sticky rice (optional)
oil for deep-frying
You have to start working on these 2 days ahead. Mix the rice together and cook. allow to cool. Press the rice over a large, flat, clean and dry metal tray. Sprinkle with a little water. Press down until the rice is only a quarter of an inch thick. Dry the rice in a warm place overnight or for 2 nights. The rice must be completely dry. As the rice dries, it will crack into pieces. Store in an airtight container. When ready to serve, deep-fry the rice cakes in the oil until they have puffed to almost triple their original size and are just beginning to colour.
Flava
10 Sukhumvit Soi 15
Kloeng Toey Nua, Wattana
Bangkok
Tel: +66 (0) 2254 8500
Technorati tags: flava, thai food, recipe
Aun has always loved food and travel, passions passed down to him from his parents. This foundation, plus a background in media, pushed him to start Chubby Hubby in 2005. He loves that this site allows him to write about the things he adores--food, style, travel, his wife and his three kids!