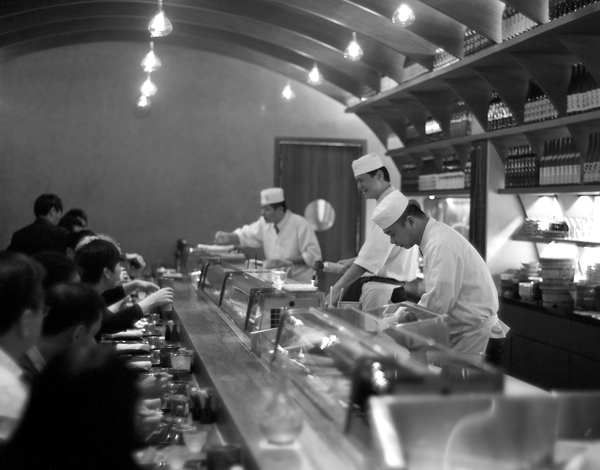 It is a truism to say that Singapore is not short of Japanese restaurants but Yoyogi Sushi and Sake Bar, stands out for its blend of quality and hospitality. After being shown to our private room, we made a beeline to the well-stocked sake cellar that offered far more than the bog standard Tengumai or Hakaisan.  In the end, we chose an old favourite , RoJyouHanaAri, which incidentally is highly rated by Robert Parker, to accompany our meal. By the way, they don't apply corkage so feel free to bring your own too.
First off the bat, was oysters in ponzu sauce. Simple enough, but the quality of the oyster was top-notch. Cut in half, I enjoyed the sinewy adductor muscle first, before gorging on the milky fat of the guts. The sashimi platter that followed, was generous in its portion with thick slices of otoro, kampachi, amaebi, hotate and shake. They all went swimming well of course with our sweet and aromatic cold sake.
The cooked food was equally fine. With the deep fried hirame (flounder) tasting fresh without a hint of oil – not an easy task. The highlight of the night was the Steamed Omi Beef from Shiga Prefecture. I have to say, I don't really fancy the idea of steaming something so lush as Japanese beef, but thanks to its inherent flavour and fat, it came out tender and tasty. 30 second less steaming would have made it perfect in my humble opinion.
I ended my night with an ice cream platter of Kyoho grapes, sesame , yuzu and green tea. The Kyoto grapes sorbet was mind blowing good!
Definitely enjoyed it. The total bill was approximately $150 without drinks. In the current environment of overpriced fine dining in Singapore, it's actually fair value considering the quality of produce used. Will revisit with more bottles of my own sake!
Yoyogi Sushi & Sake Bar
#01-12, The Grandstand, 200 Turf Club Road
Singapore 287994
Tel: +65 64688826
Tue – Sun: 12:00 – 14:30
Tue – Sun: 18:30 – 22:30
Closed: Mon

Roger's love affair with food started with a bang. Sent to a distant corner of Kent at 16, an Asian-food starved Roger tried to recreate mom's stir-fry with explosive results. The loss of the left eyebrow was well worth the reprieve from steak and kidney pie. Today Roger runs his own creative agency as a pretext for his food-based escapades. If you are unlucky enough to be seated next to Roger in a restaurant, do be thankful that he is annoying you with his camera, and not attempting to flambé with a wok.