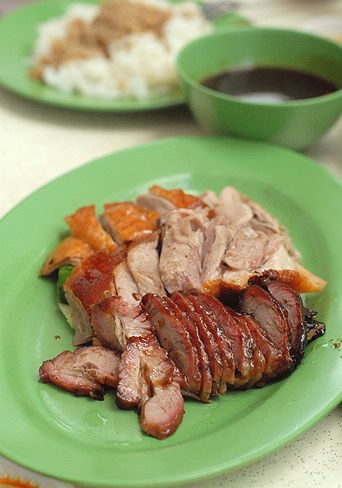 One of my favourite simple meals is a good plate of Cantonese roasted meats served with some rice. I'm partial especially to a beautifully roasted duck. The skin has to be just a tad crispy and the meat juicy and tender. And while I'm usually not a huge fan of char siu (barbecued pork), if it's done well, i.e. it's very umami, soft and succulent, it can be delicious.
While there are several very popular and famous places for duck and char siu rice around town, one of my favourites is little-known. Ming Kee Cantonese Roasted Duck is situated in Coffeetown, a small hawker centre tucked in a rather far-off corner of Rochor Centre (1 Rochor Road) in Singapore. I like that Ming Kee is never too crowded. Even during lunch hour, I never really have to wait too long for my food. Too often, we go to celebrated hawkers, wait for far too long in line, and then receive mediocre and underwhelming food. Ming Kee is the opposite. You get really good food here without the hassle of waiting in queue.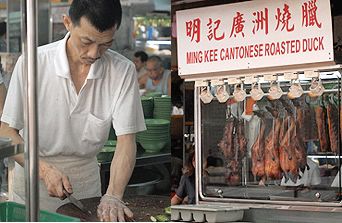 I also like that despite being an open-air hawker centre, it's never too hot here. S calls it smart tropical architecture. The seating area is well-shaded by the surrounding tall buildings. It's a surprisingly pleasant environment. You can eat here at noon on a sunny day without sweating through your lunch.
As said, the duck is good, as is the char siu. The one time I tried the siu yuk (crispy roasted pork), it was okay but not stunning. Ultra-finicky gourmets might find a few faults with the food here, but for a quick, reasonably-priced and fuss-free lunch, I think Ming Kee is just about perfect.

Ming Kee Cantonese Roasted Duck is open every day from 1030am to 7pm.
Aun has always loved food and travel, passions passed down to him from his parents. This foundation, plus a background in media, pushed him to start Chubby Hubby in 2005. He loves that this site allows him to write about the things he adores--food, style, travel, his wife and his three kids!