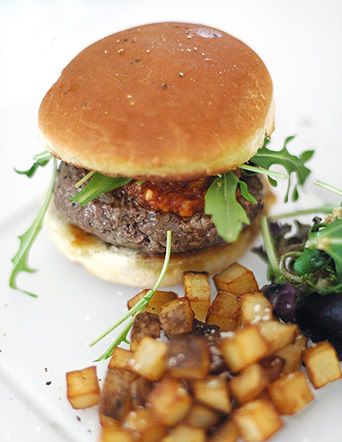 Regular readers know that one of my all-time favourite foods is a good burger. A delicious, well-made burger is hard to beat. It can also be hard to find. At least, it's hard to find here in Singapore. I can count on one hand the number of places that I think serve up really great burgers. At the top of the list is Iggy's. The mini-wagyu burger, topped with a truffle sabayon, served at this uber-sleek over-the-counter fine-dining establishment is fantastic. But it's tres chic, tres petit and tres cher.
The very best no-frills burger I've had in Singapore so far has been at Wild Rocket, the small, popular casual restaurant at Hangout@Mt Emily. By no-frills, I mean no wagyu, no foie gras, no truffles, no caviar, no fancy foreign cheeses with names we can't pronounce. Basically, no fancy stuff that doubles, triples or quadruples our burger bills. A good burger doesn't need to be (some might say "shouldn't be") fancy. In fact, a great, moderately priced, no-frills burger is often many times better than the fanciest frou-frou version. Wild Rocket's burger is simple. It's definitely, in my book, a no-frills burger. But it's also better than almost any other burger I've had in Singapore, including much fancier versions from Four Season's One-Ninety, uber-expensive UberBurger and tai-tai favourite Marmalade Pantry. It's also tastier than no-frills burger slinging competitors Whitebait & Kale, Seah Street Deli and Brewerkz.
I tried the Wild Rocket Burger for the first time just last week. I was floored. The burger was both deliciously tasty and super-juicy. It's served on a toasted bun with two complementary sauces, a sun-dried tomato salsa and a pepper sauce. This second sauce, Wild Rocket's owner and chef Willin Low (pictured here) told me, was inspired by a Ramlee burger that he had eaten in Sarawak. The burger was served with a lovely, spicy, peppery sauce. Chef Willin loved it enough to try to emulate it in his own burger. The other burger that has most inspired this self-professed burger-loving chef is every burger-lover's favourite, the In'N'Out burger. Chef Willin loves In'N'Out's burgers. He loves them so much that he once approached a tourist here simply because the American was wearing an In'N'Out T-shirt. He stopped the very surprised visitor in a MRT (subway) station and just started to enthusiastically rave about In'N'Out.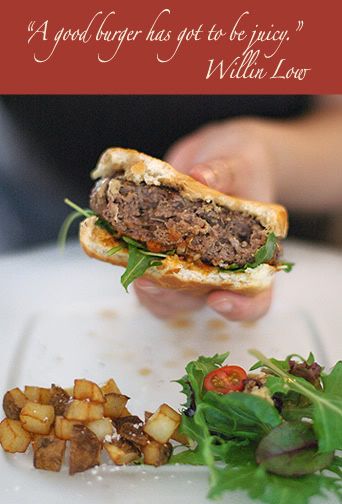 Because I wanted to ensure that my first, fabulous Wild Rocket Burger wasn't a lucky fluke, I dropped into Wild Rocket again this morning. The Wild Rocket Burger I had today was served with a bit of salad and some lovely new potatoes sautéed in duck fat. This one was just as good, as savory, as juicy, and as delicious as the one I had last week. My darling wife S also ordered one and, after just a few bites, agreed with me. "Except for Iggy's, this is the best burger I've had in Singapore," she declared. When I asked Chef Willin what makes a perfect burger, he said, "A good burger has to be juicy." When you bite into it, all the yummy juices have to dribble out."
Right now, the Wild Rocket Burger is only regularly available on the Sunday Brunch menu. Chef Willin does occasionally serve it as a special set lunch item and from what he tells me, he's now considering putting it on his regular weekday lunch and dinner menu. I've done everything I can to try to convince him that that's a fantastic idea. I've even promised to come by at least once a week to have one. Book a table on an upcoming Sunday and try one for yourself. If you like it, help me out and beg Chef Willin to serve it every day.
Wild Rocket
Hangout@Mt Emily
10A Upper Wilkie Road
Tel: 63399448
Aun has always loved food and travel, passions passed down to him from his parents. This foundation, plus a background in media, pushed him to start Chubby Hubby in 2005. He loves that this site allows him to write about the things he adores--food, style, travel, his wife and his three kids!