Last night, at the recommendation of a restaurateur friend, my wife and I tried what he has called, "the best yakitori restaurant in Singapore." Ahodori is a very small, slightly dark, but charming restaurant on the first floor of Cuppage Plaza.
The restaurant has a long counter and a few tables. Aside from one rude Chinese patron and one very chatty but nice Indian businessman (there with a Japanese client), we were the only non-Japanese in a quite busy restaurant. We sat at the counter, in order to watch the chef cook our food.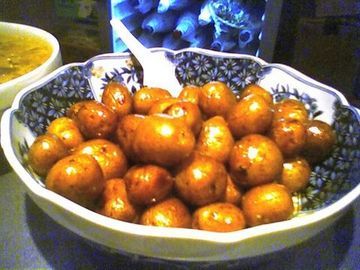 The first thing we noticed when we sat down was this bowl of yummy baby potatoes, coated in a sweet-salty sauce. (Again, my Treo camera takes really sucky photos in low light!) Of course, we ordered a bowl of them to start, as well as a wafu salad and a bowl of cooked mushrooms with egg. The potatoes, for the record, were amazing, and throughout the meal, I was tempted to grab some more from the bowl and pop them in my mouth.
The yakitori was excellent, with a few exceptions. The menu offers a variety of chicken yakitori and veggies. No other meats are served. We had chicken with wasabi, chicken skin, chicken cartilage, chicken liver, and chicken balls (tsukune). All except the liver and balls we had "shio", cooked just with salt. We had the balls and liver "tare", coated in a dark sweet sauce. The liver was amazing, just cooked, and as soft inside as great pate. We liked it so much we asked for another order, this time "shio." It was, again, delicious. Not as good were the non-chicken dishes. We had leeks and sweetcorn, but I don't think we'd order those again.
We also polished our meal off with about 600ml of good, cold sake. The perfect way to start the week.
Aun has always loved food and travel, passions passed down to him from his parents. This foundation, plus a background in media, pushed him to start Chubby Hubby in 2005. He loves that this site allows him to write about the things he adores--food, style, travel, his wife and his three kids!