Last week, I had the immense pleasure of dining in one of Singapore's most beautiful new restaurants. Yoshiyuki, named after head chef Yoshiyuki Kashiwabara, is a gorgeous Asylum-designed Kaiseki restaurant. Hidden in a discrete corner of Basement One in The Forum shopping centre, this 20-seat restaurant is set to redefine the high-end Japanese dining experience in Singapore. And given the credentials of the team behind Yoshiyuki, I have no doubt it will be a success. Chef Yoshiyuki was previously the personal chef to the former Japanese Ambassador to Singapore. His partner is none other than Ignatius Chan, whose restaurant Iggy's is ranked by several internationally respected authorities as Asia's number one restaurant.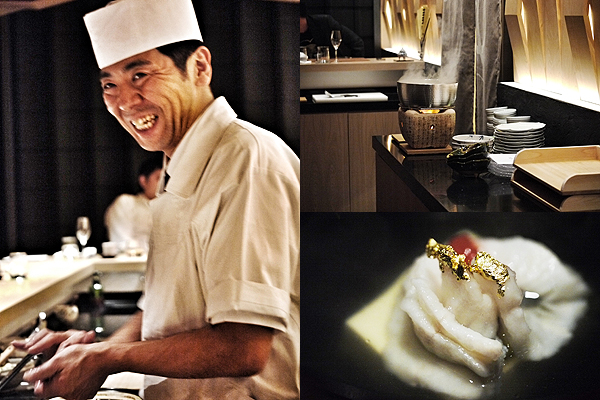 Yoshiyuki consists of two kappo counter rooms, one almost hidden one (I completely missed spotting the room's door) that can seat up to 7 diners and a larger, slightly more public room that can seat up to 13 customers. Around the corner from the main dining room is The Horse's Mouth, a dark and very chic cocktail bar. While Horse's Mouth does offer a small menu of bar snacks, I have a feeling most patrons will be coming here for the excellent selection of Japanese whiskey, sake and wine.
The two kappo rooms are gorgeously designed. The atmosphere is almost theatrical, with the chefs, of course, as the stars. At the main counter, Chef Yoshiyuki, aided by just one assistant, finishes dishes, plates them and serves them to his guests.
Prices here are not cheap. Nor should they be, given the real estate; that the restaurant can seat no more than 20 diners at a time and these guys are not going to force anyone to rush through their meal in order to "turn tables", so to speak; and that almost all of the very exquisite and very expensive main ingredients have been freshly flown in from Japan – some of which are even being hand-carried by Iggy or other members of staff.
The dinner menu runs at S$288++. In Japan, at an equally beautiful restaurant serving similar food, I would expect to pay between 15,000 – 20,000 Yen; so to me, prices are very comparable.
When my parents, my wife S and I dined at Yoshiyuki, we enjoyed a lovely 9-course Kaiseki dinner. We started with a wonderfully light homemade sesame tofu. We were then served a platter with 4 items on it: dried Japanese cucumber, squid sushi with chrysanthemum flower, deep-fried taro crusted with edamame, and some ginkgo nuts. These small bites were especially good with the sake we were drinking. This was followed by a clear soup in which a cube of ridiculously smooth egg tofu was nestled. On top of the tofu sat a lovely hunk of Ainame (Fat Greening), an incredibly rare fish most successfully farmed in Shizuoka. This was followed by a small plate of sashimi, the star of which was some amazing abalone, served with sea urchin. After this was a very delicious plate of grilled Kamasu (Japanese Whiting or Barracuda) served with Yuzu shoyu, followed by simmered Osaka eggplant. Up next was my favourite course – Kagoshima Wagyu wrapped around Shimeji mushrooms and lightly grilled to perfection. This was meaty, wonderful, umami goodness, served in 3 bite-sized pieces (well, bite-sized for me). Our last savoury course was rice cooked with Ayu (Sweet Fish), one of my all-time favourite fish varietals, served with miso soup and pickles. Dessert was a duo of mochi and pudding, served with a very strong, very high quality matcha (green tea).
Our meal, and overall experience, at Yoshiyuki was exquisite. While we have other restaurants that serve (or claim to serve) Kaiseki menus, the only one that really comes close to this level of food that I have tried is Goto (of course, there's also Kunio Tokuoka, but there's no way in hell I'm paying $750 a person for dinner – I may be greedy but I'm not stupid).
It's no coincidence that Chef Goto Hisao, owner of Goto, served as personal chef to the Japanese Ambassador appointed to Singapore just before the one that brought Chef Yoshiyuki here. But while Goto's skills may be comparable with Chef Yoshiyuki's, Yoshiyuki's restaurant is definitely more refined, more chic, and more exquisite. The interiors at Yoshiyuki are simply richer and more luxurious. Both chefs are amazing artists. Each with his style of Kaiseki.
I found Chef Yoshiyuki's food very subtle, very clean. My mother adored it. So too did S. I had a fantastic time, but I voiced to S during the car-ride home that I know Yoshiyuki won't be for everyone. I said to her, "The customer really needs to be able to appreciate clean flavours, real subtlety in cooking, and seasonality to truly appreciate spending as much as you will here." It's something that she (and my mother and I suspect most women) can already do quite naturally. But I'll admit I'm only about 70% of the way there. I know, for example, that one of my best buds – for whom the epitome of a great dinner out is Cut, Wolfgang Puck's steakhouse – would never appreciate Yoshiyuki. But I also know his wife would be in culinary heaven there. It's the kind of place I'd tell him to take her for her birthday of anniversary – the kind of place you take the person you love to pamper them a little bit.
As I said earlier, I have no doubts about the future success of this venture. I just hope that when I do get around to pampering S, I can get a seat. After all, with potentially just 20 covers a night, Yoshiyuki might quickly become the hardest reservation in town to get.
Yoshiyuki
583 Orchard Road
Forum The Shopping Mall
#B1-39
Singapore 238884
Aun has always loved food and travel, passions passed down to him from his parents. This foundation, plus a background in media, pushed him to start Chubby Hubby in 2005. He loves that this site allows him to write about the things he adores--food, style, travel, his wife and his three kids!