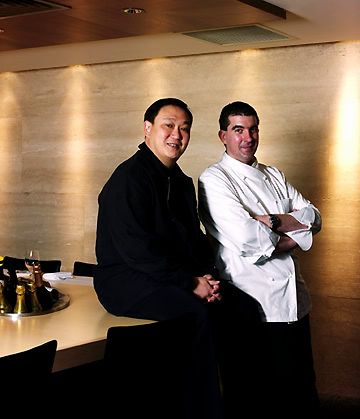 photo courtesy of Iggy's
Regular readers know that I'm a huge fan of Iggy's, the fantastic Modern European, over-the-counter fine dining restaurant in the Regent Hotel here in Singapore. Owner Ignatius Chan and chef Dorin Schuster have, through perfect service, exquisite food, and a wonderfully serene setting, created what I believe is one of the region's best restaurants.
I was thrilled, therefore, to recently receive in the mail the 12 April 2006 edition of Restaurant Magazine. This is the much-hyped, much talked about and much written about issue that contains the article, "The World's Fifty Best Restaurants". The list is based on surveying 560 "experts" around the world. The top fifty are profiled over 52 thrilling pages. Also included in the article are various sidebars. Two that peaked my interest were "Best Five in Asia" and "And the next fifty are…" According to the survey, Asia's best restaurants are, in order, Buchara (India), Felix (Hong Kong), Spoon (Hong Kong), Iggy's (Singapore), and Wusabi (India). In the "next fifty" ranking, Iggy's comes in at number 98. It is, it must be noted, the only restaurant in Southeast Asia in the world's top 100.
So, let's all raise a glass and congratulate Ignatius and Dorin for this accolade. 4th Best in Asia. By implication, the very best in Singapore!
Now, while you're all furiously punching +65 6732 2234 into your cellphones, booking hard-to-get seats at Iggy's counter, I'd like to segue into a small rant. Because, despite being one of the 560 voters who took part in Restaurant's survey, I have huge problems with it. The survey, once you examine who the voters are and where they are from, reveals itself as being Eurocentric and thus biased. Of the 560 voters, 280 are from Europe, 78 from the Americas, 47 from Africa, 31 from the Middle East, 31 from Central Asia and Russia, 62 from Asia, and 31 from Australia and New Zealand.
Further, when voting, the chosen "experts" are required to vote for / nominate 2 restaurants from their own appointed region and 3 from outside of their region. The Far East, comprising Brunei, Burma, Cambodia, China, East Timor, Hong Kong, Indonesia, Japan, Laos, Macau, Malaysia, Micronesia, Nauru, N.Korea, Philippines, Singapore, S.Korea, Taiwan, Thailand, and Vietnam, is amazingly considered one region. There were 31 voters from this region (As mentioned, I was lucky to be one of them). In Europe, however, France was a region on its own, with 31 voters. Similarly, the UK & Ireland; the Benelux countries; Spain & Portugal; Denmark, Sweden and Normway; Italy; Austria, Germany & Switzerland; and the Baltics were distinct regions, each with 31 voters. Greece, Turkey, Cyprus and Georgia had 16 voters; Eastern Europe also had 16 voters. If you consider that every voter was asked to pick two restaurants from their own region, we get a minimum 560 required votes cast for European restaurants. In Asia, we have only a minimum of 124 required votes. Further, voters hailing from the Far East region are barred from voting for any other restaurants from the 20 countries in this region. A voter in France, however, can cast his or her 3 extra votes for restaurants anywhere in Europe outside of France. S/he can vote for restaurants in Spain, England, Germany, etc. Anyone can see that this survey is thus biased towards restaurants in Europe. No surprise then that 39 of the survey's top fifty are restaurants from Europe. From the "next fifty", 35 of 50 restaurants are based in Europe.
To me, what immediately screamed out that there was something fishy in the pages of Restaurant Magazine was that there was not one restaurant from Japan among the world's best 100 restaurants. After doing a little digging and a little math, as you can see, it's obvious the survey is stacked against restaurants not located in Europe.
My challenge to Restaurant Magazine is to make this survey more equitable. If you are going to call the Far East one region, then Western Europe should likewise be one region. Let's make the number of voters from the Americas, Asia and Europe more realistic and closer together. There's no reason other than pure calculated unfairness that Europe should have 3 times as many voters as any other geographical area.
I'll wager that if Restaurant makes positive changes to its survey, doing as I suggest, we'll find next year that there are many more Asian (and American) restaurants moving into the top fifty. I'd even bet that Iggy's would move up dramatically, if not into the top fifty (which I believe it deserves to be in), then at least a good 20-30 places. For now, at least, I can comfort myself in the knowledge that Asia's 4th best restaurant is just a phone call and a 15 minute drive away.
Iggy's is located at level three of The Regent Singapore. Call (65) 6732 2234 for reservations.
Aun has always loved food and travel, passions passed down to him from his parents. This foundation, plus a background in media, pushed him to start Chubby Hubby in 2005. He loves that this site allows him to write about the things he adores--food, style, travel, his wife and his three kids!