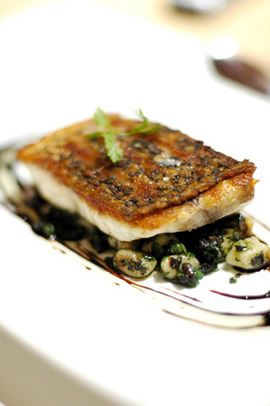 I've written in previous posts that Iggy's is one of my favourite restaurants. Maybe it's because I've known Iggy—Ignatius Chan—for more than a decade. Maybe it's because I'm a sucker for (and total believer in) the culinary world's latest gastrotrend, the counter-dining experience. (Going to L'Atelier de Robuchon last December was a religious experience.) But more than anything, I think it's because the food is just so damn good.
Iggy and Chef Dorin Schuster have put together an exquisite menu of small, wonderful modern European dishes that can be ordered in a combination of courses. At lunch, for example, diners choose a 2, 3 or 5 course meal. At dinner, the meal can stretch to ten or even more courses.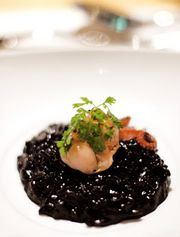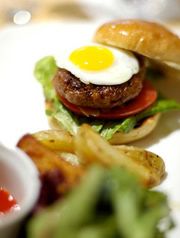 Last week, a colleague and I had a wonderful lunch at Iggy's. While we each ordered a 3 course lunch, Iggy gave us an equal number of extras. What was meant to be a small lunch became a 6 course feast. We started with a sesame tofu covered by a pumpkin puree. We then both had squid ink risotto with char-grilled baby squid. This was followed by mushroom cappuccinos. My colleague had for her main course a char-grilled seabass with truffle gnocchi, rosemary oil and aged balsamic (pictured at the top of this post). I had the homemade hamburger with over-easy egg, grilled onions and potato wedges. (I've said it before and I'll say it again, this is easily the best burger in town. The only problem is it is no more than 3 inches across. Considering, however, the number of other courses we're expected to eat, anything bigger might kill us.) As a pre-dessert snack, Iggy offered us something I had never tried before, Udo, a Japanese root vegetable similar to ginseng. It was cut into thin strips and cooked with Gorgonzola…and it was delicious. My colleague ended her meal with a pina colada soufflé, while I had a Champagne jelly and sorbet with Elderberry foam and lemon zest. As always, everything was perfect
Iggy's is located at level three of The Regent Singapore. Call (65) 6732 2234 for reservations.
Aun has always loved food and travel, passions passed down to him from his parents. This foundation, plus a background in media, pushed him to start Chubby Hubby in 2005. He loves that this site allows him to write about the things he adores--food, style, travel, his wife and his three kids!