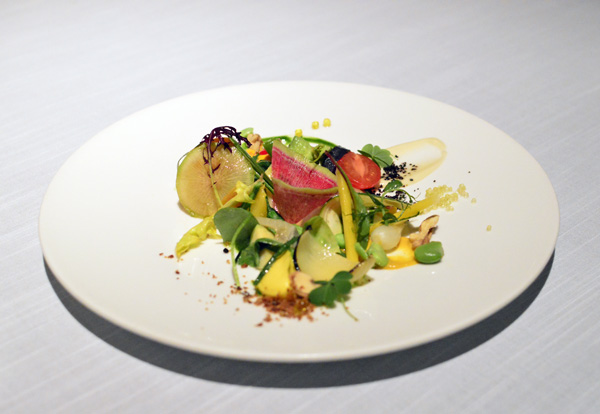 My girlfriend K gets a lot of grief for being an ethical vegetarian (and occasional pescatarian, when bivalves and mollusks are involved). Besides the droll meat trolls who ask her questions like "don't vegetables have feelings too?" and leeringly point out that animals die to make just about everything we use everyday, she also has to put up with largely unremarkable, and frankly disappointing meal options at many restaurants here –  one can only eat so many portobello burgers and green salads before one goes a bit nuts.
Fortunately, over the last couple years since we returned from New York, we've managed to find several restaurants that serve great vegetarian food – everything from vegan burgers to mushroom fries to sous vide beetroot – either as a complement to the omnivorous options, or as the only options in a decidedly meatless menu. And, while we've had wonderful experiences at all price points, I was most excited by the discovery of the holy grail of vegetarian gourmands: the vegetarian tasting menu.
The vegetarian tasting menu is by no means a rare sight here in Singapore. Most fine dining establishments are more than happy to prepare one if you call in advance, with the quality you'd expect from restaurants of their caliber. But few places have a dedicated vegetarian degustation proudly displayed as a regular menu item; fewer still have vegetarian tastings so damned good, even the staunchest non-vegetarian would seriously consider ordering them.
K and I have found two such restaurants, restaurants whose chefs treat meat as the craftiest oulipians would the letter "E" – as a trope to be laughed at, worked around, and disregarded. Thanks to them – and to K, who is at least partly responsible for me getting over my aversion to beetroot and (some!) broccoli – I've been introduced to completely new taste combinations, and exposed to alternative notions of the tasting menu. Serving meat and seafood as part of a tasting menu isn't so much a rule as a rather loose rubric, to be flouted only by those who know their stuff.
Jaan – Chef Julien Royer's Jardin Gourmand menu
There's almost nothing I can say about JAAN, and chef Julien Royer, that hasn't already been said. In the space of a year since my first ever visit to the restaurant, chef Julien was voted Asia's 22nd best restaurant by San Pellegrino and Restaurant Magazine, and named "One To Watch" for his potential to climb even higher. The restaurant's artisanal cuisine, a transcontinental ballad of Europe and Asia's best produce, is stunning evidence of what a great chef can do with the freshest of ingredients. My parents measure all other restaurants against it and find them wanting, as does K, who, after eating at several places of the Michelin variety in Europe, promptly declared, "JAAN is better."
Given chef Julien's attention to terroir, it isn't a stretch to say that he prepares probably the best vegetarian cuisine K and I have ever had the pleasure of eating. The restaurant's amuse bouche, a wild mushroom 'tea' with cep sabayon, is one of my favorite dishes of any restaurant. And, while a vegetarian tasting menu has been a permanent fixture at JAAN since chef Julien took over its kitchen, his latest iteration, the Jardin Gourmand menu, ups the ante.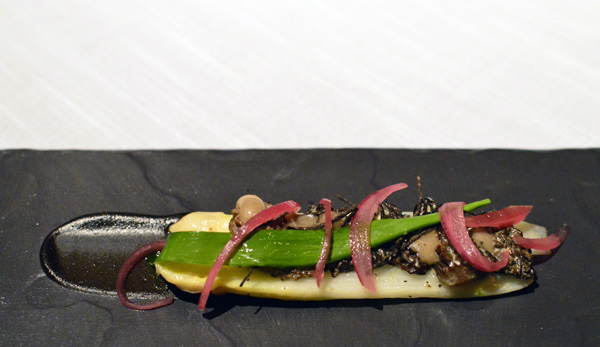 While many vegetarian menus are essentially mimeses – fleshy mushrooms as placebos, tofu as alternative protein – Jardin Gourmand makes you forget there ever was such a thing as meat. Taking pride of place are produce such as the romanesco broccoli, served in a textural triptych – blanched, finely chopped, and pureed – with praline and passionfruit; raisiny morels roosting on a beam of white asparagus, sheltered under a blade of garlic leaf; and a risotto of organic barley stained with vibrant Iranian saffron. It's hard for me to describe the taste of the vegetables; all I can say is that they tasted so distinctly, so deliciously, like themselves. The best photographers and portrait artists manage to coax their subjects, both living and inanimate, into revealing the most indescribably intimate parts of themselves, and chef Julien manages to do this every time.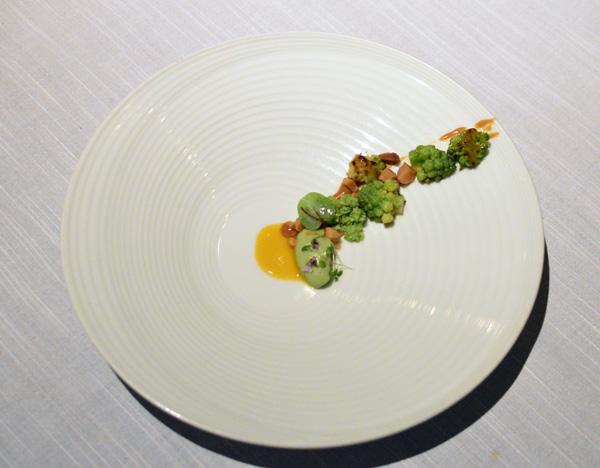 The best creatives also leave a part of themselves in their work. Thus, in the Jardin Gourmand menu, chef Julien has created a dish that I think could be the very soul of his artisanal philosophy: "Jaan's Garden," (main picture) an ever-changing composition of the season's best vegetables – heirloom carrots, tomatoes, snow peas, fava beans, radishes, radicchio, beetroot, and onions – dotted with finger lime caviar, olive oil pearls, and wild herbs. The presentation is deceptively, abstractly simple, essentially blanched vegetables on a plate; and yet, the taste is completely out of this world. If ever there was an antithesis to monolithic and decadent meat dishes – wagyu, foie gras, toro and so on – this would be it: an edible Kandinsky, vibrant and various, with subtle strokes of bite, bitter, crunch, color, ooze, oomph, sweet, slime, and more. I don't think any other dish I've had, vegetarian or otherwise, has been this sublime. It's food as jazz, cuisine as improvisations and riffs on verdant themes.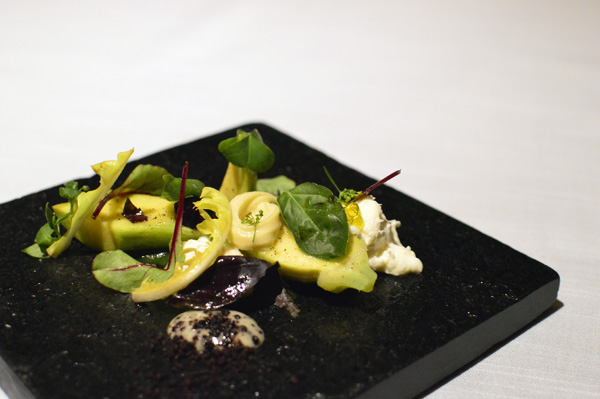 Frequent diners will recognize updates of chef Julien's older work, such as the trumbetta zucchini with burrata and olive sugar, and the 55-minute smoked egg, served now with a spring's harvest of morels and peas, in the Jardin Gourmand. They will also know that at JAAN, vegetables have always been the star of the show. But this latest progressive offering from a chef who comes from a family of farmers in Cantal is, to me, a bold statement – that a vegetarian meal isn't a pragmatic acquiescence to diners' food restrictions, but a different experience altogether for those who would like to explore a subtly alien panorama.
Tippling Club – Chef Ryan Clift's vegetarian (and vegan) menu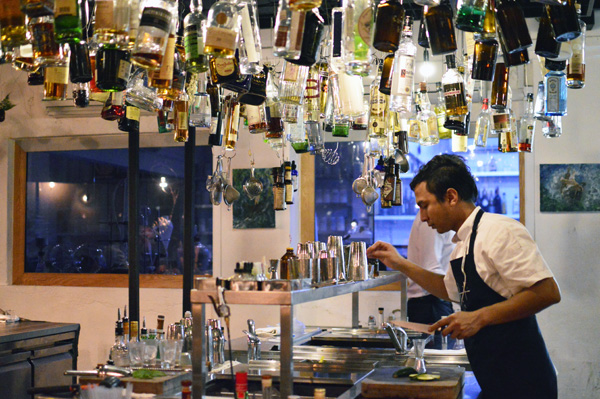 I wouldn't be able to tell you how good the regular tasting menu at Tippling Club is, because I've never tried it. But damn if the vegetarian menu isn't one of the most memorable meals I've had in a long time.
If chef Julien is a jazz artist, chef Ryan Clift must be some kind of fusion math-rocker. Huge opaque jars containing powdered versions of food that I'm sure was never meant to be powdered, crowd the shelves of Tippling Club's open kitchen/bar, right above the immersion cookers and freeze-driers. I'm not sure whether to be relieved or disappointed that the one labeled "blue cheese" was never opened, though I did get a prescription boxful of cheesecake pills at the end of dinner, right before a dessert that must be the only dish in the world to demand the phrase "crispy milk".
It might be due to the absence of meat, or the restaurant's Dali-esque sensibilities and styling, but there was something quite surreal about my meal at the Tippling Club. Any modernist chef can subject ingredients to sous vide and liquid nitrogen and foam, but it takes a weird, wonderful chef to be able to turn food into compelling – and delectable – art. In chef Ryan's gallery, tart cucumber obelisks flank a mustard ice cream zeppelin carrying a filigree of dried shallots; lightly charred hunks of halved potato look like igneous rocks beneath herb sprigs and pearls of olive oil; and a bed of jet-black truffle puree adds visual and flavor shock value to a vegetable melange.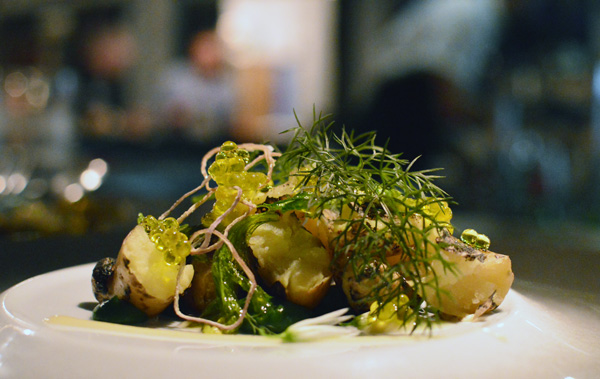 Indeed, nothing is really what it seems at chef Ryan's little laboratory on Dempsey Hill – and so it goes for the vegetarian menu, which has the taste profile of a series of scientific lectures set to the music of The Mars Volta. Each dish I had was a dissection of vegetables I thought I knew. But you don't know a tomato, chef Ryan seems to be saying, until you've slurped it up through a straw.
This endless variation on the same vegetable in the same dish is one of the things I love about chef Ryan's menu. A parsley soup exploded with the bitter, brash flavors of the herb, while the pieces of parsley root that came with it was comparatively delicate, allowing the amazing radish-like texture to stand out. A plate of pillowy gnocchi, made entirely from carrot, were like orange clouds on the tongue; together with a broth of carrot and ginger, and paper-thin slices of heirloom carrot, it added entire new dimensions to my respect for the darned thing. The sum of the parts, it seems, is greater than the whole.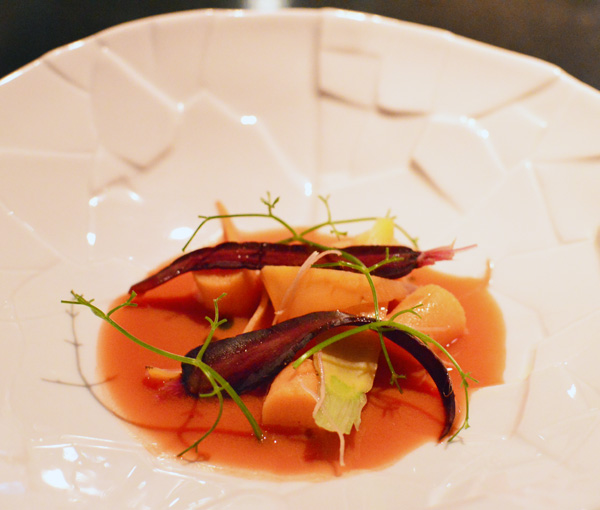 I must also give tremendous props to Tippling Club for not only preparing a vegetarian menu, but a vegan one as well for K, who requested it as a cheeky challenge to the brigade. Having sampled some of the dishes, I must say that there was almost no difference in quality and experience. The restaurant did have its revenge, though, when sous chef Paul came by for a short chat and, in his most deadpan voice, asked us, "if you like food so much, why the hell do you only eat vegetables?"
To fine diners who ask this question in earnest – open your mind and see if two of Singapore's most talented chefs can't tell you the answer.
JAAN
2 Stamford Road
Swissotel The Stamford, level 70
Singapore 178882
Tel: +65 9199 9008
www.jaan.com.sg
Mondays—Saturdays ­12pm—230pm, 7pm—10pm
Closed Sundays and Public Holidays

Tippling Club
8D Dempsey Road
Singapore 249672
Tel: +65 6475 2217
www.tipplingclub.com
Mondays—Fridays ­6pm—late
Saturday 12pm–3pm, 6pm–late
Closed Sundays
Brandon Chew's first memory is of him eating chicken rice at the dining table of his parents' old flat. His second memory is of him politely asking for, and receiving, a second helping of fries at KFC, which taught him two things: manners gets you places, and fries are the most awesome food known to man. Brandon has just returned to Singapore from New York and is happily exploring the food scene here.