When Chef Julien Royer recently departed from JAAN, the restaurant at the top floor of Raffles City, a lot of foodie friends started to prematurely cross this eatery off their lists of great gourmet places in Singapore. The funny thing is, I remember a few years back, this also happening when Chef Andre Chiang left his post as the restaurant's chef de cuisine. When Andre left, local and regional foodies predicted the demise of JAAN, warned that it would revert back to being a so-so restaurant with an amazing view. But then Julien came and proved to everyone that the powers-that-be in Swissotel (or now FRHI) are adept talent spotters. His cuisine, while different from Andre's, is in my opinion every bit as good.
So now Julien is gone. But in a very smart move, instead of looking around the island or even further afield, the F&B gods at FRHI decided to give Julien's sous chef his shot. And why not? After all, Chef Kirk Westaway had recently out-cooked nine other chefs from Southeast Asia in the regional leg of the San Pellegrino Young Chef 2015 competition and then competed against the world's best in Milan. He spent several years working with Julien, not just in Singapore but also at The Greenhouse in London. Promoting Chef Westaway to chef de cuisine made sense. It would mean an easy transition for the restaurant since the new head chef was already intimately familiar with the hotel's staff and processes. He knows all of Julien's signature dishes which means that he can ensure the taste profile of his own menu wouldn't depart too radically (for now) — i.e. patrons can be eased into his style of cooking comfortably and without any kind of shock to their gustatory systems.
And, most importantly, he is talented. Very talented.
Of course, this I have learnt for myself. My wonderful wife, to celebrate our recent 14th wedding anniversary hosted me to a long lunch at JAAN. (I in turn hosted her to a sushi extravaganza at Ashino.) It was a great meal, with imaginative dishes that gave me a good sense of the kind of chef Kirk is and the differences between him and his predecessors.
We enjoyed a 10 course menu, bookended with amuse-bouches and petit fours. I was immediately taken with the amuse-bouches — a clever serving of wagyu beef tartare alongside "fish & chips" and a foie gras and truffle macaron (first pictures of this post). To me, these 3 little bites were a declaration of the chef that, "Yes, I am British, and I will pay homage to my British roots, but I have also mastered French cookery."
Here's a quick rundown of the full menu: Hokkaido scallop with sea urchin; you can see this just above. Gorgeous dish, which was served with a theatrical element that you must experience first-hand. Irish oyster with artichoke and Oscietra caviar (pictured below). I loved this dish. Land and sea in two wonderful mouthfuls.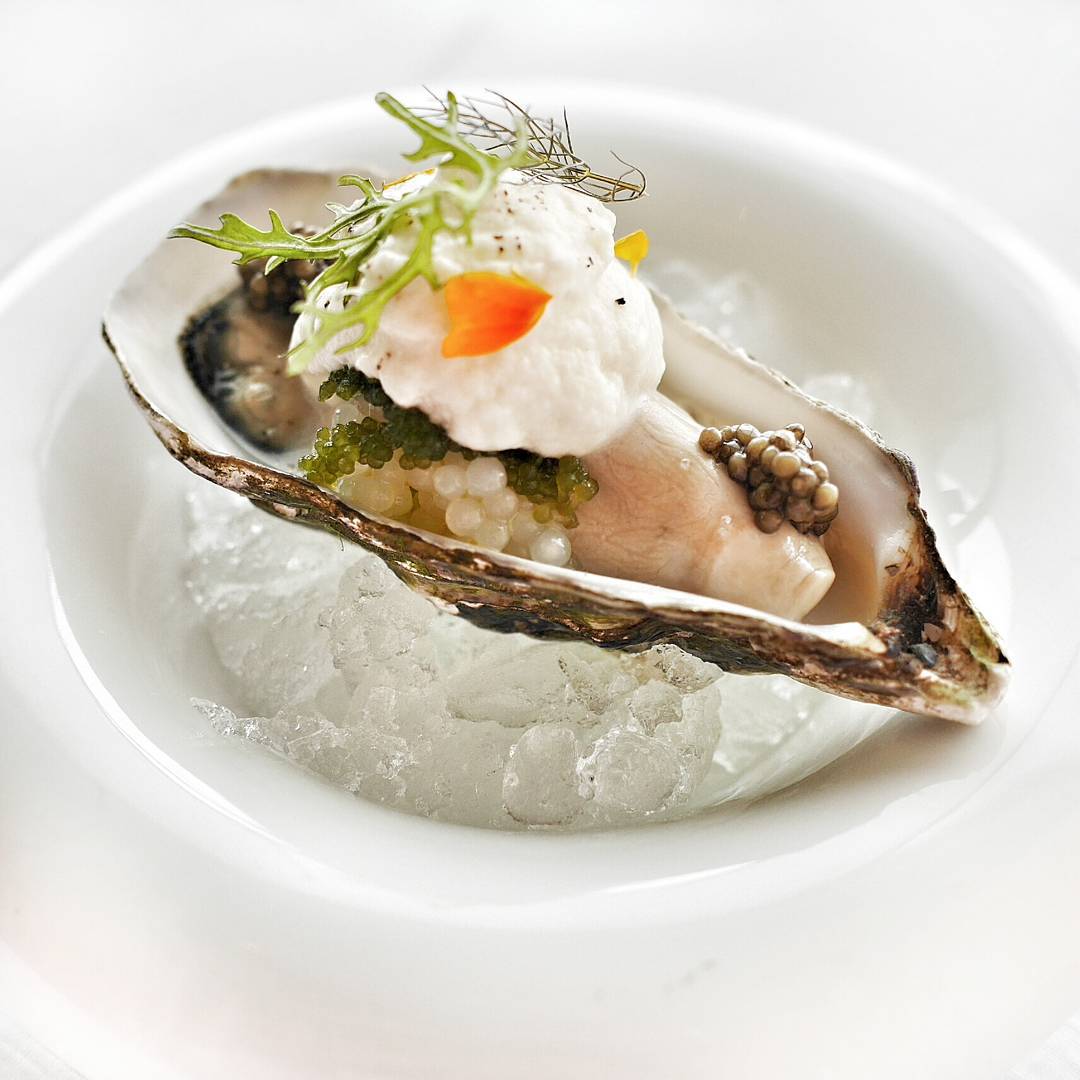 Heirloom tomato with "burrata artigiana". This was a gorgeous. Farmer's Harvest of summer vegetables and carrrasco ham (pictured below). I loved this simple plating of fresh veggies with savoury meat. I wish all salads looked and tasted that way.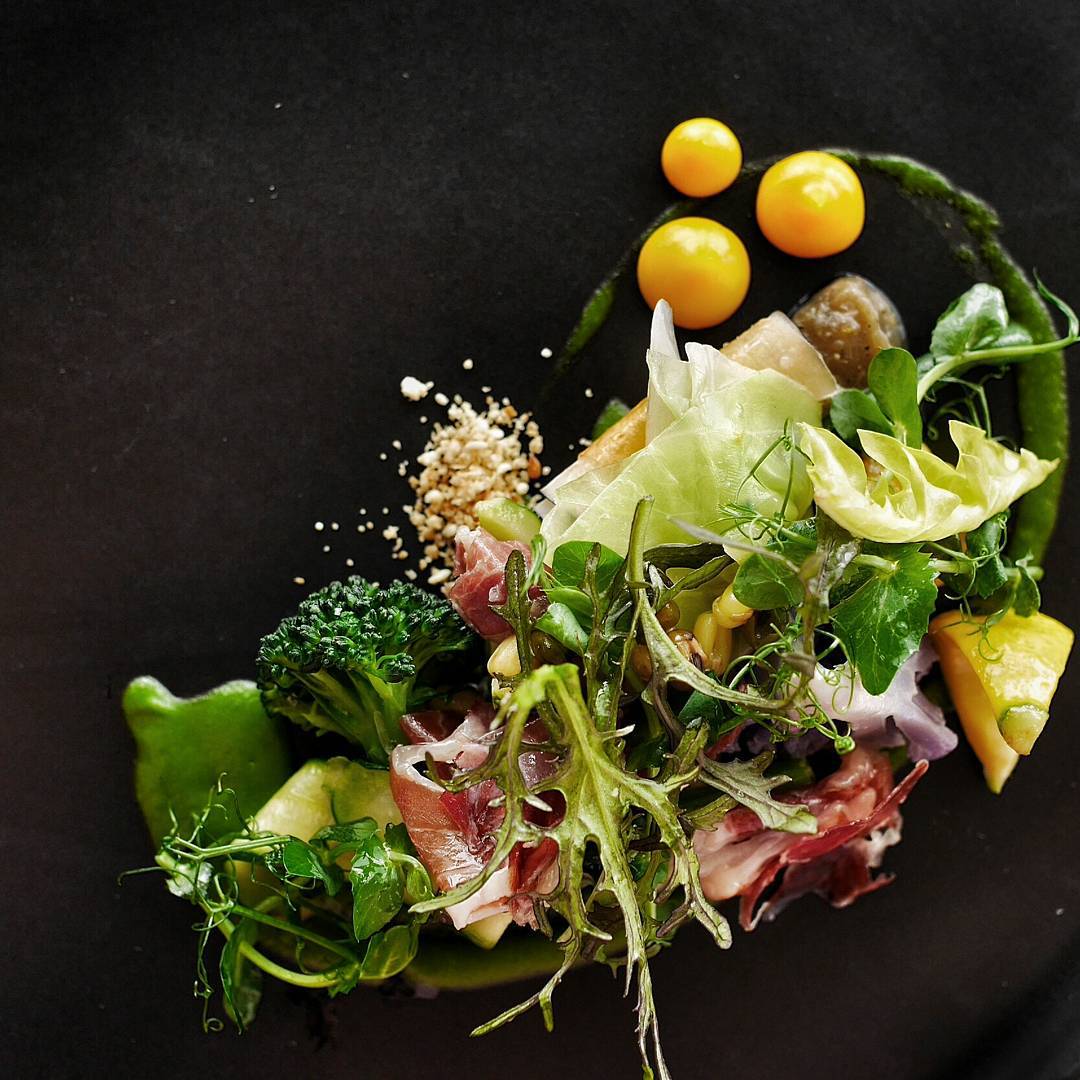 Roasted langoustine with radishes and yuzu. This was lovely, served with a warm broth that was poured into the bowl. It inspired me to make a similar dish the following weekend for friends. Line-caught turbot with organic chicken, quinoa and lemon; surf and turf a la Westaway. Mangalica pork with coco of Paimpol and Cevennes onion; this was a gorgeous dish that was full of flavour.
We had two desserts and an avant-dessert. The palate cleanser was fennel with lime espuma and grapefruit. This was the only thing I ate that day that I wasn't too thrilled by. But chef redeeemed himself in a huge way with the follow-up dish, a roasted French peach with almond cream and lemon sponge. This is a dessert that I absolutely adored and would return to JAAN just to have. A play on peaches and cream, this was modern, smart and sophisticated but also highly accessible. Which is how I would pretty much describe Chef Westaway's cuisine. Our final dessert was built around blood oranges, but honestly, I have to admit I forgot what it was–that godly peach dessert simply overwhelms any memory of what came after.
If you were to ask me if I enjoyed my recent meal as much as I have other meals at JAAN (when Julien or Andre ran the kitchen), my answer would be an enthusiastic, "yes". I will admit I am one of those diners that like discovering new chefs, so I was quite thrilled to finally taste Chef Westaway's cuisine. He is similar to his mentor yet different enough that you know there's a new chef in the kitchen. I found Chef Westaway's food had punch. That is to say, while the food looked refined and elegant, it had enough heft and oomph to satisfy customers who love hearty flavours and umaminess in food. Of course, Chef Westaway is only a few months into the new role, so I do hope patrons will give him to room to grow and become even more accomplished.
I do have to hand it to the F&B guys at Swissotel… they've been 3 for 3 with Andre, Julien and now Kirk. All I can say is, "Beam me up!" (Sorry, I just had to throw in a Star Trek pun.)
JAAN Level 70, Equinox Complex
Swissôtel The Stamford, 2 Stamford Road, Singapore 178882
Tel: +65 6837 3322 | reservations@equinoxcomplex.com
Disclaimer: While my wife's communications agency (yup, she's the boss) represents JAAN (as well as Julien Royer's new restaurant and Tippling Club, among others), since this was a personal visit, she paid for our meals.
Aun has always loved food and travel, passions passed down to him from his parents. This foundation, plus a background in media, pushed him to start Chubby Hubby in 2005. He loves that this site allows him to write about the things he adores--food, style, travel, his wife and his three kids!