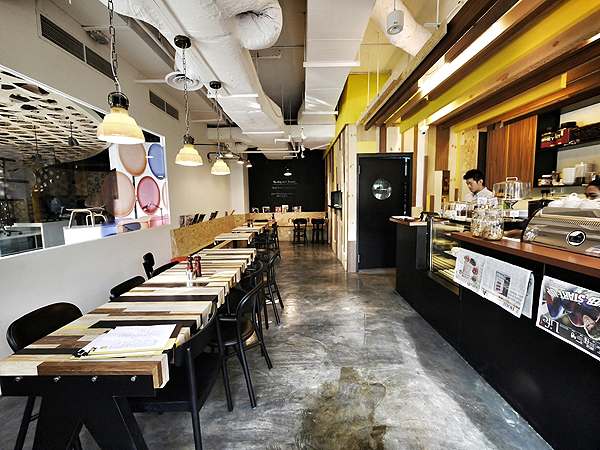 Since my wife and I had our first child, the meal we go out for the most has actually become breakfast. We've tried a lot of places. Because of lil' T's schedule, we tend to seek out places that open by 8am. We also like places with nice views and/or lots of space for T to run around in. One of our favourite places in Singapore is Kith, located along Robertson Quay. Kith is hugely popular. We find that if we arrive after a certain time in the morning, we end up waiting around for a table. Usually, and thankfully, the wait isn't too long.
When we were at Kith this past weekend, the always immaculately groomed and very sweet owner Jane Hia told me that she's just opened a new and larger branch at ParkMall. This was fantastic news for my wife and I. ParkMall is even closer to our home than Robertson Quay (about half the distance). That there is a much larger air-conditioned seating area was an even greater bonus for me and T, who tend to get sweaty really quickly. So, this past morning, along with our always-happy-for-an-outing Golden Retriever Alix, we bounced over to the new Kith. Which we absolutely loved.
The new space is situated next to XTRA in the space that used to house Olio Dome. The only entrance is from Penang Road itself. There's no access from within the mall. However, if you're in the mall, there's a small service exit next to XTRA that will lead you to the cafe very quickly. There's a nice wooden-deck outside with lovely outdoor furniture and a small children's play, which T quickly gravitated towards. There are also some cool outdoor lounge pieces. I think they are Magis pieces, which XTRA retails, so maybe Jane made a deal with them. The indoor area, as I mentioned, is nice and spacious. The photo at the top of the post is of the interior.
The coffee, other drinks and the food is, as usual, great! I had a fruit salad with honey mascarpone while S devoured a corn frittata. I'm looking forward to heading back for lunch one day soon. Jane mentioned to me that her head chef is ex-Da Paolo, so I'm betting that all of the pasta dishes on her lunch menu are fantastic.
If you want to see more photos (the outdoor area, some of the food, etc), please take a look at the album I have posted on the Chubby Hubby Facebook page. So head on over and take a look.
I'm so happy that Kith has opened this new branch. While we don't get the river views that the orignal branch offered, at the present it's super easy to get a table, I love both the deck and the indoor space, and, like I said, it's much closer to my home. I know we'll be breakfasting here a lot from now on. See you all there.
Kith
ParkMall
9 Penang Road
#01-01E
+65 6338 8611
Singapore 238459
open 8am to 8pm daily
Aun has always loved food and travel, passions passed down to him from his parents. This foundation, plus a background in media, pushed him to start Chubby Hubby in 2005. He loves that this site allows him to write about the things he adores--food, style, travel, his wife and his three kids!