In The Five Obstructions, one of the strangest documentaries I've ever seen, the notorious filmmaker Lars von Trier challenges the equally controversial Jorgen Leth to remake his most famous short film, The Perfect Human, five times, each with a set of constraints of von Trier's choosing. The stipulations – the film must be reshot in Cuba; it must be made into a cartoon; Leth himself must play the leading role – are patently ridiculous, as are the remakes, which manage to be even more avant garde than the original.
I felt the same naughtiness at Chefs with Altitude (CWA), a collaborative culinary event organized by Swissôtel The Stamford. Like von Trier, CWA courts celebrated artists from other parts of the world, imposes certain rules on them, and challenges them to come up with a version of their work that still espouses their philosophies. It's chefs who come under the obstructionist's gaze this time, of course. But in a way, the restrictions are even more flummoxing than the ones von Trier rammed down Leth's throat. Imagine a chef presented with the following instructions: come to Singapore; don't bring your brigade; don't bring any ingredients; oh, and recreate the experience of dining at your restaurant (wherever that may be). A traumatic scenario to deal with for any chef; an absolute death-wish for an avowed locavore like French chef Xavier Beaudiment.
On the outset, bringing a young talent such as chef Xavier to Singapore for Chefs with Altitude is a no-brainer. Apprenticing with some of Europe's best in the early years of his career, chef Xavier nurtured a passion for produce-driven cuisine and returned home to set up Le Pré in the central French commune of Durtol (about three and a half hours' drive from Paris, if you're wondering). Critical success and a Michelin star soon followed. Surely he would have no problems coming here to give Asia a taste of his philosophy?
Well, according to the man himself, there were complications. "In my region, we wake up early in the morning and we go into the mountains to pick plants and vegetables for the restaurant. Eighty percent of my ingredients are local. So when Julien [Royer, chef de cuisine at JAAN, who together with his team provided culinary support to chef Xavier during CWA] asked me to come here I was afraid; I wanted to bring some dried herbs from home, but he told me it would be challenging because of local food regulations. I told him, it's difficult!" One could almost imagine chef Julien as the von Trier figure in this story, gleefully rubbing his hands in the shadows as his colleague comes to grips with the enormity of the task ahead.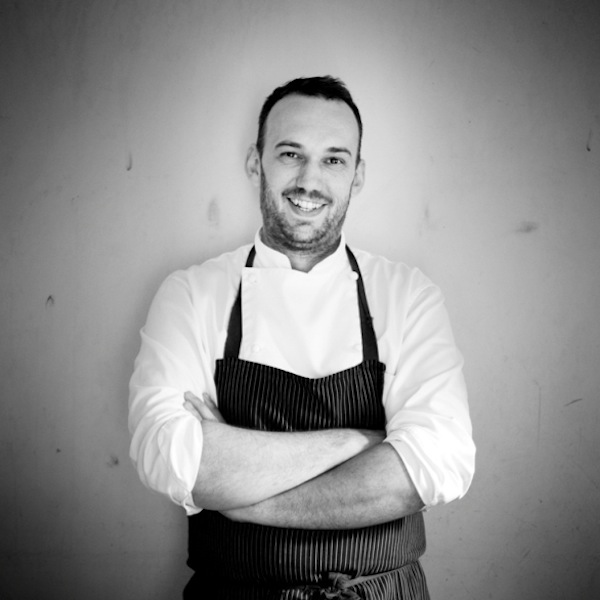 Judging from the degustation I had during CWA, though, chef Xavier managed to overcome his adversity with great aplomb. To call my meal – prepared with ingredients chef Xavier sourced for while in Singapore – good would be missing the point entirely. It's far more appropriate to say it was different, so unlike anything I've ever had before that it took my palate by surprise.
What stood out in all the dishes I had was the nakedness of the ingredients, the raw, immaculate taste of both flesh and foliage. Sometimes, this rawness was literal – a plate of grilled Scottish scallop ("I'm so sorry it's not from Brittany!" lamented Le Pré's sommelier, the one import chef Xavier was allowed to make) came showered in flakes of dry, uncooked cep mushroom, whose mottled taste and brittle texture lent variety to the fullness of the rest of the dish. Other times, it was playfully concealed, as with two of my favorite dishes, a bitesize "vegetal" sponge made of bitter, biting watercress, topped with watercress puree and a small shoot; and a bountiful corn espuma bedecked with nodules of ripe corn and a small leaf from the same plant. With all these dishes, it was as if someone had removed a barrier between me and the ingredients, revealing a sensual, previously subtle, taste that had been there all along. It drove me crazy, and I spent a good part of dinner staring quizzically at my plate, wondering why I'd missed all these flavours before.
Part of the mystery, I'm sure, has to do with chef Xavier's respect for the idiosyncrasies of his ingredients. "These two tables in front of us," he tells me over coffee, "they are the same; the architectural can be the same. But, if you consider the natural…when you look at nature, two trees, even if they are the same kind of tree, don't look the same. We have to respect this with the ingredients, on the plate." This is why he can work his magic with unfamiliar ingredients – spending two days (successfully) figuring out the best ways to cook a particular cauliflower, a particular species of beetroot, is the mark of an aesthete.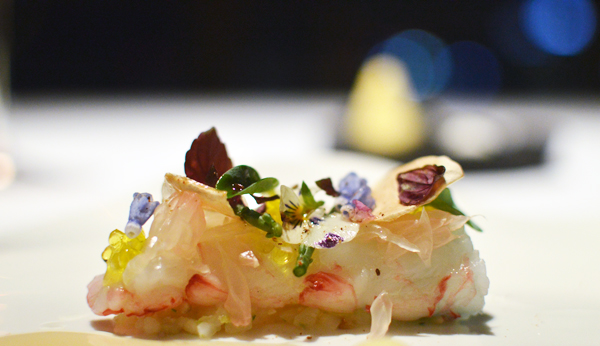 If one part of chef Xavier's approach in the kitchen is in bringing out the best in familiar food, another is in rediscovering "flavours we've forgotten," as he poetically puts it.
Exhibit A: An "XL" sashimi-style langoustine, placed belly-up on the plate and decorated elegiacally with a pastel palette of flowers, leaves, bergamot, and artichoke; to me, the visual surprise and highlight of the meal, with the taste of the langoustine so defiantly marine, it gave my tongue a mild shock.
Exhibit B: the pigeon entree, an unapologetic smorgasbord of succulent pink breast, confit leg (claws and all), liver soaked in a buttery emulsion with figs…and the heart, presented (I think) completely raw on a slice of crispy bread with shavings of foie gras. Like the dearly departed langoustine, this was cadaver as cuisine. Chef Xavier is once again performing the act of unveiling, this time confronting us with the fact that the edible work of art on our plates used to be alive. This is what un-vegetarian food should be, and I loved every single bloody bite.
Alas, this is where chef Xavier runs into one more obstruction – the tolerance his guests have for the unusual. As early as the first night of Chefs with Altitude, guests had told him they simply didn't have the (ahem) stomach for the vital organs, and he had been compelled to take them off the menu. (One wonders what he thinks of Singaporean food, which can be just as visceral, if not more so).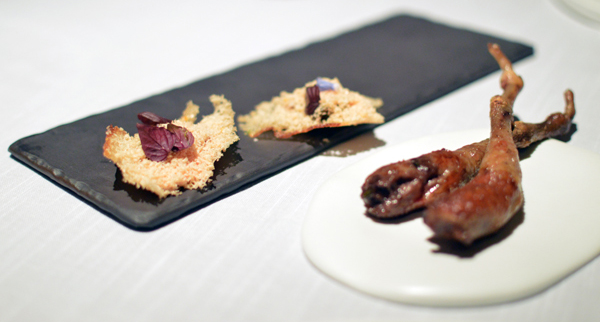 Chef Xavier laughs as he tells me this particular anecdote. "Yes, Julien told me [serving] the pigeon's heart was going to be hard. But it's our job to change perceptions. We're not just chefs, we have to help guests find other ways [of approaching food]. We have to take risks – sometimes, it's fantastic, sometimes you think about it and it's comme ci, comme ça."
It's something he has to do back home at Le Pré, too – he initially wanted to serve a hundred percent local ingredients, but had to compromise when guests couldn't get used to the absence of several fine dining staples. "I have a Michelin star now, yes, but in a way, I feel that maybe not many people understand what I want to do, what I am trying to convey through my creations. Sometimes, we have to consider diners' preferences; we can't always do what we want to do."
But for every heart chef Xavier serves, beet-red and throbbing with sinewy richness, there are five stunning, and no less daring, dishes that he can use to slowly win us over to his cause – a slow-cooked trout that has the color of cotton candy and evaporates just like it in your mouth; a milk-fed veal tartar so airy it registers in your head as a salad; a caramel, peanut, and William pear tart with all the flavour and none of the syrupy, smarmy aftertaste. A flair for the natural buys you a lot of goodwill with your guests.
Perhaps he can take comfort from Jorgen Leth's journey in The Five Obstructions, and from his own experience here in Singapore. If he can stay true to his French countryside roots in a restaurant 70 stories up in one of the busiest cities in Asia, if he can create a menu that, by his own measure, successfully embodies the spirit of his cuisine using the ingredients from a part of the world he's completely unfamiliar with, surely he can do anything.
When I asked chef Xavier why, after all his reservations, he decided to agree to participate in CWA, he answered immediately. "Because it's a good challenge for me. You need something like this to know who you are." I couldn't agree more. Many congratulations to chef Xavier on overcoming his limits in Singapore, and I wish him all the best with the beautiful obstructions that lie ahead in Durtol.
www.chefs-with-altitude.com
www.restaurant-lepre.com
Many thanks to Swissôtel The Stamford and JAAN for this hosted tasting at Chefs With Altitude.
Brandon Chew's first memory is of him eating chicken rice at the dining table of his parents' old flat. His second memory is of him politely asking for, and receiving, a second helping of fries at KFC, which taught him two things: manners gets you places, and fries are the most awesome food known to man. Brandon has just returned to Singapore from New York and is happily exploring the food scene here.