Since a colleague introduced me to Kooka Café earlier this year, I've made the place my unofficial hideout, going at least once a week to clear my mind, unwind, and have a thoroughly pleasurable lunch. It isn't a 'sexy' cafe by most definitions: the décor is simple, the menu is small, and the dishes are honest, unassuming even. What it does have is the one intangible ingredient that I think matters the most in any food establishment, the one thing that makes you want to return again and again – love.
Every item at Kooka, from the drinks to the sandwiches to the pastries, is made with dollops of affection and heaping tablespoons of deliciousness. It's impossible not to fall in love with the place, and with co-owner/pastry chef Lauren Chambers, whom I sat down with to talk about her inspiration and vision, and who may very well be the friendliest proprietor in town.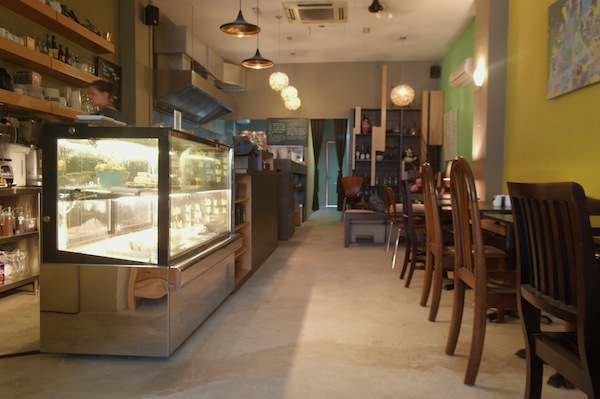 Located on Purvis Street, near Gunther's and a healthy distance from my office, Kooka Café is a little gem of a place, with its open kitchen, chalkboard menu of daily specials, and warm service.  At any given time, the place hosts an eclectic mix of corporate types and creatives, many of who are frequent customers working nearby; as well as the odd tourist, leisurely ambling through the city. Easy-on-the-ears pop music plays on the speakers, as sunlight pours in through the floor-to-ceiling glass façade. The vibe is homey, and I feel instantly at ease when I walk in.
The café's modest design is deliberate, the product of years of planning and research. "I've dreamt of having a café since I was a little girl," Lauren tells me as she pulls out a hefty bound black scrapbook containing photos and blueprints torn from the pages of interior design magazines, which serves as a visual and inspirational journal of sorts. After working for many years in the F&B business, she relocated to Singapore with her husband Marcus in 2007, helping him open and run Chalk, which has since moved from Old School on Mount Sophia to a cosy new location at Block 106, Clementi Street 12.
But unlike Chalk, which serves up French-Italian food, Kooka's focus is on straight-up, Australian-inspired fare, or, as Lauren puts it, "recipes that I've been doing since I was a kid and know by heart; recipes that my mom or my gran taught me." Simplicity is indeed the operative word here – the lunch and dinner menu consists of a smattering of salads and sandwiches; a handful of pastas; the odd entrée; and a rotating roster of daily specials such as soups and wraps. Most of the dishes are under S$15 (US$12).
I'm a big fan of Kooka's sandwiches, made with fresh ingredients and served on plain ol' white bread toasted to pillowy perfection. It's that one little detail that sets each sandwich apart from run-of-the-mill offerings at other cafes – the fact that the mushrooms in the roast beef sandwich are marinated in red wine, for example, or that Lauren uses homemade pesto in her grilled chicken sandwich.
When I go for lunch, I usually get the sandwich set, which starts at $9.90 and comes with a bowl of the day's soup ­­– anything from pumpkin-sweet potato to mushroom consommé ­– and a coffee, iced tea, or fresh juice. The day I spoke to Lauren, there was a special on the menu: turkey ham, cheese, and cranberry relish, served with a lightly dressed mesclun salad and a handful of sinful potato wedges. The sandwich wasn't too dry, which is a problem with bread that's been toasted for too long, and the salty-sweet combination of the cheese and cranberry were exactly what the doctor ordered in the middle of a hectic day's work. Washed down with an iced latte made with Graffeo Organic Fair Trade coffee, it was a thoroughly pleasant meal, the kind I wouldn't mind having day in, day out.
Lauren would be very disappointed with me, though, if I didn't mention her decadent pastries and desserts, made on the premises with all-natural ingredients, the former of which can be made to order for about S$39–S$50 (US$31-US$40).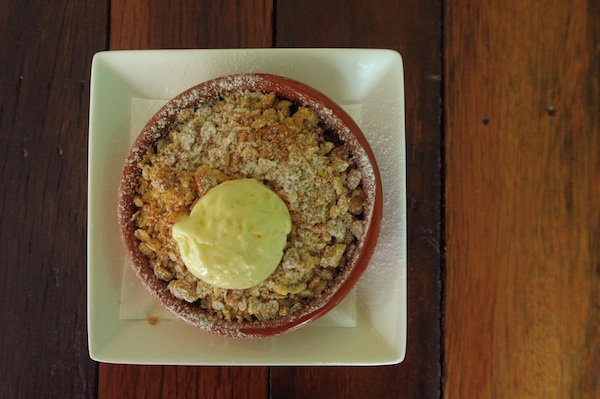 Again, it's the little things that show how much effort and care go into the construction of each item. For the apple crumble, which has single-handedly destroyed all my attempts at dieting, Lauren sautés green apples in butter and cinnamon before adding a topping of pastry crumbs, almonds, and oats, and a generous scoop of homemade vanilla bean ice cream. It's supremely addictive. And the recipe for the cheesecake? It reads like a waistline's worst nightmare: cream cheese, cream, sour cream, and white chocolate for the cake itself, and a mix of strawberries, blueberries, and raspberries for the optional topping. The texture of the cake is unbelievably fluffy, imperiously smooth, sensationally delicious. "Its entirely sinful," admits Lauren, unapologetically.
The name of the café, which Lauren co-owns with Chalk veteran Bei Jia, was taken from a popular 1920s brand of kitchen stoves, but also pays homage to the Kookaburra, the native Australian kingfisher. It's an apt name for a chef who wears her influences on her sleeve, and who puts her heart and soul into the food she prepares. Kooka Café isn't going to dazzle people with feats of culinary creativity, nor is it going to push the epicurean envelope with daring dishes.  What it does, though, is serve heartfelt food in a relaxed setting that makes you feel completely at home. And for that, Kooka Café may very well be my favorite food hangout in town.
Less than a year after Kooka's opening, Lauren has plans to expand the food and dessert menu; but she's been pretty happy so far with her work. "In a way, Kooka is a selfish indulgence," she says to me before she gets up to serve a group of customers that have walked in for a late afternoon coffee. "I'm doing what I love, preparing the food I enjoy preparing and eating. It's like having a dinner party everyday." I'm just glad I got invited.
KOOKA CAFÉ
18 Purvis Street
Singapore 188597
Tel: 65 64670288
Mondays—Wednesdays ­10am—7pm
Thursday 10am—9pm
Friday­­s—Saturdays 10am—10pm
Closed Sundays
www.facebook.com/kookacafe
Brandon Chew's first memory is of him eating chicken rice at the dining table of his parents' old flat. His second memory is of him politely asking for, and receiving, a second helping of fries at KFC, which taught him two things: manners gets you places, and fries are the most awesome food known to man. Brandon has just returned to Singapore from New York and is happily exploring the food scene here.