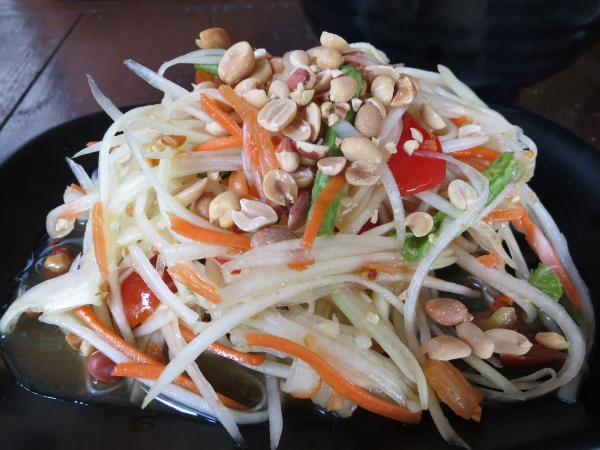 The tall, slim, olive-skinned, always-smiling Thai female staff, the sound of sizzling woks in the background and the delicious smell of curry bubbling on the hob, all bring me back to my idyllic days of holidaying and eating by the scenic beaches of Phuket. Lewu Cafe is my choice when I'm in need of some authentic Thai grub, and if I close my eyes, I might just be able to feel the sand in my toes again.
Nestled between an old-school provision shop on its left and a bike shop on its right, along bustling Bukit Timah Road, it seems like an unlikely spot for amazing food. But since my first visit years ago, I haven't looked anywhere else. The olive fried rice comes accompanied by sweet raw shallots, crunchy cashews, fiery bird's eye chillies, fragrant omelette ribbons and sour shredded green papaya. The olive paste they use is unlike any other I've tasted. It is extremely savoury and bold in flavour, yet it doesn't weigh the dish down. The rice tastes zingy and fresh, and the paste gives the rice a fantastic purple hue. The beef noodles soup with its aromatic, rich broth and smooth rice noodles is great for the kids, and my hubby loves the beef phad thai. My favourite is the som tham or green papaya salad (pictured right at the top), which they make the traditional way, crunchy papaya, carrot, long beans, cherry tomatoes, chilies, basil, shallots, all pounded in a pestle and mortar. The balance of spicy, sour, sweet and salty is spot-on, and the generous handful of roasted peanuts adds another dimension to the dish. We have also tried the home-made fish cakes, sesame-coated deep-fried chicken wings, green mango salad, basil chicken and curries. Simply-put, everything is well-executed, freshly-prepared and downright tasty.
This is no fancy establishment, but the food more than makes up for the lack of swank. If you're looking for a casual, no-frills, but still utterly satisfying Thai meal that will not break the bank, this is it. I know I'll definitely be going back for years to come.
Lewu Cafe
Bukit Timah Road
Singapore 269692
Tel: +65 82287394
Opening hours: Daily from 11.30am – 9.45pm
Dawn, a lanky food-crazed lady, started out writing for lifestyle magazines, and later spent several years in banking. When not eating, she's cooking, reading about, hankering after, and writing about food. On her first date with her boyfriend (now husband), they dined at four restaurants across Singapore. He's gained 25lbs since, and their culinary escapades continue after welcoming two rotund angels. Dawn's committed to feeding them with the best, and creating lasting food memories and traditions for her family.