Last night, we got together with a whole host of friends at Mag's Wine Bar-Bistro. I've mentioned Mag's before, in my post on my favourite Singapore restaurants. Mag's is a wonderful little restaurant that's a bit of an anomaly in Singapore. It's tiny, with one big communal table and a couple small ones; it's owner-operated; that owner, Mag, is self-trained and one helluva cook; it's menu changes daily, according to what's in season; and it has an incredible wine list dominated by really expensive Old World wines. Here's a little snap of Mag.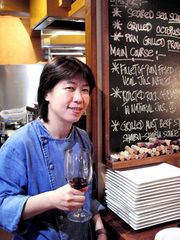 Thirteen of us took over the communal table to celebrate Nikheel and Tina, friends who now live in Turks & Caicos, and who were back in town for a quick visit. (Yup, they're the same couple who suggested the blind tasting dinner I wrote about a little while ago.)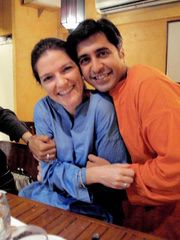 We started the meal with a couple bottles of 2004 Isabel Sauvignon Blanc from Marlborough, New Zealand, and a truly amazing first course. My wife S, thinking ahead (and fortunately with her tummy) had arranged for Mag to roast a whole suckling pig. Because there was only one pig, we decided that instead of making it available as a main for only a couple people, it would be easier to cut it up and share it as a starter. It was delicious, with super-savory crisp skin and gorgeously moist meat.
For a second course, there were three available choices. I had a seared scallop salad, which was nice but was hardly a highlight of the evening. What I was waiting for was the Meltique (beef) striploin with Shabu Shabu sauce. When I last visited Mag's, both S and another fetching female friend, L, had ordered this dish. In fact, they enjoyed their marvelously marbled steaks so much that they shared an additional order for dessert. As expected, L, here with us again, S, myself and a clear majority of the table ordered the Meltique. Here's a quick shot of Mag plating some of the orders.
With the main course, we had some delicious and full-bodied 2002 Chateauneuf-du-Pape. (I forget, though, which one we had.) For dessert, we were offered a choice of either a Molten Chocolate Cake with Vanilla Ice Cream or a Farmhouse Cheese Plate. Overall, the dinner was great. Great food, great people, good wines. I think (or at least I hope) everyone present enjoyed themselves.
After dinner was over, seven of us headed over to Townhouse and shared a yummy bottle of a 1999 Chateau Segonnes, Margaux. Which, in retrospect, was probably not the smartest idea. The extra glasses contributed to a pretty rough morning.
Aun has always loved food and travel, passions passed down to him from his parents. This foundation, plus a background in media, pushed him to start Chubby Hubby in 2005. He loves that this site allows him to write about the things he adores--food, style, travel, his wife and his three kids!