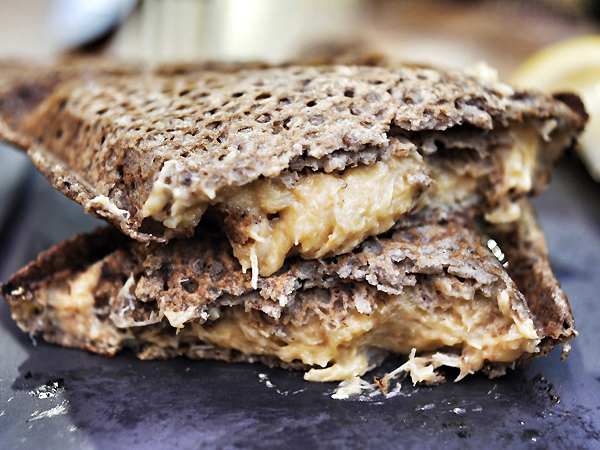 One of the best meals my gorgeous, foodie wife S and I have ever had was at L'Osier, the now closed three Michelin-starred French restaurant in Tokyo, helmed at the time by Chef Bruno Ménard. The food was original and perfectly executed. The room was warm, clubbish, buzzing, and filled with the laughter of happy patrons. Service was impeccable and memorable; at the end of the meal, umbrella-toting staff walked us around the block and helped us find a taxi. While we are sad that L'Osier has closed its doors, I'm thrilled that Chef Ménard now calls Singapore his home. Last week, we dropped by his newly opened sandwich and burger shop, &MADE.
&MADE is a charming place. Sort of like a diner that has been reinterpreted by Tim Burton in collaboration with a Japanese toy maker. It's fun, quirky, and bright. While there's tableside service, this is very much a quick service restaurant. You're definitely not meant to linger here.
There's a large open kitchen in which chefs churn out the smartly chosen dishes. Most of the food, as the name implies, is handmade (did you get the pun? That the name "and made" sounds like a Frenchman saying "handmade"?). The menu itself is tight. There's a small breakfast menu consisting mostly of bread items or yogurt dishes — no cooked items in the morning. For lunch and dinner, you can choose from five salads, three soups, five burgers, three "toastoos", and three sandwiches. To round off the meal, there are three different desserts plus a selection of sundaes.

While the menu items might look simple at first glance, when you actually consider what has gone into these dishes, you'll realize that each item is both well thought-out and quite complex. Which makes sense. After all, a chef who once had three Michelin stars attached to his name has planned this menu.
On our first visit, S and I indulged a little. We started off with &MADE's Toastoo Chilli Crab. A toastoo is what Chef Menard has called a stuffed buckwheat crepe that has been ingeniously pressed in a toastee machine. In other words, you get a lightly toasted crepe sandwich. The chilli crab toastoo was nice… the filling I felt was just a touch too rich and creamy (it tasted like they've mixed chilli crab sauce with bechamel) but I loved the flavours and the overall concept of the toastoo (for some strange reason, I keep wanting to put on a really fake Inspector Clouseau-like accent whenever I say the word "toastoo"). S is very much looking forward to ordering the Toastoo of the Farmer next time — a toastoo stuffed with cooked ham, caramelized onions and raclette cheese.
For her main course, S had the Jambon Blanc sandwich — cooked ham, house-made vegetable pickles, green leaves and grape mustard. This was an impressively sizable sandwich, and according to my wife, a delicious one at that. She's a always been a big fan of simple ham and baguette sandwiches, so she was thrilled that Chef Ménard's was so well made. She especially appreciated the pickles as well as how much filling there was — too many sandwich places in Singapore tend to skimp on ingredients.
I went straight for the burgers, ordering The 3 Little Pigs — bacon, pork filet and chorizo patty, shiitake mushrooms, Japanese cabbage, Shibazuke pickles, and yuzu-kosho mayonnaise. Splendid burger. Simply sensational flavours and paired with a really nice soft brioche bun. Both S's sandwich and my burger came with fries, which were excellent. I also let loose a little, ordering a very well-made vanilla milkshake to go along with my meal.
All in all, it was a great, casual meal cooked by a true culinary legend. Word on the street is that Chef Ménard has a few more concepts he's planning on opening here. I, for one, can't wait to see what he does next.
&Made by Bruno Ménard
#01-04/05/06 Pacific Plaza
9 Scotts Road
Singapore 228210
Tel: +65 6732 9808
www.andmade.sg
Open daily 8am-10pm, no reservations
Aun has always loved food and travel, passions passed down to him from his parents. This foundation, plus a background in media, pushed him to start Chubby Hubby in 2005. He loves that this site allows him to write about the things he adores--food, style, travel, his wife and his three kids!