A couple of weeks ago, I wrote a little bit about the new Majestic restaurant and its chef, Mr Yong Bing Ngen. Since then, I've been fortunate enough to dine at the Majestic three times, twice pre-opening and once post-opening (last night to be more exact).
To be completely honest, the first time, the food was good but not great. It was simply well-cooked Cantonese food. In other words, it wasn't distinctive at all. But because I'd eaten great food cooked by Chef Yong, at both Doc Cheng's and Hai Tien Lo, I figured he was still getting used to his new kitchen and new team. The second time S and I ate the Majestic, the food was much better. But it still wasn't amazing. Of course, the restaurant wasn't open yet and our meals were being hosted by the restaurant's owner in order to get feedback from a trusted group of greedy gourmets pre-opening. S and I, earnest critics that we are, wrote our host a 3 page confidential letter, sharing our thoughts on what worked and what needed to be improved.
Since opening though, it appears that Chef Yong has really hit his stride. The meal we just had was stunning. The dishes were elegantly but not pretentiously plated. The food was both traditional and contemporary at the same time. And almost every dish was delicious. We were thrilled with our meal. And ecstatic that within just a week of its official opening, the kitchen team has come together so well.
We started our meal with a combination of crispy prawn with wasabi dressing and Peking duck served with pan-seared foie gras. This was a great first course. The prawns, while commonly served at other Modern Chinese restaurants, were exellent. The foie gras and Peking duck pairing, though, was even better. The liver had a lovely caramelized crust and was deliciously runny inside. Paired with the crispy duck skin, it was a sinfully rich mouthful that left us panting for more.
Our second course was a double-boiled lobster broth with lobster meat, asparagus and mushrooms. I'm not a big fan of Chinese soups, but this was very well-executed. For my tastes, it could have had a touch more salt, but I noticed that the gals at the table were very pleased with the more subtle flavoring.
Our third course was gorgeous. It was a soft shell crab served with a creamy milk and lime sauce. Honestly, just thinking about this wonderful dish is making me hungry. The crabs were served hot and crispy. The sauce was rich but it was used sparingly, giving the dish a lightness you don't expect in a milk-sauced dish. The crabs were also brilliantly juicy and meaty. This was a real winner!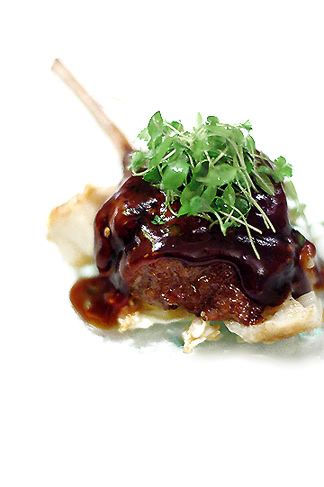 Course number four was a grilled rack of lamb in a Chinese honey sauce accompanied by fried carrot cake. This was also perfect. The lamb was juicy and tender. The sauce, while powerful, gave the dish a nice strong accent. And the carrot cake… the carrot cake was heaven! It was, without exaggerating, the best carrot cake I have ever eaten in my whole life. In fact, Chef Yong's carrot cake was so good that our table asked for an extra portion for each and every one of us.
Our fifth course (or sixth, if you count our extra carrot cake portion as a course) was a fried egg noodle with Teochew goose slices served with yellow chives and bean sprouts. This course really made me smile because it was, in some ways, pretty similar to my own roast duck noodles. Except of course, Chef Yong's was better.
Dessert was a cold mango soup with pomelo, sago, ginkgo nuts and vanilla ice cream. This was the only course I could have done without. It was okay but not great. Actually, I wouldn't have minded another helping of carrot cake instead.
The Majestic is a modern restaurant, with wood floors and tables, a green and tan palette, beautiful custom-designed chairs, and exquisite Flos lights. The room is casual but cool. The music is swinging and the service staff friendly and polite. Including several private rooms, the restaurant can seat 100. The thick but well-designed menu offers two degustation menus, a large variety of traditional Cantonese dishes and a smaller number of Modern Chinese courses.
Based on our most recent meal and discussions with both Chef Yong and the restaurant's owner, I believe that within a few weeks, the Majestic will be consistently churning out course after course of beautiful food. And while Chef Yong is adept at cooking traditional Cantonese fare, I still believe it's his more modern recipes that will make him famous and that will make the Majestic a real destination restaurant.
Of course, it's not exactly fair of me (or anyone for that matter) to review a restaurant within a week of opening, but since I know Chef Yong's food, having eaten meals made by him in three different restaurants; since I've visited the Majestic not just once but three times; and since I'm perfectly willing to accept that it takes a good 6 weeks for any restaurant to really come into its own; I'm happy to say that I'm impressed. And that I'll be coming back. Because I'm really looking forward to seeing how the restaurant evolves over the next few months.
Majestic Restaurant
New Majestic Hotel
31-37 Bukit Pasoh Road
Tel: 6511 4718
Aun has always loved food and travel, passions passed down to him from his parents. This foundation, plus a background in media, pushed him to start Chubby Hubby in 2005. He loves that this site allows him to write about the things he adores--food, style, travel, his wife and his three kids!