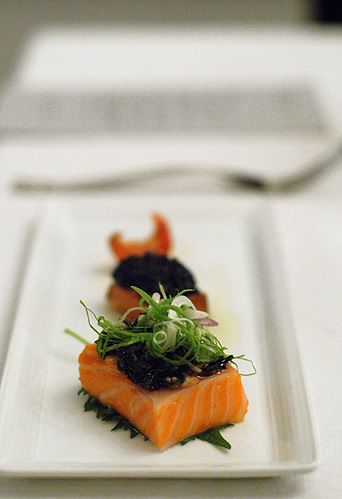 I mentioned a few posts ago that my wife S and I, plus 6 other friends, hired Chef Jimmy Chok to cook for us on New Year's Eve. We had also hired him, with stunning results, the previous year, so we were quite excited to taste this year's meal. (Sadly, I was still recovering from my bout of gastroenteritis, so I couldn't eat as much of the meal as I wanted to.) This was only the second time Jimmy has cooked in our place (the previous year another friend hosted the meal). The first was an amazing lunch that my father hosted for the late, great New York Times writer Johnny Apple. I think Jimmy had forgotten just how small and crowded our kitchen was. I noticed that when he was unpacking his produce, he was frantically looking around for storage space, counter space and fridge space. Nonetheless, he pulled off a very impressive meal.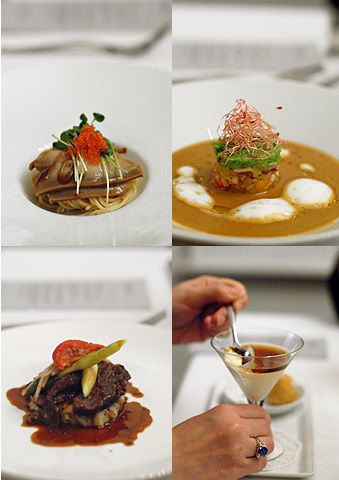 We started our feast with crab cakes served with tomato chilli jam. Jimmy has always made wonderful crabcakes; these were no exception. We then had marinated angel hair pasta with sliced abalone. He had also made this for my pop's lunch and we loved it so much that we requested that he serve it at this dinner. Next were hot seared scallops in a manila clam laksa leaf infused nage. We had also eaten a similar dish at our lunch and again had requested for something similar. The laksa-flavoured broth was really nice. (Sadly, because of my wonky tummy, I couldn't drink it all down.) Then we had a confit of ocean trout belly with dashi jelly and avruga. For many of our friends, this was their favourite course of the night. The trout was beautifully tender and lightly flavoured. Our fifth course was a Maine lobster timbale with shellfish emulsion. This was rich and decadent. The final savory course of the night was slow cooked wagyu beef cheeks served with truffled mashed potatoes and grain mustard jus. This was a really yummy, rich and satisfying dish, a nicely sexed-up version of the best kind of comfort food. For dessert, we had S's "coffee and donuts" that I wrote about a few posts ago.
One thing I really like about engaging Jimmy is that he comes with two staff — one kitchen-hand and one waiter (or waitress). The service is always polite and unobtrusive, which is important for home-catered affairs. Jimmy and his team also leave your kitchen spotless; in our case, I think he left the kitchen even cleaner than it was before. He's also very reasonable, with prices for a home-catered affair much, much lower than what you would pay at some of our finer restaurants. Which makes hiring him a no-brainer. Why blow a huge chunk of money somewhere when you can spend less, get equally if not better food than you would at a restaurant, and receive a chef's full attention?
Jimmy is the executive chef of The Academy Bistro, which is on level 1 of the new Supreme Court building. The Bistro is open every weekday for lunch and open Fridays for lunch and dinner. He is available on weekends and on weeknights from Monday to Thursday for private catering. To reach him, you can email him at jimmy_chok@sal.org.sg. I would highly recommend him to anyone looking to host a very special meal at home.
p.s. Sorry about the slightly grainy pix. We had dimmed the lights considerably that evening; I was shooting at iso1600 in order to get some kind of usable pictures.

Aun has always loved food and travel, passions passed down to him from his parents. This foundation, plus a background in media, pushed him to start Chubby Hubby in 2005. He loves that this site allows him to write about the things he adores--food, style, travel, his wife and his three kids!