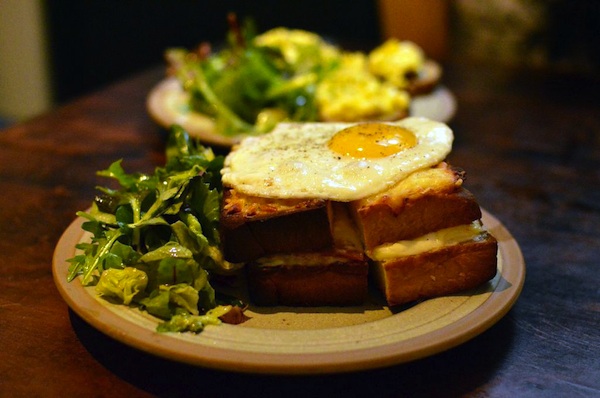 "What makes a great croque madame?" is a question that no one has asked me ever. If someone did, though, I wouldn't be able to answer them, partly because I don't think there's a single answer, and partly because I'd be foaming at the mouth. For a perfectly representative specimen, though, I'd highly recommend the beauty of a sandwich being served by chef Frederick Colin at the second, and more casual, of his "Gavroche" restaurants.
Right across the street from chef Colin's first baby, Brasserie Gavroche, Cafe Gavroche (or Cafe & Bar Gavroche, as it's officially christened) tries its best to look like a quaint patch of Paris smack in the middle of Tras Street. True, the tables aren't packed quite as claustrophobically as they like to do in the Marais, and the mirrors aren't crusted with over half a century of grime and rust, but there's a generous mound of bronzed pastries lying seductively at the bar counter, which makes up for everything.
Come for brunch on Sunday, and you'll find an airy, sunlit interior, packed with languid young things, photogenic families, and the odd loner with his newspaper and coffee drink of choice. I was warned over the phone that it tends to get crowded after 12 noon, but somehow a full house didn't feel as stifling as it would in other restaurants. Perfect, in other words, for a croque madame.
I'm not sure what defines a great croque madame, but I do know why I like the damned thing so much. It's an unapologetic mess of a sandwich that takes you on a salacious journey through egg, béchamel, cheese, and ham, all thrown in between and atop layers of crusty, lusty goodness. It's the daytime equivalent of a decadent supper after a long night out. For me, it hits all the right primal spots. Which is why you'll have to ask K about the rest of the excellent all-day-breakfast-y menu at Cafe Gavroche – she had the tartine with scrambled egg and sweet onion marmalade, while her sister made the rather enlightened decision to get an egg cocotte with mushrooms and bacon. I sampled some of both, but to be honest, I was too busy demolishing my croque madame. What did it for me was the insane texture of the brioche; an unyieldingly crispy crust belied an unbelievably fluffy dough (the better to soak up the béchamel and egg with). The contrast alone drove me nuts, the just-right saltiness of the ham added a wonderfully sharp bite, and chef Colin's choice of smooth emmental cheese was a mellow touch. Genius on a plate. I had a croque madame in Paris this year. It was terrible. The cheese had barely melted, the bread was unremarkable – a crime punishable by death in France – and the egg yolk had solidified into a dry, yeasty disappointment en route to my table. The memory of that lunch was so pungent, so malevolent, that I could not properly exorcise it until my brunch last week.
That's the power of a good sandwich – for a moment, your worries are gone, your fever breaks, and why yes, K's mom, I'd be happy to help you finish yours.
Cafe and Bar Gavroche
69 Tras Street
Singapore 079005
Tel: +65 6225 4869
Tuesday – Friday: 12 noon to 2pm, 5pm to late
Saturday: 1030am to 230pm, 5pm to late
Sunday: 1030am to 230pm
Closed Mondays
www.cafegavroche.com
Brandon Chew's first memory is of him eating chicken rice at the dining table of his parents' old flat. His second memory is of him politely asking for, and receiving, a second helping of fries at KFC, which taught him two things: manners gets you places, and fries are the most awesome food known to man. Brandon has just returned to Singapore from New York and is happily exploring the food scene here.