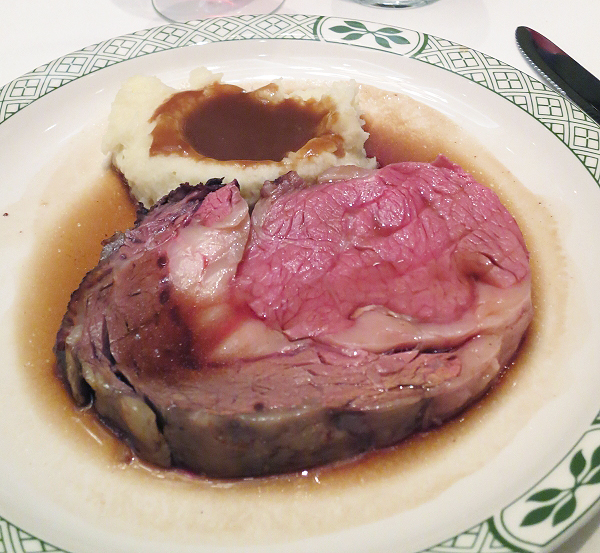 When I think of prime rib, I think of Lawry's. I don't crave red meat often, but when I need to scratch that itch, it's go big or go home. Glistening slabs of marbled, well-aged, juicy, melt-in-the-mouth, immensely flavourful beef, with proper gravy, hearty mash, artery-clogging Yorkshire pudding, and perhaps creamed spinach as accompaniment, this is meat-and-potatoes Version 2.0. If there ever was a meal my hubby might walk over hot coals for, this would be it.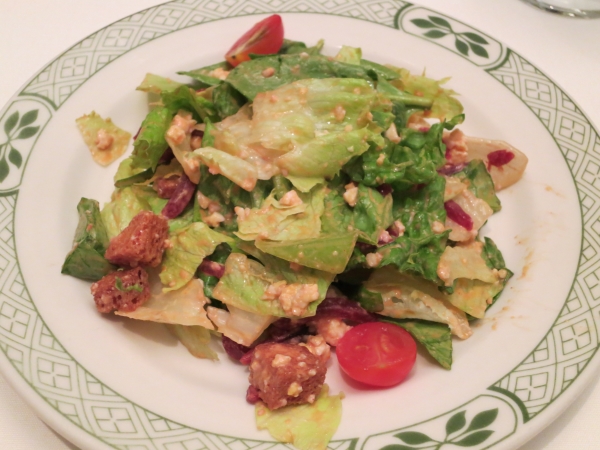 Our meal at Lawry's was faultless. The prime rib was spectacular, as always. But it's the little things – like the warm greeting at the door as you enter, home-made hot rolls with cold butter, the ice-cold fork to use with our perfectly crisp salad, and the well-thought-out kids' menu – that set this place apart. Even more than that, I loved the ambience. Pendant lamps, beautiful chandeliers, dark mahogony, the silver cart being moved serenely around and the carver working table-side, diners speaking in hushed tones (possibly about the excellent food), and the gentle clatter of silverware. Everything oozes decadence, luxury and regality.
I was surprised to discover that Lawry's is a great place for children too. My five-year old son chowed down his entire kids' meal with nary a whimper. It seemed like too much food for a small kid; an adult portion of salad, a small serving of prime rib, some fries, a huge glass of apple juice, plus a large brownie topped with ice cream and lashings of chocolate. But I didn't need to prod him along, and there were definitely no ugly threats that night. It was a refreshingly blissful couple of hours. However, I was naive in thinking that I could share an order of prime rib with my two-year old baby girl. She polished off at least half of what I had on the plate (refer to first picture), making me regret not ordering a portion just for her. I must also commend them on the service, which was impeccable. This is something I find increasingly hard to come by in Singapore these days. Our hostess was patient, attentive, efficient, courteous and smiling the whole time. It certainly enhanced the overall experience and made our meal a truly memorable one.
Lawry's, The Prime Rib
333A Orchard Road
#04-01/31 Mandarin Gallery, Mandarin Orchard
Singapore 238897
Tel: 6836 3333
Sundays – Thurdays: 11.30am – 10pm
Fridays/ Saturdays/ Eve of and Public Holidays: 11.30am – 10.30pm
Dawn, a lanky food-crazed lady, started out writing for lifestyle magazines, and later spent several years in banking. When not eating, she's cooking, reading about, hankering after, and writing about food. On her first date with her boyfriend (now husband), they dined at four restaurants across Singapore. He's gained 25lbs since, and their culinary escapades continue after welcoming two rotund angels. Dawn's committed to feeding them with the best, and creating lasting food memories and traditions for her family.