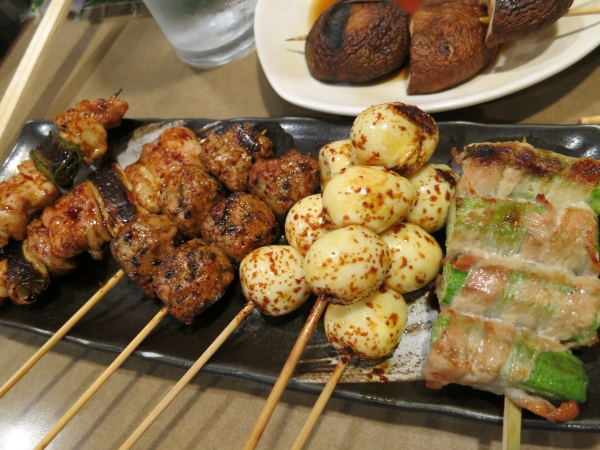 My family and I are big fans of kushiyaki. Skewers of meat, seafood, veg and even rice, glazed with soy marinade and grilled over charcoal fire. Wash it all down with some sake or ice-cold beer, and it's one of the most relaxing meals money can buy. My kids ask to go for "Japanese satay" pretty often, and Nanbantei is our regular haunt. As testament to how how great it is, it celebrated its 30th anniversary just a few months ago, beating the odds and thriving in Singapore's uber competitive food scene.
The kids love the skewers of quail's eggs, chicken thigh, shitake mushrooms (main picture) and garlic fried rice. These staples on almost every Japanese menu, are done to perfection here. The highlight for me is always the fried rice, which although humble, is immensely flavourful, and the grains still hold their shape and bite. The hubby and I also like to make a double order of okura maki (okra wrapped with pork). The okra is always tender (never stringy or fibrous) and bursting with flavour, and the charcoal fire lends an unmistakable smokiness to the pork.
I know this might sound a little strange, but my 5-year old son adores squid, especially the tentacles. He gets me to order grilled whole squid any chance he gets and I'm more than happy to oblige since I can't get enough of that stuff either. It looks like a deceptively simple dish to pull off, but we've had our share of bad versions. At Nanbantei, it was seasoned just right, not over-cooked, and retained all its sweetness and briny goodness.
I started dining at Nanbantei more than 10 years ago, very often alone, after a hectic day at work. I'd sit at the counter, where I could watch the chefs work. Today, the waitresses still take their time with your orders, and expertly pour out your beer. I think it's precious how I now go with my children and together, we enjoy the things I did, when they weren't yet a part of my life. This is why I support the old-timers in our food scene. It's all delicious, edible history.
Nanbantei
14 Scotts Road, #05-132
Far East Plaza, Singapore 228213
Tel: +65 6733 5666/+65 6738 7470
Open daily: Lunch 12pm-2.30pm, Dinner 6pm-10.30pm
www.nanbantei.com.sg
Dawn, a lanky food-crazed lady, started out writing for lifestyle magazines, and later spent several years in banking. When not eating, she's cooking, reading about, hankering after, and writing about food. On her first date with her boyfriend (now husband), they dined at four restaurants across Singapore. He's gained 25lbs since, and their culinary escapades continue after welcoming two rotund angels. Dawn's committed to feeding them with the best, and creating lasting food memories and traditions for her family.