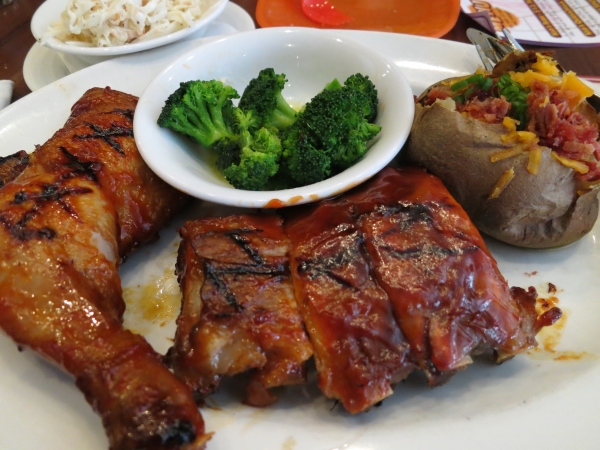 Every which way you turn in Singapore nowadays, there are cooler, edgier, fancier restaurants springing up. Although it is fun and thrilling to explore new flavours, marvel at their striking decor, or even try a new cuisine, I oftentimes just yearn for something tried and tested, especially when it came to special occasions. For my hubby's birthday recently, I planned a series of meals in restaurants that originated from way back when. Nostalgic favourites that still stand strong today, unfazed by the new kids on the block. The first oldie but goodie on the cards was Tony Roma's.
The last time I ate at Tony Roma's was close to twenty years ago. My aunt brought me there as a treat, and I remember it being a delicious and incredibly filling meal. I don't know why it took me so long to return, but I was happy to note that very little about the place has changed. The restaurant is still located at Orchard Hotel, and the furnishings and menu have been preserved. Our smiling servers were friendly and courteous and were quick to provide colouring crayons and activity sheets for my kids. Now – for the food, which I was greedily anticipating. The baby-back ribs, St. Louis ribs, and home-style coleslaw were on point. However, the clincher for me was the onion loaf (pictured below). When was the last time you threw caution to the wind, neglected your cardiologist's advice and ordered one of these? It was glorious. A golden tangle of sweet onions deep-fried to perfection. I was impressed by how it remained extremely crunchy even after it cooled down. My son, in particular, was very taken by it. My two-year old daughter helped herself to buttered bread, crackers that came with the soup, BBQ chicken leg, corn, rice and broccoli. She was totally absorbed with eating and was uncharacteristically quiet during the meal. The picture at the bottom was her response when we asked how the food was.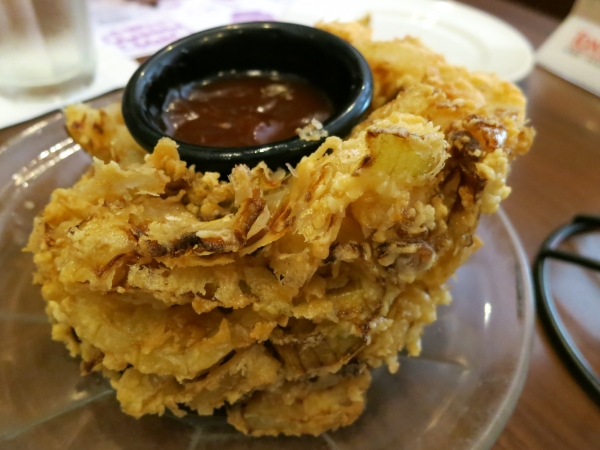 I adore the old-school charm of this place. The vibe is familiar and inviting. It is precious how they still serve the baguette in retro paper cones, which ironically, almost seems like a novelty these days. I appreciate the little things about this place, like the oh-so-good herbed butter, that the birthday hubby saved to further load his already loaded baked potato with. I'll admit that the food is a fair bit saltier and greasier compared to home cooking, but I don't see any harm in an indulgence once in a while, especially since the kids have such a great time there.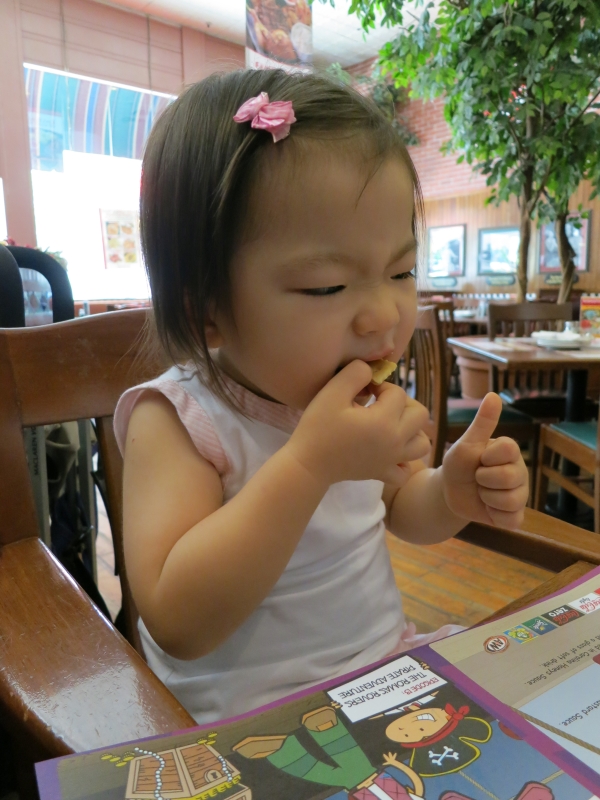 Tony Roma's
442 Orchard Road #01-04/05
Orchard Hotel Shopping Arcade
Singapore 238879
Tel: (65) 6738 8600
Open daily: 11.30am-11pm
www.tonyromas-mms.com
Dawn, a lanky food-crazed lady, started out writing for lifestyle magazines, and later spent several years in banking. When not eating, she's cooking, reading about, hankering after, and writing about food. On her first date with her boyfriend (now husband), they dined at four restaurants across Singapore. He's gained 25lbs since, and their culinary escapades continue after welcoming two rotund angels. Dawn's committed to feeding them with the best, and creating lasting food memories and traditions for her family.