As you might imagine, anyone who calls himself a "chubby hubby" probably loves his carbs. I certainly do. I especially like pasta. Sometimes nothing else is as satisfying, as comforting, and as delicious as a well-made bowl of noodles. My brother's a pho fanatic. He's travelled all over the globe in search of the very best version. While I like this Vietnamese beef noodle soup dish a lot, I'm not as passionate about it as he is (nor as obsessive). I'm much more partial to a number of Chinese, Japanese and Italian noodle preparations. Call me traditional. Call me boring, but I'm a big believer that these three cuisines make (in general) the best pasta dishes.
One of my all-time favourite restaurants in Singapore is Tatsuya. I've known proprietor and master sushi chef Ronnie Chia for 16 years. And while he's most famous for fantastically fresh and perfectly prepared sushi, he also serves up some pretty mean cooked dishes, including a good smattering of uber-yummy ramen and udon dishes. My wife S especially likes popping into Tatsuya for one of his well-priced set lunches, which usually offer a combination of cooked and raw foods. We had the pleasure of recently tasting his latest creation, an Udon Salad Set (pictured above) which is both delicious and a great deal. For just S$28, you get some ultra premium sushi, some California maki, his new cold udon salad, and some homemade ice cream. The udon really surprised me. I'm not usually one for a bowl full of (mostly) veggies, but this dish was awesome. The udon noodles were springy and very yummy all on their own. The "salad" ingredients — crab, tomato, avocado, hard-boiled egg, lettuce, cucumber — flavored with a dipping sauce, spring onions, wasabi and mayo, combine very well. The dish is fresh, light and very tasty all at the same time.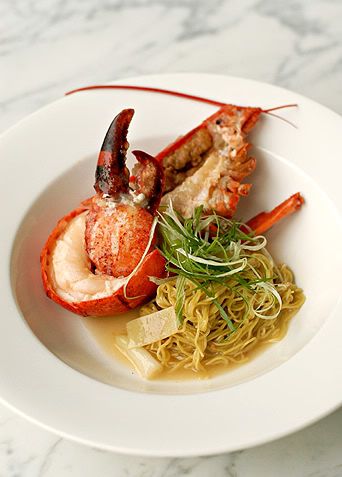 Another favourite noodle dish of mine is Chef Yong Bing Ngen's lobster noodles (pictured above). Unlike other variants, which tend to be a tad heavy, the lobster noodles served at the Majestic Restaurant, in the New Majestic Hotel, are light yet still full of flavour. Of course, it helps that Chef Yong plates each portion with a full half of a lobster. Every time I've had it, I've swooned. The lobster meat is always soft and tender — never overcooked. The sauce is a reduced chicken stock, which adds a delicious savoriness to the dish. To promote this fantastic dish, Chef Yong has created both a set lunch and set dinner. The lunch, priced at S$55 a person, includes a trio of appetisers, a double-boiled soup, the lobster noodles and your choice of dessert. The dinner, priced at $95, includes chilled Hokkaido scallops with yuzu soya vinaigrette, double-boiled sharks' fin soup with crab claw served in a whole young coconut, braised South African abalone, the lobster noodles and your choice of dessert.
While the Italians may have only leant about noodles from the Chinese, over the past 700 years, they've certainly perfected their pasta dishes. One of the best Italian chefs in town is Roberto Galetti. I've previously written about my total adoration for the Bigola Di Spinaci Al Brasato D'Anatra (homemade spinach noodles with a braised duck sauce) that Chef Roberto serves up every day at Garibaldi. It's so good that I often find myself daydreaming about digging into a bowl of it. If you haven't tried this dish, you really do need to head over to Garibaldi and pull up a chair.
Tatsuya
270 Orchard Road Crown Prince Hotel Level 1, Tel: 6737 1160
Majestic Restaurant
31-37 Bukit Pasoh Road, Tel: 6511 4718
Garibaldi
36 Purvis St, #01-02, Tel: 6837 1468
SPECIAL OFFER: Between 1 September 2006 – 30 November 2006, OCBC cardmembers can take advantage of some special, exclusive promotional prices. When paying with an OCBC credit card, Tatsuya's Udon Salad Set is marked down to a very reasonable S$23. OCBC cardmembers also receive a 10% discount on all a la carte food orders at Tatsuya. At the Majestic, the lobster noodles set lunch is marked down from S$55 to S$40. The lobster noodles set dinner is marked down from S$95 to S$80 a head. Last but not least, Chef Roberto is offering his incredible duck pasta, normally priced at S$26, at just S$19.80 during lunch service. Plus, all cardmembers get 10% off all a la carte orders at Garibaldi. Please inform the restaurant that you wish to enjoy your OCBC Dining Privileges when you order. And, of course, don't forget to tell the restaurants you read about these deals on Chubby Hubby.
Promotion is subject to Service Charge, prevailing Government Taxes and GST. General Terms & Conditions for all Dining Privileges apply. For more details, visit www.ocbc.com.
(This post, you may have noticed, marks the first in a series that I'm doing with the backing of a new sponsor, OCBC Bank. It's a fantastic opportunity, especially because they have not pressured me into writing about any place that I wouldn't normally recommend anyway. In fact, they've allowed me and my wife to not only propose the places to feature but also help create the menus to promote. Happy eating!)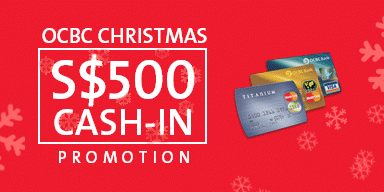 Aun has always loved food and travel, passions passed down to him from his parents. This foundation, plus a background in media, pushed him to start Chubby Hubby in 2005. He loves that this site allows him to write about the things he adores--food, style, travel, his wife and his three kids!