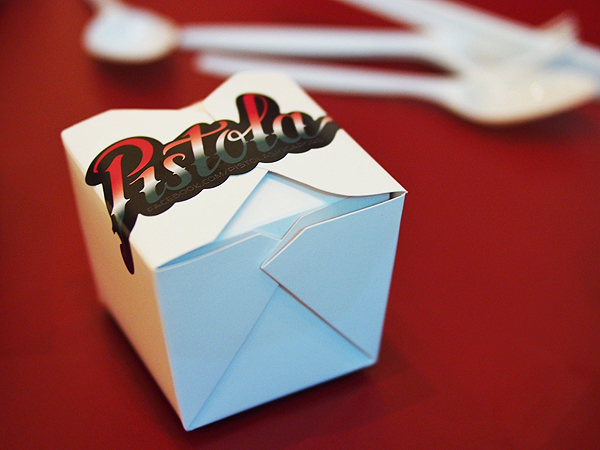 By now, almost every food-lover (and drinker) knows Min Chan. The owner of Club Street Social has appeared in The Straits Times countless times since opening her cute lil' bar and bistro on Gemmill Lane. Fans of this feisty food entrepreneur will be excited to know that Min's latest venture, Pistola, is now open. And, I'm happy to report, that the Asian-Mexican fare at this tiny little QSR is innovative, awesome and addictive.
Pistola's menu is small but satisfying. First choose between ordering tacos, a burrito, quesadillas or a rice bowl. Then choose one of the following five toppings: Korean kalbi-style steak with kimchi, spring onion salad, and sriracha mayo; 5 spice pork carnitas with cabbage slaw and sriracha mayo; Thai-style fish with som tum slaw, sour cream, and crispy curry leaves; smoky soy braised tofu with fajita veggies and maggi sour cream; and tikka-style chicken with pickled daikon and salsa rojo. All are very good (yes, greedy pig that I am, I tried all of them). My own favourite was the Korean kalbi-style steak, which I had with tacos.
In addition to the mains, Min's also offering four side dishes: two kinds of rice (tomato or herb sesame); a super-delicious corn cup with kaffir lime leaf, palm sugar and toasted coconut; an Asian slaw; and tortilla chips served with two kinds of salsas (roasted ancho chilli-tomato and tomatillo-avocado).
Pistola itself is tiny. There's a counter from which you order, two small communal tables, and one even smaller table right outside the door. But this is really the kind of food you're likely to scarf down in minutes or take away with you.  So, really, there's no need for more seating.
When visiting Pistola, make sure to also order one of the "sloshies", frozen cocktails served from slushie machines. When I was there, Min was serving up pina colada and bourbon-coke sloshies. The bourbon-coke one was damn tasty. And, to finish up your meal, order an ice cream sandwich. These, Min's smartly outsourced, serving the truly awesome ice cream sandwiches made by the The Ice Cream & Cookie Co.
I have no doubt Pistola will soon be packed. And, I wouldn't be surprised if, in the near future, we see more and more branches of this smart fusion Asian-Mexican joint popping up all over town… or maybe around the region. Pistola has that kind of potential. The food is familiar yet innovative. And addictive enough to make you want to head back for a fix of your favourite combo on a weekly basis.
Pistola
93 Club Street
Singapore 069461
PLEASE check the Facebook page for opening hours before heading down.
Aun has always loved food and travel, passions passed down to him from his parents. This foundation, plus a background in media, pushed him to start Chubby Hubby in 2005. He loves that this site allows him to write about the things he adores--food, style, travel, his wife and his three kids!