I have to admit that I really only became a real ramen fan after watching Tampopo, one of the best and funniest food movies ever made. For those few of you who haven't seen this delicious and delightful film, boy are you in for a treat! I'll try not to spoil too much of it, but essentially, Tampopo is a self-titled "spaghetti Western" (yah, I know, bad pun) that centers around a female ramen stall owner whose ramen are less than edible and a mysterious trucker and ramen connoisseur who teaches her how to make the perfect bowl of noodles. Watching Tampopo always makes me hungry. It especially makes me crave good ramen–ramen with delicious hot soup, light springy noodles, and tender fatty morsels of pork.
Singapore has a Tampopo as well. But it's hardly similar to the simple countryside ramen shop featured in Juzo Itami's amazing film. Our Tampopo is in the basement of the Liang Court Shopping Centre (just a short walk from my office) and is tucked in the back of the Meidiya supermarket. Further, this rather non-descript restaurant is actually two restaurants in one. Sharing the same premises with Tampopo, which offers up noodles, sushi and other cooked foods, is Tomton, a katsu specialist. Tomton serves some of the best katsu in town. Its specialty, predictably, is a breaded and deep-fried cut of deliciously fatty pork loin. But at close to S$20 an order, it's a little too pricey (plus a bit too unhealthy) for the average weekday lunch. What I do like to have, and have had over and over again, is Tampopo's Kyushu Jangara Ramen, which costs only S$12.80.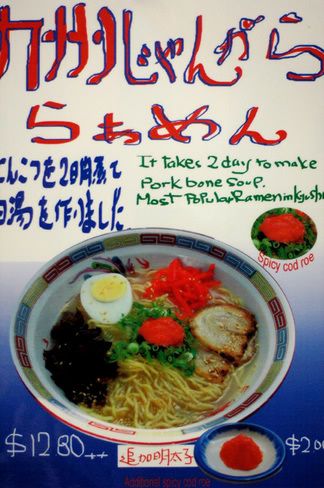 Until recently, the signs in Tampopo that advertised the Kyushu Jangara Ramen said that because the pork bone soup that it comes with took two days to make, only 22 bowls were available each day. The first time I tried to order it, it was sold out. Which, of course, only made me want to try it even more. When I finally did get around to trying it, I was thrilled. It was delicious.
Tampopo's Kyushu Jangara Ramen is essentially a tonkotsu ramen, the term "tonkotsu" meaning that the soup, as mentioned above, has been made from pork bones. This kind of ramen is typical of Kyushu, whereas, for example, miso ramen is more typical of Hokkaido. Ramen afficionados will contend that the test of a great ramen is the soup. While the noodle itself and the other ingredients and toppings are important, without a great soup, the whole dish fails. The milky white soup that comes with the Kyushu Jangara Ramen is beautiful. It's both rich and satisfying. This is further complemented by a large helping of mentaiko (spicy cod roe), which gives the soup a delightful spiciness.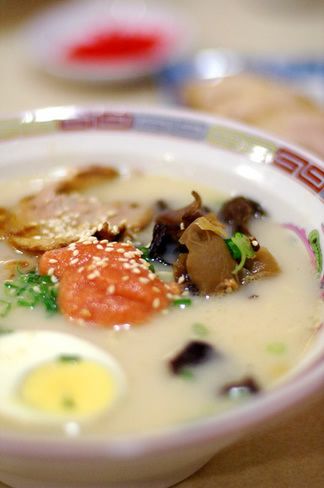 The noodles are good. They might not be springy enough for some Japanese friends of mine–who all seem to favor extremely springy noodles–but they're good enough for me. The dish is further enhanced with two gorgeous pieces of roasted pork, a half of a hard-boiled egg, some woodear fungus and some freshly chopped spring onions. I recommend ordering an extra plate of pork; for S$3, you can enjoy 5 more slices.
While I've been having this wonderful ramen dish for lunch sporadically over the past few months, S had never had it. So today, I invited her to join me. I'm happy to say that she enjoyed her bowl as much as I enjoyed mine.
If you want more info on ramen, please check out this really great article.
Aun has always loved food and travel, passions passed down to him from his parents. This foundation, plus a background in media, pushed him to start Chubby Hubby in 2005. He loves that this site allows him to write about the things he adores--food, style, travel, his wife and his three kids!